Looking Toward the Future: The Goals of Lion's R&D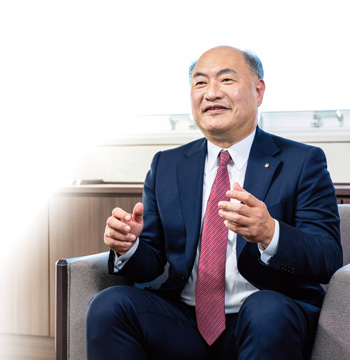 Masazumi Kikukawa
Lion's management vision for 2030 calls for "Becoming an advanced daily healthcare company." Through business activities based on our purpose, "Make a difference in everyday lives by redesigning habits," we aim to realize healthy minds and bodies for all.
Advanced daily healthcare is not a description of a business domain but of the direction we are taking toward providing value. In other words, we aim to contribute to the realization of healthy minds and bodies for all in various aspects of daily life. Being an advanced daily healthcare company therefore means building an understanding of Lion as continually taking on ambitious, forward-looking new initiatives aimed at realizing healthy minds and bodies for all.
We want to add value to everyday living habits, like tooth brushing, hand washing and doing laundry, in order to change the way consumers feel about them from negative into positive—from "have to" into "want to." I believe that there is enormous significance in thus helping to extend healthy life expectancy and making that longer healthy life calmer, brighter and more comfortable.
To realize this vision, in addition to continuing to improve the functional value of our products in each category, we must also add new forms of value in order to make good habits easier to adopt and maintain, and even enjoyable. For example, daily tooth brushing is an important habit; it removes plaque and allows toothpaste ingredients effective in preventing periodontal disease to do their work in the mouth. We want to turn tooth brushing into an occasion for fun family communication. To that end, we will continue to pursue improvements in toothbrush plaque removal performance and to search for ingredients that are effective in preventing periodontal disease. At the same time, however, we will need to nurture new perspectives and new technologies to understand the kinds of functions consumers need and how we can support them through not only products but services.
In addition to the basic technological capabilities cultivated to date, we must expand the scope of our research to new areas, such as perceptual engineering and psychology, and internalize design thinking and other ways of approaching development from the user's perspective. For this, further enhancing the diversity of our R&D team is crucial. In our R&D, we must seek to fearlessly pursue change and embrace the future with confidence.
Masazumi Kikukawa
Representative Director,
President and Executive Officer