Looking toward the future: what we need from LION R&D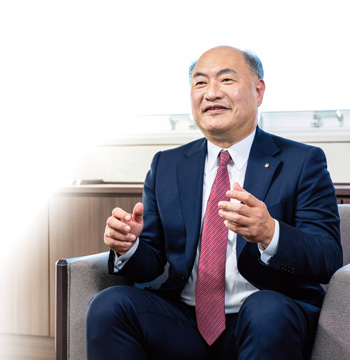 Masazumi Kikukawa
LION's new management vision calls for "Becoming a leading healthcare company for the next generation" and will realize "healthy minds and bodies for all", through the "ReDesign" of everyday rituals to become more natural and enjoyable.
Next-generation healthcare is not the description of a business domain but of the direction we are taking toward providing value. In other words, our mission is to provide "healthcare for mind and body" in daily life. "Leading company" means that we aim to build a perception of LION as "a company that always takes on cutting-edge challenges" in order to realize "healthy minds and bodies for all". We want to add value to the self-care activities of daily life – tooth cleaning, hand washing, laundry – to shift them from things people think they have to do to things they want to do. We call this "Lifestyle ReDesign". I believe that there is enormous significance in helping to extend people's healthy life expectancy and in making that longer healthy life one that is calmer, brighter, and more comfortable.
To realize our missions, we will not only continue to improve the function of our products in each category, but will also seek to lower the barriers of habit and turn self-care into something that can be enjoyed. For example, daily tooth brushing is an important habit: it removes plaque and allows ingredients that effective in preventing periodontal disease to do their work in the mouth. But now we want to turn this tooth-brushing time into an occasion for fun family communication. That's what we call tooth-brushing custom ReDesign. To that end, we will keep pursuing improvements in toothbrush plaque removal and search for effective ingredient preventing periodontal disease but we will also need a new perspective and new technologies to understand what kinds of functions are needed and how we can provide a supporting service other than through the products themselves.
In addition to the basic technological capabilities we have cultivated so far, we must expand the scope of our research to new areas such as perceptual engineering and psychology, and internalize design thinking and other ways of approaching development from the user's perspective. That means we must further expand the diversity of our R&D team. Our R&D wants to be the one that fearlessly pursues change and embraces the future with confidence.
Masazumi Kikukawa
Representative Director,
President and Executive Officer