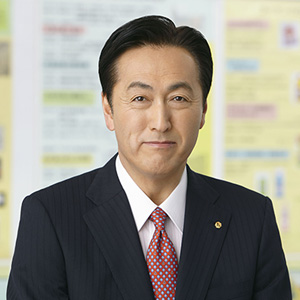 To Our Shareholders and Investors
In 2017, the market environment continued to gradually improve on the whole, as domestic employment and personal consumption recovered and the national economies of Lion's mainstay overseas markets remained firm. At the same time, however, we faced headwinds with regard to cost, including rising materials prices and a weakening yen.
In this environment, Lion implemented the final year of its medium-term management plan, the V-2 Plan (Vision2020 Part-2). Under the plan, we continued to implement a range of measures based on four basic strategies: (1) Qualitative growth of domestic businesses; (2) Quantitative expansion of overseas businesses; (3) Development of new business value; and (4) Enhancement of organizational learning capabilities.
Domestically, in the Consumer Products Business, we introduced new products in such categories as toothpastes, toothbrushes, dental rinses, antiperspirants and deodorants, and fabric softeners. At the same time, we worked to develop markets for high-value-added products and to further their market penetration. We also sought to expand markets for such products categories as kids' toothbrushes and bad breath care through empathetic marketing that conveys to customers not just products' functions, but also their experiential value. At the same time, we consolidated our production sites in the Chiba area in order to achieve flexible, market-responsive product supply while directing capital expenditure toward business expansion in such growth fields as dental rinses. In the Industrial Products Business, we worked to increase our presence in such areas as anti-sticking agents for tires while advancing the development of such as new fields as vegetable washing systems.
Overseas, we aggressively invested in marketing and pursued capital expenditure aimed at reinforcing our brands. By doing so, we worked to expand the personal care field, including oral care and beauty care, in such mainstay markets as Thailand, South Korea, Malaysia and China. We also advanced initiatives with Alibaba, working toward business expansion in China.
As a result of these efforts, Lion set new record highs for consolidated net sales, operating income, ordinary income and profit attributable to owners of parent during 2017. Profit, in particular, greatly exceeded the goals of the V-2 Plan.
In light of medium- and long-term changes in the external environment and to accelerate future-oriented innovation, Lion has established a new management vision for 2030, "Becoming an advanced daily healthcare company." Aiming to achieve our management vision, we launched a new medium-term management plan, the LION Value Evolution Plan (LIVE Plan), in January 2018. Under the LIVE Plan, the entire Lion Group will work together to lead the way in fostering people's contentment from a new perspective. By doing so, we aim to contribute to the creation of a sustainable society and further increase our corporate value.
We look forward to your ongoing confidence and support.
Itsuo Hama
Representative Director,
President Executive Officer