| | |
| --- | --- |
|   | Lion to Release Ban Anti-Perspirant Deodorant (Roll on type): Block "Sweat Gland" |
| | |
| --- | --- |
| | Lion Corporation (President: Itsuo Hama) announces the February 12, 2014 nationwide release of Ban Anti-Perspirant Deodorant (Roll on type): Block "Sweat Gland", a new antiperspirant and deodorant that features a nano ion sweat blocking effect to effectively control underarm sweat and sweat stains. |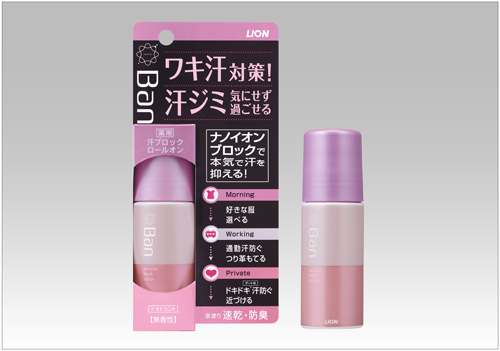 1.
Objective of Introducing the New Product
As more and more women enter the Japanese workforce, stress-related perspiration among women has become more common. At the same time, such lightweight materials as chiffon have recently been in vogue. As a result of these and other factors, over 80% of women are concerned about their underarm sweat and sweat stains. Sweat and sweat stains are of particular concern during morning commutes (71%), when wearing especially nice clothing (67%), and during times of nervousness (56%). The reasons given for these perspiration concerns are odor (51%), sweat stains (34%) and wetness and discomfort (15%) (2013 Lion survey).
Lion's Beauty Care Research Laboratories have been at work developing new ways to control perspiration, and have now developed new technology employing negative ion polymers that tightly adhere to the skin and antiperspirant technology with a nano ion sweat blocking effect to block sweat before it emerges.
On February 12, 2014, Lion is releasing new Ban Anti-Perspirant Deodorant (Roll on type): Block "Sweat Gland", an antiperspirant and deodorant that effectively controls perspiration, freeing users from worries about underarm sweat stains.
2.
Product features


| | |
| --- | --- |
| (1) | Nano ion antiperspirant ACH (aluminum chlorohydrate) adheres to the skin. Antiperspirant technology with nano ion sweat blocking effect blocks underarm sweat, the cause of sweat stains and odor, before it emerges |

 

| | |
| --- | --- |
| (2) | Formulated with antibacterial agent IPMP (isopropyl methylphenol) to eliminate odor-causing bacteria and effectively prevent odors all day long |
| (3) | The non-sticky, quick-drying formula is comfortable immediately after application |




3.
Contents and Price


Product Name

Contents

Retail Price

Ban Anti-Perspirant Deodorant (Roll on type): Block "Sweat Gland"
(quasi-drug)

40ml

No
recommended
retail price