Rerelease of REED Healthy-Cooking Paper
New Lineup to Help Busy Parents Cook for Their Families, Featuring Smart Type Sheets Convenient for Cooking in Small Amounts!
| | |
| --- | --- |
| | Lion Corporation (President: Itsuo Hama) announces the nationwide rerelease of REED Healthy-Cooking Paper, a cooking paper with a wide range of uses for cooking delicious, healthy dishes, with an all-new package design. In addition, on Wednesday, April 9, 2014, Lion will release new REED Healthy-Cooking Paper: Smart Type, featuring individually dispensable sheets in a compact container for the easy, low-waste preparation of small dishes. |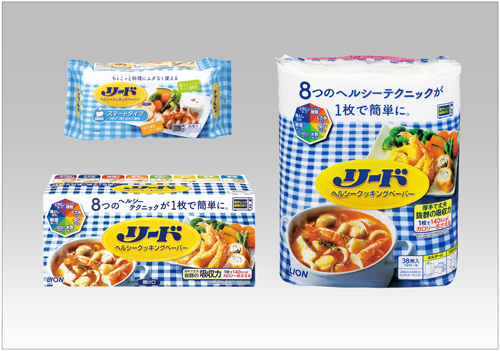 1.
Objective of Introducing the New Product
In recent years, with dietary education becoming commonplace and health consciousness rising, people are more than ever seeking out food that is not only delicious but healthy. At the same time, even though many consumers desire to cook for their families as much as possible, the number of dual-income households is increasing, leaving them with less time for housework. This is creating a demand for meal preparation that is quick, easy and healthy.
Introduced in 1970, REED Healthy-Cooking Paper has over the years incorporated a number of innovations, and its applications have adapted to meet evolving consumer needs, garnering a great number of regular users. In particular, in 2011 its usefulness in reducing the caloric content of food thanks to excellent water and oil retention properties was warmly received.
Now, in response to growing demand for simple ways of preparing food that is delicious and healthy, Lion is rereleasing REED Healthy-Cooking Paper with a new package design that features eight cooking techniques utilizing this unique cooking paper.
Lion will also release new REED Healthy-Cooking Paper: Smart Type, which is dispensed in individual sheets ideal for a wide variety applications that are simple and low-waste, especially when cooking small amounts, such as when preparing breakfast or boxed lunches.
REED Healthy-Cooking Paper, available in two styles, backs up busy parents by making it easier to prepare healthy, delicious home-cooked meals.
2.
Product features


REED Healthy-Cooking Paper

(1)

Eight techniques for healthy, delicious cooking


From preserving vitamin content to reducing the calorie count and speeding up preparation, these versatile sheets can be used in eight different ways around the kitchen.
The new package design displays eight uses for REED Healthy-Cooking Paper in icons along with copy to clearly communicate the product's usefulness.

 

 
(from left)
Preserve vitamins when steaming vegetables in the microwave
Soak up the scum from the surface of broths and soups
Save time by prepping ingredients in the microwave
Remove odors and excess moisture from meat and fish
Soak up oil to reduce calories
Clarify oil and broth
Remove excess moisture from vegetables
Keep leafy greens fresh

(2)

Thick sheets for outstanding absorbency


Using one sheet when reheating fried food can remove 140 calories.
*The number of calories reduced in the case of a 320g piece of fried chicken being heated in a microwave oven. The number of calories reduced may vary depending on the ingredients and cooking methods used.

(3)

Suitable for a wide variety of uses, thanks to natural materials that are oil, water and heat resistant


REED Healthy-Cooking Paper is also great for cooking in microwave ovens.

 
 

REED Healthy-Cooking Paper: Smart Type

(1)

Easy one-handed dispensing for more convenient cooking


Even when making breakfast on a hectic morning, individual dispensing makes for smooth sailing.

(2)

Ideal size for low-waste cooking in small amounts


The 175mm x 175mm "smart" size is perfect for the low-waste cooking of small amounts.
(Regular and Double size are 240mm x 240mm.)
Perfect for preparing a boxed lunch, baby food or single portions.

(3)

Easy storage without taking up space


The compact size and plastic film packaging make it easy to store even in a drawer, while also convenient to keep on the counter when cooking.

3.
Contents and Price


Product Name

Contents

Retail Price

REED Healthy-Cooking Paper
Small

36 sheets

No
recommended
retail price
Regular

40 sheets

Double

Two rolls of 38 sheets

REED Healthy-Cooking Paper: Smart Type

36 sheets