Lion to Release BUFFERIN PREMIUM
A New Premium Formula1 Antipyretic Analgesic for Fast, Highly Effective Headache Relief
| | |
| --- | --- |
| | Lion Corporation (President: Itsuo Hama) announces the February 26, 2014 nationwide release of BUFFERIN PREMIUM, the new crown jewel of the analgesic BUFFERIN brand that brings together technical know-how accumulated over the 50 years since the brand's debut. |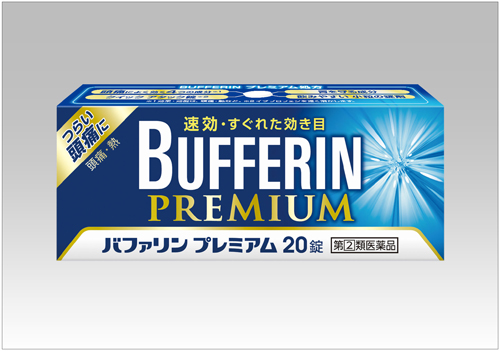 1.
Objective of Introducing the New Product
A Lion survey revealed a stratum of demand for highly functional antipyretic analgesics comprising users looking for products that are fast and effective in treating headaches while being gentle on the stomach and having few side effects. Women in their 30s provide the core of this demand, and, as many are highly sensitive to differences in products, they tend to look for analgesics to best suit their individual needs.
Nevertheless, approximately 30% of these women refrain from taking analgesics even when they experience pain, due to concern over side effects, thus constituting another, hidden stratum of demand.
Now, in response to this demand for highly functional products and the other actual needs of users, Lion is releasing new BUFFERIN PREMIUM, the crown jewel of the analgesic BUFFERIN brand that brings together technical know-how accumulated by the brand. The BUFFERIN brand is responsive to the concerns of consumers as it strives to promote more comfortable living.
2.
Product features


Premium formula for fast, effective relief from painful headaches and fever

(1)

"Quick attack" tablets employ the latest proprietary technology


Lion has developed "quick attack" tablets that quickly disintegrate and allow the ibuprofen they contain to quickly dissolve. Until now, it had been difficult to achieve these actions simultaneously.

 

■ Fast tablet disintegration technology
Although ibuprofen is commonly coated with hydrophilic polymers to help it dissolve quickly, these polymers also impede disintegration. BUFFERIN PREMIUM is newly formulated with monopotassium phosphate to quickly draw water into the tablet and help it break up quickly.

■ Fast-dissolving ibuprofen technology
The antipyretic analgesic ingredient ibuprofen takes time to dissolve in the stomach due to its low water solubility. Dissolution can be sped up, however, through the application of such technologies as fine pulverization to increase the surface area exposed to water and the use of a hydrophilic coating to increase solubility.



 

(2)

Highly effective in relieving headaches and other pain, with the double formula of ibuprofen and acetaminophen as well as two other, secondary analgesic ingredients


Ibuprofen acts on the source of pain (peripheral nerves) while acetaminophen acts on pain transmission (central nerves). These combine with secondary analgesic ingredients anhydrous caffeine and allylisopropyl acetylurea for highly effective pain reduction.

(3)

Combines the effects of acetaminophen and gastric mucosa-protecting ingredients to ensure that it is easy on the stomach


While ibuprofen and other pain relievers can cause stomach problems, acetaminophen not only reduces pain, it also helps prevent gastrointestinal discomfort. *The combination of this effect with that of the gastric mucosa-protecting ingredient dehydrated aluminum hydroxide gel ensures that BUFFERIN PREMIUM does not cause stomach trouble.


*The mechanism by which acetaminophen suppresses stomach trouble was explained in 2012.

(4)

Small, easy to swallow tablets

3.
Active Ingredients (per one tablet)
Ibuprofen (analgesic): 65mg
Acetaminophen (analgesic): 65mg
Anhydrous caffeine (secondary analgesic): 40mg
Allylisopropyl acetylurea (secondary analgesic): 30mg
Dehydrated aluminum hydroxide gel (gastric mucosa-protecting ingredient): 35mg


4.
Efficacy


| | |
| --- | --- |
| (1) | Analgesic effect on headache, pain due to stiff shoulders, menstrual pain, back pain, arthralgia, neuralgia, muscle pain, sore throat, toothache, pain after tooth extraction, pain from bruises, pain from sprains, pain from bone fractures, pain from trauma, earache. |
| (2) | Antipyretic effect on chills and fevers |

5.
Directions for Use and Dosage
15 years and older: take two tablets up to three times per day. Avoid taking on an empty stomach and wait at least 4 hours before taking again. Take with cold or warm water.



6.
Contents and Price


Product Name

Contents

Recommended retail prices*

BUFFERIN PREMIUM
20 tablets
¥980
40 tablets
¥1,580

*Recommended retail price is before tax