Lion to Release New and Improved CLINICA ADVANTAGE Toothpaste, a Total Care Toothpaste for Preventive Dentistry
Newly Formulated with Lion Proprietary Ingredient TDS to Disperse Plaque, This Toothpaste Combines the Three Preventive Dentistry Essentials of Removing Plaque, Helping Fluoride Remain on Teeth and Reducing Bacterial Growth
| | |
| --- | --- |
| | Lion Corporation (President: Itsuo Hama) announces the February 17, 2016, nationwide release of new and improved CLINICA ADVANTAGE Toothpaste. In addition to Lion's proprietary high adhesion fluoride formula that helps fluoride remain on teeth, the antibacterial agent LSS, and the enzyme DEX, which helps break down plaque, this new formulation contains the plaque-dispersing cleaning agent TDS, which makes plaque even easier to remove. Together, these ingredients make new and improved CLINICA ADVANTAGE Toothpaste a total care toothpaste for preventive dentistry. |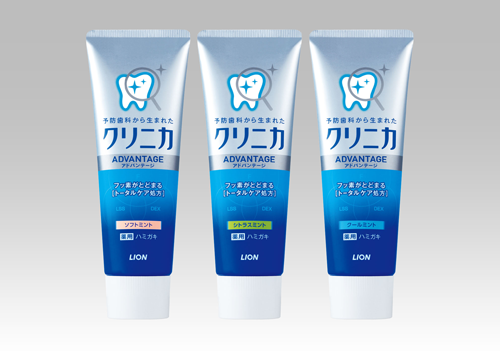 1.
Objective of Introducing the New Product
In recent years, nationwide initiatives to promote lifelong dental and oral health have gained increased momentum, as evidenced by the dental and oral health goals laid out under the government's national health promotion movement Health Japan 21 (the second term), formulated in 2012. As a result, recognition of the term "preventive dentistry" has grown (from 81% in March 2014 to 91% in June 2015), and the number of consumers practicing dentist-recommended self-care is also on the rise.
Lion is implementing ongoing educational activities aimed at promoting the spread and understanding of preventive dentistry. Since 2014, the CLINICA brand has offered products that enable self-care based on the concept of preventive dentistry, earning a solid reputation among consumers interested in such care.
Now, Lion is releasing new and improved CLINICA ADVANTAGE Toothpaste, newly formulated to make preventive dentistry even easier.
2.
Contents and Price


Product Name

Contents

Retail price

CLINICA ADVANTAGE Toothpaste
Cool Mint (quasi-drug)
 

30 g

No recommended retail price

Standing tube

130 g

CLINICA ADVANTAGE Toothpaste
Citrus Mint (quasi-drug)

Standing tube

130 g

CLINICA ADVANTAGE Toothpaste
Soft Mint (quasi-drug)

Standing tube

130 g
 

(1)

Combines the three preventive dentistry essentials of removing plaque, helping fluoride remain on teeth and reducing bacterial growth

<Removing Plaque>


Formulated with plaque-dispersing cleaning agent TDS and DEX to help break up and remove plaque


Plaque begins to form when bacteria clump together on the surface of the teeth. It becomes more firmly attached as the bacteria within plaque use sugars present in the mouth to produce a sticky substance called glucan.
CLINICA ADVANTAGE Toothpaste is formulated with the enzyme dextranase (DEX), which helps to break down and remove plaque attached to teeth. At the same time, because countering plaque formation from its early stages is also important, the toothpaste's new and improved formula includes plaque-dispersing cleaning agent sodium tetradecene sulfonate (TDS), which acts on clumped bacteria to make plaque easier to remove.


<Helping Fluoride Remain on Teeth>


High adhesion fluoride formula helps fluoride remain on teeth longer to prevent cavities from occurring and worsening


The coating agent covers the surface of the tooth to help retain fluoride longer


<Reducing Bacterial Growth>


Antibacterial agent N-lauroylsarcosine sodium salt (LSS) kills cavity-causing bacteria, helping to prevent cavities





(2)

Sodium polyphosphate (TPP) helps prevent tartar

(3)

Available in refreshing "Cool Mint," invigorating "Citrus Mint" and clean and mild "Soft Mint" flavors