・Event Period

Tuesday, June 1, 2021 – Thursday, June 10, 2021*1


*1 Participating schools may implement the program until Thursday, March 31, 2022, in accordance with their event schedules.

・Program Theme

"Brush Up Your Teeth and Yourself"
Editorial Supervision: Dr. Toshikazu Yasui, President of Meikai University
Program Content:
Let's think about gums
What is the white sticky stuff on the surface of my teeth?
Where in the mouth does a toothbrush not clean well?
Basics of tooth brushing and how to brush for your tooth alignment
How to use dental floss
How to keep our gums healthy as we grow up
Filling out a Pledge Card for the Future*2
*2 A card for students to write down their goals for the future and what they will do consistently to achieve them.
Schools are free to use these cards in various ways, such as posting themed in classrooms.
Educational Materials for Children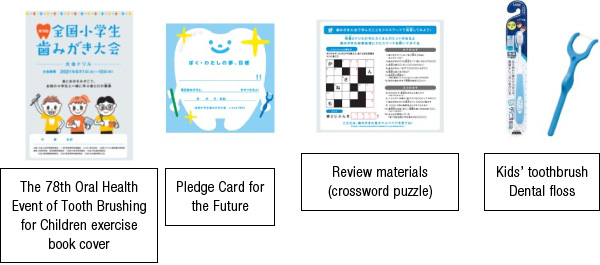 ・Event Implementation:
(1) DVDs with the video content of the event are distributed so participating schools can watch and participate.
(2) The video content of the event is available online for review at home, and participants can practice brushing and flossing.
(3) The event website also provides fun review materials (crossword puzzles, etc.) and information that parents and guardians can utilize to help their children continue their tooth brushing habits.

・Special Content for School Health Instructors:
We provide lessons plans in accordance with the new curriculum guidelines recently implemented in Japan that present key teaching points in an easy-to-understand manner.
In addition, we will inform participating schools about content they can use to promote dental health throughout the year, even after the event, namely, "Hamiga-Kids (toothbrushing kids)", a website that provides information for school health instructors, and the "Kid's hackathon" health education program.

Video of the DVD materials is available online at the link below.
https://www.lion-dent-health.or.jp/ldhevent/index.htm (Japanese)
(Available from 10:00, Tuesday, June 1, 2021 to 24:00, Thursday, March 31, 2022)

Organizers: Japanese Society of School Dentists, Tokyo Metropolitan Society of School Health, Lion Corporation, Lion Foundation for Dental Health (LDH)
Supporters: Ministry of Education, Culture, Sports, Science and Technology, Tokyo Metropolitan Board of Education, Japan Society of School Health, Japan Dental Association, Tokyo Dental Association, Tokyo Association of School Dentists, Corporation of Japan Dental Hygienist Association