Products
Helping make every day healthy and comfortable for everyone.
New Products
2019-07-10
hadakara Body Soap Foam
Body soap with moisture-adsorbing technology that keeps moisturizer from washing away.* Foam dispensing type.
For soft, touchable skin after every wash
*Compared with a previous Lion product
Fragrances

Floral Bouquet; Creamy Soap
Contents

550ml bottle; 440ml refill pack
---
2019-07-10
SOFLAN Premium Deodorizer for Families with Lots of Laundry
An especially concentrated formulation of SOFLAN.1
Prevents odor formation even in large loads of laundry.2
Tested by packing 20 bath towels into one load of laundry.3
Contains more odor-preventing ultra-fine deodorizing ingredients than any SOFLAN product to date. The deodorizing ingredients penetrate every part of the wash, even in large loads, adsorbing to fibers deep within the fabric to prevent odors from forming on clothing, bath towels or other laundry all day long.2

1. Formulated with the highest volume of odor-preventing ingredients of any SOFLAN product to date.
2. Compared with previous Lion products.
3. An 8.0 kg load.
Fragrances

Aqua Jasmine
Contents

540ml bottle; 430ml refill pack; 1,290ml large-size refill pack
---
2019-04-24
TOP Clear Liquid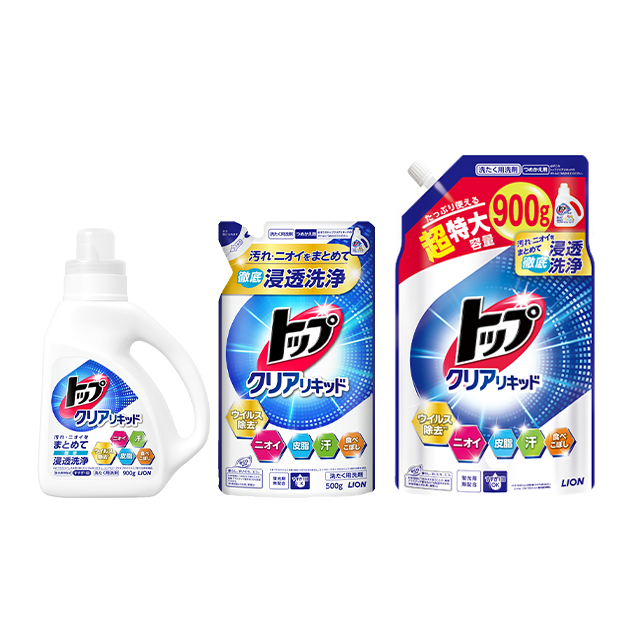 A low-viscosity liquid detergent that penetrates and cleans deep inside clothing fibers even when various types of laundry are washed together. Easily removes a wide range of grime types, preventing yellowing and leaving clothing bright.
Fragrance

Aqua Floral
Contents

900g bottle; 720g refill pack; 1,160g extra-large refill pack
---