Products
Helping make every day healthy and comfortable for everyone.
New Products
2021-04-21
SYSTEMA Toothbrush Super Premium
A gum disease care toothbrush featuring super-tapered bristles
Combines the benefits of a wide head for efficient plaque removal and a thin brush back for ease of maneuverability in the mouth.
Super-tapered bristles reach deep into the gingival sulcus to thoroughly clean away grime and gum disease-causing plaque.
Size

Compact; Regular
Firmness

Soft; Medium
---
2021-04-07
SOFLAN Premium Deodorizer Ultra Zero
Developed in the pursuit of total odor elimination.
A next-generation fabric softener featuring first-in-Japan1 technology for making odors undetectable.
This product provides odor-cancelling technology developed with a focus on the mechanisms of olfaction to block odors before you smell them.2

1. Deodorizing technology based on highly branched cyclic dextrin and a specific group of fragrances, within the fabric softener field (September 2020 Lion survey of advanced technologies)
2. Does not block all odors
Fragrance

Pure Soap (dissipates upon drying)
Contents

530ml bottle; 400ml refill pack; 1,200ml large-size refill pack
---
2021-03-31
Lightee Toothpaste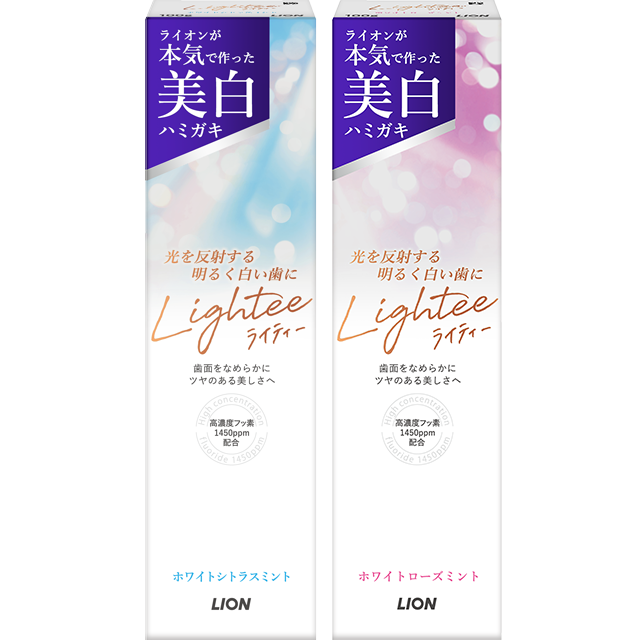 A powerful whitening toothpaste developed by Lion that thoroughly removes grime from micro-level imperfections in the dental surface while promoting enamel repair* to prevent cavities. This toothpaste helps bring out the teeth's natural, shining whiteness.
* Remineralization
Flavors

White Citrus Mint; White Rose Mint
Contents

100g; 53g
---