T. Kobayashi & Co.
1891-1917
1891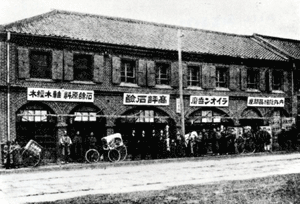 Founder Tomijiro Kobayashi established T. Kobayashi & Co. on the Yanagihara riverside in Kanda, Tokyo, to trade in soap and match raw materials.
(Photo) Overlooking the Kanda River, the red brick store and warehouse stood between Saemonbashi bridge and the slightly closer Mikurabashi bridge, near what is now 8-ban, Higashi Kanda 2-chome.
1893

Launched beauty soap Kohyo Soap and laundry soaps Soft Soap and Kenren Soap
1895
Began research and product development focused on the tooth brushing powder market
1896

Launched Lion Toothpowder
1898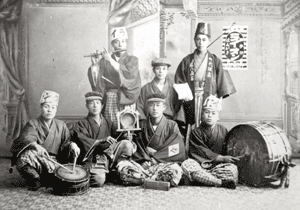 Began using a marching band with musicians and an announcer to advertise the Company's products.
(Photo) The marching band consisted of musicians from the Hinode Band, also located on the Yanagihara riverside in Kanda, near T. Kobayashi & Co., and an announcer.
1900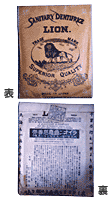 Began selling tooth brushing powder packets with donation slips as a social contribution activity (this program continued for 20 years, until 1920)
1901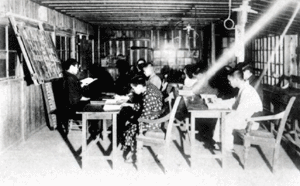 Opened the Kobayashi Night School for employees.
(Photo) Men's class at Kobayashi Night School, circa 1907.
The school invited famous lecturers to give classes.
1904
Exhibited Lion Toothpowder at the St. Louis World's Fair in the United States, receiving an honorary silver medal
1907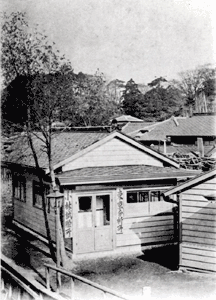 Established Kobayashi Laboratory to test raw materials and conduct research into new products.
(Photo) Kobayashi Laboratory, established to test raw materials for quality management and conduct research into new products, circa 1907.
Established alongside Tokyo Laboratory, this laboratory also accepted commissions from the public.
1910
Founder Tomijiro Kobayashi passed away aged 59
1910
Established Lion Soap Factory as a partnership firm
1911
Launched Lion Dental Cream, a toothpaste packaged in a tube (using imported tubes)
1912
Established policy of concentrating on the tooth brushing business (began consideration of ending handling of other companies' products and spinning off the soap business)
1912
Launched Lion Arai Soap no.1-4, a fatty acid laundry soap
1913

Launched Lion Kodomo Toothpaste for children
1913
Hosted the Company's first public oral hygiene lecture (later named the Lion Public Lectures).
(Photo) Program of the lecture, which was held at the Tokyo YMCA in Kanda. At the time, there were no dentistry specialists publicly teaching oral hygiene, and the lecture benefitted greatly from the participation of Shusaku Midorikawa.
1914

Launched the Banzai Toothbrush, developed based on guidance from the Tokyo Dental School (now Tokyo Dental College)
1916
Moved the Company's base of operations to near Honjo Umayabashi, (Sotote-machi, Honjo-ku, today Honjo, Sumida-ku)
Kobayashi Co., Ltd.
1918-1979
1918
Established Kobayashi Co., Ltd.
1918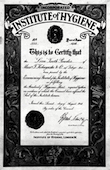 Lion Toothpowder received certification of excellent quality and effectiveness from the London Institute of Hygiene in the United Kingdom.
(Photo) Certificate of quality and effectiveness from the London Institute of Hygiene, then the world's premiere institution for evaluating the quality of hygienic products.
1921
Established the first dental clinic in Japan to specialize in pediatric dentistry, later renamed the Lion Dental Clinic for Children
1922
Created Oral Hygiene, an eight-reel movie about the science of oral hygiene
1922
Began mass production of Lion Dental Cream following the start of mass production of tubes in Japan
1923
Launched the Lion Banzai Toothbrush No.5 for children
1928
Co-sponsored the first Cavity Prevention Day
1930
Launched large-sized packages of Lion Toothpowder, for families
1932
Co-sponsored the fifth Cavity Prevention Day and held the first Mass Tooth Brushing Drill for children
1934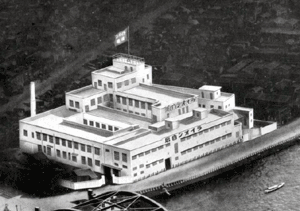 Completed the new Tokyo Plant.
(Photo) The new factory had a site area of over 2,700 square meters and total floor area of over 6,900 square meters. The modern building had one five-story section, with the rest all two stories. Having previously renovated its Osaka-bun Factory, the completion of the Tokyo Factory meant that the Company had cutting-edge toothpaste factories in both East and West Japan.
1934
Launched Lion Tooth Moistened-Powder, which helped solve such drawbacks of toothpowder as splatter and clumping.
1935
Published The History of Toothpaste, the first history of the Company
1936
Established the Kyushu Office
1937

Launched Medicated Lion Kodomo Toothpaste for children
1939
Launched a promotional campaign centered on the concept of getting 10 million people to brush their teeth before bed
1940
Held the 9th Mass Tooth Brushing Drill for children (the last until 1953 because of the war)
1948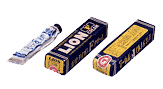 Launched Lion F Cream, Japan's first toothpaste with fluoride
1949
Changed the Company name to The Lion Dentifrice Co., Ltd.
1949
Launched Medicated Lion Toothpaste, a toothpaste packaged in tubes
1951

Launched the Lion Toothbrush with nylon bristles from U.S.-based DuPont
1952
Launched the Lion Health Car, a promotional bus outfitted for dental examinations
1952
Co-sponsored the first Mother-Child Good Teeth Competition
1953
Held the 10th Mass Tooth Brushing Exercise for Schoolchildren, renamed from the pre-war event
1953
Launched Chlorophyll Lion Toothpaste, formulated with chlorophyll
1957

Launched Super Lion toothpowder formulated with fluoride and Super Lion Tooth Moistened-Powder
1959
Launched dental hygiene activities for mothers and their children (later named the "Tanpopo Initiative")
1960
Established Lion Dentifrice (Malaysia) Sdn. Bhd.
1961

Launched White Lion toothpaste incorporating the new active ingredient calcium phosphate, which is highly effective for whitening teeth
1961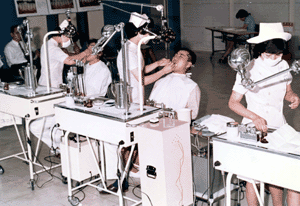 Launched the Cherry Program industrial dental health activity. The Cherry Program grew by targeting companies and workplaces, and offered guidance and advice related to oral hygiene.
1961
Announced the creation of a manufacturing complex with Lion Fat and Oil Co., Ltd.
1962

Launched Tobacco Lion, a toothpowder for smokers
1962

Launched Vitalis hair-styling product for men and Ban antiperspirants and deodorants through a technological tie-up with Bristol-Myers Co. (currently, Bristol-Myers Squibb Company) of the United States
1963

Launched BUFFERIN antipyretic analgesics
1964

Launched Dentor Lion toothpaste, which helped protect against alveolar pyorrhea
1964
Completed the Odawara Plant to mass produce toothpastes

(Photo) The Shinkansen bullet train passes the newly opened Odawara Plant. Designed mainly for the integrated mass production of a small number of products, the plant became the core of the production system to accommodate future diversification.
1964
Established a Marketing Department and introduced the product manager system
1964
Established the Lion Foundation For Dental Health
1965

Launched Rolling Lion, a toothbrush suited for the rolling method of brushing
1965
Established Bristol-Myers Lion Ltd.
1966
Established Lion Dentifrice (Thailand) Co., Ltd.
1967
Formed an alliance with McCormick & Company, Inc. of the United States to sell 82 varieties of seasonings
1968

Launched Etiquette Lion, a toothpaste for preventing bad breath
1968
Established the All Lion Society in cooperation with Lion Fat and Oil Co., Ltd.
1969

Launched Bannet Lion, a toothbrush with an arched handle that makes it easy to brush the back surfaces of teeth
1969
Completed the Akashi Plant to mass produce toothbrushes
1970

Launched White & White Lion toothpaste in laminated tubes
1971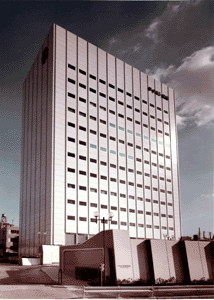 Completed the new head office building. Cornerstone laying and completion ceremonies were held to commemorate the 80th anniversary of the Company's founding on October 30, 1971.
1971
Built the Biological Experiment Center in Odawara as a joint venture with Lion Fat and Oil Co., Ltd.
1971
Established the Consumer Center (later renamed the Consumer Service Office)
1971
Celebrated 80 years since the founding of the Company as T. Kobayashi & Co.
1973
Published 80 Years of Lion Toothpastes, a Company history
1978
Established Lion Products Co., Ltd. with a view to merging with Lion Fat and Oil Co., Ltd.
1980
Merged with Lion Fat and Oil Co., Ltd. to form Lion Corporation
Lion Soap Co., Ltd.
1919-1979
1919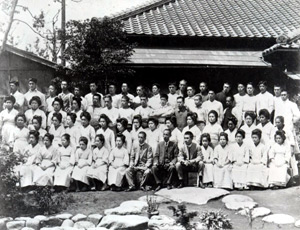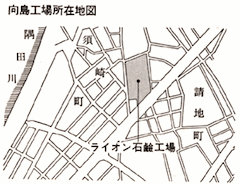 The Soap Division of Kobayashi Co., Ltd. was spun off to become Lion Soap Co., Ltd.
1920
Launched Plant-derived Lion Laundry Soap, the first plant-derived household laundry soap made in Japan
1922
Entered sales alliance with the mediation office of the National Central Industrial Alliance (later the Zenkouren national buyer's association, which then become part of National Federation of Agricultural Cooperative Associations)
1925
Began laundry training courses to improve living conditions in agricultural and fishing villages
1925
Successfully produced glycerin meeting Japanese Pharmacopoeia requirements using in-house proprietary technology
1927
Launched Kumiai Powder Soap through the Zenkouren national buyer's association
1928
Launched Mikuni Powder Soap
1933
Established the Laundry Information Service Center
1936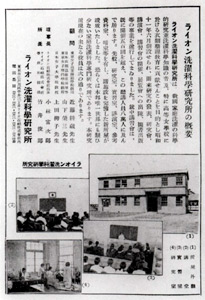 Completed the Hirai Factory (forerunner to the Tokyo Plant), which housed integrated soap manufacturing facilities as well as a solid-oil refinery, a glycerin plant and an alcohol plant.
(Photo) The Hirai Factory, completed in 1936. The Company's headquarters relocated to Hirai in 1937.
1936
Dissolved the Laundry Information Service Center into the newly established Lion Laundry Science Laboratories on the grounds of the Tokyo Plant.
In 1938, a two-story, 330 square meter laboratory building was completed. The laboratory held lectures on laundering and performed theoretical analyses of the laundering process.
1937
Launched Mikuni Maruseru Powder Soap
1937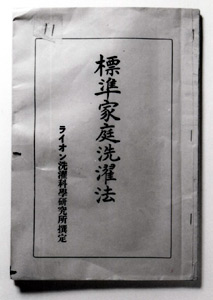 Published Standard Household Laundry Methods, a booklet that was adopted as a home economics text at many girls' high schools.
(Photo) This booklet, compiled by the Lion Laundry Science Laboratories, was used as an educational text at many girls' high schools.
Until this point, there had been no authoritative information about laundering. The booklet filled this need with experimental scientific information on many related topics.
1938
Launched Lipon, a high-quality alcohol-based detergent for cleaning such natural fibers as silks and furs as well as tableware
1939
Launched the cutting oil Dash
1940
Formed a capital alliance with Nippon Chemical Industries, a Mitsubishi Group company, and changed the Company name to Lion Fat and Oil Co., Ltd.
1943
Ran successful production test of aviation lubricant derived from palm oil
1947
Received a Ministry of Commerce and Industry research grant for experimental mining technologies for research related to manufacturing synthetic detergent from oil found in low-temperature tar
1950
Launched Lion Powder Soap
1951
Invested in Toshiba Fats and Oils, Co., Ltd.
1951
Received a Ministry of International Trade and Industry industrialization test grant for research related to using palm oil in industrial applications and the development of plasticizer dioctyl phthalate for vinyl chloride
1951
Held the Fun Night for Lion Soap Users (this later became the Lion Jab Jab Show)
1952
Launched Lion Shampoo Powder
1953

Launched Lion Powder Laundry Soap for Washing Machines
1953
Built the Company's first spray drying tower
1956

Launched Lipon F, Japan's first kitchen detergent for washing fruits, vegetables and tableware. Lipon F was the first product endorsed by the Japan Food Hygiene Association and created an entirely new market.
1956
Built a second spray drying tower for the manufacture of granular synthetic detergent.
(Photo) Completed in April 1956, the tower as 7 meters in diameter, 20 meters high, and had a daily production capacity of two metric tons. For a short time, the tower provided more than sufficient production capacity, but with growth of Lipon F sales and the commencement of TOP production, the tower was soon operating at maximum capacity.
1957
Established the Lion Household Science Laboratories
1957
Completed the technology for Japan's first continuous sulfonation equipment
1960
Installed equipment for continuous fatty acid ester saponification (the ES method).
Lion began operating new continuous fatty acid ester saponification equipment using the ES method for manufacturing soap. In this method, ester substitution using a methanol medium was used to produce methyl ester from fats and oils. This was then saponified using caustic soda to produce soap, and the methanol freed was then circulated for re-use.
1961
Announced the creation of a manufacturing complex with The Lion Dentifrice Co., Ltd.
1962
Launched Japan's first foam-suppressing laundry detergent, Hi TOP
1963

Launched Acron, a laundry detergent for wool and other delicate fabrics
1964
Completed the Kawasaki Plant
1965
Launched Blue Dia, a mixed laundry detergent containing white and blue grains
1965

Launched Emeron shampoo, which imparted a pleasant fragrance to washed hair
1966
Launched Emeron beauty soap, a soft-on-the-skin, easy-to-lather soap
1966
Launched Mama Lemon, a smooth-on-the-skin, lotion-type detergent for washing tableware and vegetables
1966
Completed alpha-olefin sulfonation technology
1967
Established The Lion Fat and Oil (Thailand) Co., Ltd.
1967
Launched the laundry detergent Dash, containing alpha olefin sulfonate (AOS), a new, highly biodegradable surfactant
1968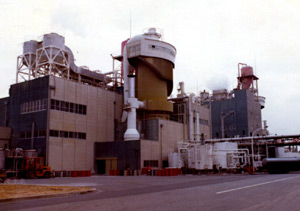 Established the All Lion Society in cooperation with The Lion Dentifrice Co., Ltd.
1968
Completed the Osaka Plant on October 1. In addition to increasing the Company's production capacity, the factory was built with a warehouse that shipped products throughout the Kansai region through shipping centers, greatly helping to modernize the Company's distribution operations.
1970

Launched Emeron Cream Rinse hair conditioner. Marketing involved a famous television commercial and the product became a hit.
1971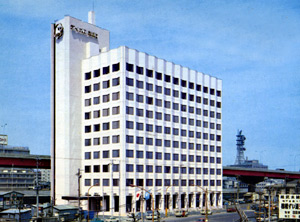 Completed the new head office building in April 1971
1971
Built the Biological Experiment Center in Odawara as a joint venture with The Lion Dentifrice Co., Ltd. (later reorganized as the Biological Science Research Laboratories)
1972
Established the Consumer Consultation Office (later renamed the Consumer Service Office)
1973
Launched Seseragi, Japan's first phosphate-free detergent
1975
Launched Spark 25, a compact detergent with low phosphate content
1977
Participated in an international soap and detergent conference and presented technology for manufacturing low-phosphate detergent
1978
Established Lion Products Co., Ltd. with a view to merging with The Lion Dentifrice Co., Ltd.
1979

Launched TOP, a laundry detergent with enzyme power
1979

Launched Mama Royal, a soft-on-the-skin dishwashing detergent
1980
Merged with The Lion Dentifrice Co., Ltd. to form Lion Corporation
Lion Corporation
1980-
1980
Launched Between Lion, a toothbrush designed to clean between the teeth
1980
Launched a phosphate-free version of Enzyme Power TOP
1981

Launched CLINICA Lion, a toothpaste with enzymes that break down cavity-causing dental plaque
1982
Launched Charmy Green, a soft-on-the-skin dishwashing detergent
1985
Created the Pinpon System to reflect customer input in products. This system was replaced with the New Pinpon System in 1996.
1986
Launched Smile Ace antibacterial eyedrops
1988
Launched Hi TOP super-concentrated laundry detergent with high-performance enzymes. Just 25 g of this detergent was sufficient to clean a typical load of laundry.
1991
Held a ceremony celebrating the 100th anniversary of the Company's founding (a company history, 100 Years of Lion, was published the following year)
1991
Commercialized PSS, an additive for coal-water-mixture fuel for thermal power generation
1991
Launched Spark laundry detergent with environmentally friendly plant-based ingredients derived from palm oil
1992

Launched Emeron Shokubutsu-Monogatari (Plant Story), a beauty soap made with 100% plant ingredients
1993

Launched Dentor Systema Lion, a brand of liquid toothpaste, toothbrushes and mouthwash for preventing periodontal disease
1994
To celebrate its 30th anniversary, the Lion Foundation for Dental Health held the Dental Seminar for dentists from around Japan
1995
PC Clinica Toothbrushes received Good Design designation from the Ministry of International Trade and Industry
1996
Received the 1996 award from the Ministry of International Trade and Industry for the most positive consumer oriented business
1997

Launched KireiKirei Medicated Hand Soap, formulated with an antibacterial agent
1999
Announced a comprehensive tie-up with Henkel KGaA of Germany to handle household products
2000

Launched Charmy V, a dishwashing detergent with long-lasting cleaning power that can disinfect sponges
2000
Won the Asahi Shimbun Foundation "Response to Consumer Need Award" in the Grand Award for Corporate Social Contribution
2000
Established the Lion Dental Research Award, a science award given by the International Association for Dental Research (IADR)
2001

Launched Heyaboshi TOP, a laundry detergent that allows clothes to be hung up to dry indoors without developing a musty smell
2002

Launched BUFFERIN Plus, combining acetylsalicylic acid, the analgesic ingredient in BUFFERIN A, with three additional active agents
2002
Held the 59th Mass Tooth Brushing Exercise for School Children
2004
Acquired the over-the-counter (OTC) drug business of Chugai Pharmaceutical Co., Ltd., including the health tonics Guronsan and New Guromont, Varsan insecticides, and Shin-Chugai Ichoyaku gastrointestinal medicine
2004
Took over operations of the Home & Personal Care Division of CJ Corporation in South Korea
2005
Launched Guronsan Red with a new marketing campaign
2006
Launched LOOK Kirei no Mist series of antibacterial and sanitary sprays for the toilet, bathroom, kitchen, and cloth items
2007
Acquired trademark rights to the BUFFERIN brand
2007
Began construction of a plant in Malaysia for manufacturing plant-based surfactant
2007
Received the 16th Grand Prize for the Global Environment Award
2007
Launched CHARMY Awa no Chikara (Power of Suds) dishwashing detergent
2007
Launched TOP Fuaikan laundry detergent
2007
Launched Dentor Clear MAX Lion toothpaste
2007
Launched CLINICA Cavity Protect toothpaste
2008
Selected by the global SRI (socially responsible investing) index FTSE4Good Global Index
2008
Became the first manufacturer to receive Eco First certification from the Ministry of the Environment and participated in the "Eco First Program" proclamation
2009
Founded the Lion Award Japan, awarded through the Society on Water Environment to support young researchers engaged in research aimed at preserving aquatic environments
2009
Completed new research and development facilities at the Hirai site
2009
The TO Reactor, used to manufacture surfactant, was registered as an item of Future Engineering Heritage
2010
Commenced trial broadcasts of the Company's first nationwide television commercial with subtitles
2010
Launched super-concentrated liquid laundry detergent TOP NANOX
2011
Footage of Lion founder Tomijiro Kobayashi's funeral procession designated an important cultural property
2011
Designated "Meisters" as specialists to create and provide information useful for daily living
2011
Announced the Vision2020 new management vision
2012
Lion product Lactoferrin received the 16th Momofuku Ando Award for Excellence and the 2012 JSBBA Award for Achievement in Technological Research
2012

Launched LOOK Bath Antimold Fogger, which uses silver ion fog to sterilize and prevent mold growth
2012
Began the V-1 Plan medium-management plan, aimed at achieving the goals of Vision2020
2013
Opened ORALYSIS, an oral care shop by the Yaesu South exit of Tokyo Station
2013
Established Gran Tokyo Oral Health Care Station, a preventive dentistry clinic
2014
Began the "KireiKirei City—Sakaide" Project, a social contribution initiative in cooperation with Sakaide City in Kagawa, Japan
2014

Released the renewed CLINICA brand, "from a Preventive Dentistry Perspective"
2014

Released Ban Sweat-Blocking Roll-On, an innovative product to reduce underarm sweat and help prevent sweat marks on clothing
2014

Launched new BUFFERIN PREMIUM, featuring a premium formula for fast, effective relief from painful headaches
2014

Launched Lidea, a new website for lifestyle information
2015

Launched new CHARMY Magica, a nano-cleansing dishwashing detergent
2015
Established the Vision2020 Part-2 medium-term management plan (the V-2 Plan)
2015
Established the first toothbrush recycling program in Asia in order to decrease the environmental impact of used toothbrushes
2015

Re-launched Nice rim essence Lactoferrin labeled as a functional food product that "helps reduce visceral fat and bring down high BMI"
2015
Reorganized chemical-related subsidiaries and divisions to launch the new Lion Specialty Chemicals
2015
Launched Between Zeitaku Care, a toothbrush generously packed with bundles of multi-level tapered bristles to reach every nook and cranny
2015
Consolidated equity-method company Southern Lion Sdn. Bhd., based in Malaysia, making it a consolidated subsidiary
2016
Launched TOP SUPER NANOX, a super-concentrated liquid laundry detergent that effectively cleans grime off each and every fiber
2016
Established LION tomoni Co., Ltd. to promote the hiring of and expand opportunities for people with disabilities
2016
Launched hadakara Body Soap, a body soap featuring Japan's first moisture-adsorbing formula, which ensures moisturizer is not washed away
2016
Samples of TOP with Enzyme Power, released in 1979, registered as Essential Historical Materials for Science and Technology (items of Future Engineering Heritage) by the National Museum of Nature and Science
2016
Launched the Salivary Multi Test, a test system that can measure multiple saliva indicators in just five minutes
2016
Shiseido, Unicharm and Lion formed an alliance aimed at reinforcing in-store maintenance and other functions at retailers
2017
Launched new and improved CLINICA Kid's Toothbrush, a lineup of toothbrushes with flexible, durable handles in two versions (for children 0-2 years and 3-5 years old) to support healthy brushing according to age, from getting used to brushing to establishing independent brushing habits
2017
Created the new brand NONIO to care bad breath based on a scientific approach
Launched NONIO Toothpaste and NONIO Mouthwash
2017
Launched Felizona Rich Whitening Essence, a skin tone-evening essence formulated with plant-derived whitening active ingredient ellagic acid
(quasi-drug; direct-to-consumer sales only)
2018
Launched Smile Medical A, formulated with deep-penetrating vitamin A to relieve eye fatigue, due to dryness and other factors, right at the source
2018
Launched REED Petit Pressure Cooking Bags, which make it easy to prepare fresh, homemade food in the microwave
2018
Launched LOOK Plus Cleanliness Reset Total Drain Cleaner for Kitchens, a detergent that removes slime from kitchen drains just by pouring in the powder and water, with no need to scrub
2018
Launched Dent Health Denture Care Ultrasonic Denture Cleaning Kit and Ultrasonic Denture Cleaning Sterilizing Solution, which clean and sterilize dentures at home in just five minutes
2018
Launched TOP Hareta, a super-concentrated liquid laundry detergent designed to emulate the way clothing feels and smells after drying outdoors on a sunny day
2018
Launched KireiKirei Medicated Hand Gel, featuring a nano-ion disinfecting ingredient to quickly and easily eliminate germs in the tiny grooves and gaps around fingernails and fingers
2018
Launched LOOK Plus Bath Cleansing, a new type of bath detergent that cleans the tub with no scrubbing: Just mist the entire bathtub, wait 60 seconds, and rinse off
2018
Created the new Rakutasu Care brand aimed at alleviating the burden and unease of both those providing and receiving nursing care to help them take a positive outlook every day
2019
Sold the Varsan insecticide brand to LEC, Inc.