To expand creative business activities through the application of diverse human resources, Lion is promoting internal diversity.
Lion involves employees in the formulation and planning of human resource measures aimed at enabling diverse human resources to participate more fully and advance professionally. A team responsible for diversity within the Human Resources Development Center implements a variety of measures to promote diversity.
Promoting the Professional Participation and Advancement of Women
Lion recognizes that the professional participation and advancement of women is indispensable to the further enhancement of corporate value and is proactively implementing measures to promote the professional engagement of women.
Based on the Act on Promotion of Women's Participation and Advancement in the Workplace passed by the Japanese Diet in 2016, Lion is implementing measures to enable the long-term professional participation of women. These include expanding our childcare-related programs and implementing measures to support employees balancing childcare obligations with work. Such measures have successfully enabled employees to stay with Lion over the long term, with the average years of service of female Lion employees at 12.8 years, compared with 16.7 years for men (non-consolidated basis, including employees on loan).
Through a range of initiatives, we have increased the proportion of female employees at the management level*1 in Japan to 18.4% (2020). Looking toward 2030, we aim to advance the professional development and promotion of women on a Group-wide basis, targeting a rate of women in management*2 of at least 30% for the Group, and at least 35% for Lion Corporation.
Lion's action plans based on the Act on Promotion of Women's Participation and Advancement in the Workplace and its Declaration for the Promotion of Women's Participation and Advancement in the Workplace are available on the Ministry of Health, Labour and Welfare's portal site for information about positive action to promote women's participation and advancement in the workplace.
Lion's entry in the Ministry of Health, Labour and Welfare's database of companies submitting action plans and data based on the Act on Promotion of Women's Participation and Advancement in the Workplace [Japanese]
*1 Personnel holding managerial positions at the level of assistant manager or higher
*2 Personnel holding managerial positions at the level of manager or higher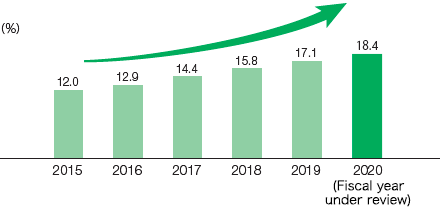 Act on Promotion of Women's Participation and Advancement in the Workplace General Employer Action Plan
Lion Corporation
Lion Corporate has established the following action plan in order to create environments in which employees with diverse work styles and values can participate and advance, regardless of such factors as nationality, gender or age, and to further increase opportunities for value creation.
Plan duration: May 1, 2021 to December 31, 2030
Challenges we face:

Closing the gap in the proportion of men and women in management positions
Creating a corporate culture that respects and leverages diversity

Action plan

Target 1: A rate of women in management* of at least 35% by the end of 2030

From 2021:

Revise evaluation systems to promote the professional participation and advancement of both men and women
Build a career support system that eliminates bias and enables empowerment
(enhance the mentoring system, create development plans that account for life events, etc.)
Reinforce internal and external communication about management's commitment to promoting women's professional participation and advancement

* At the level of manager or higher, in general

Target 2: For 100% of eligible men to take childcare leave by the end of 2030

From 2021:

Promote a shift in thinking toward leveraging diversity
Implement training on unconscious bias
Reinforce promotional activities to encourage the use of childcare leave
Provide opportunities for reflecting on employee diversity
Actively Promoting the Professional Participation of People with Disabilities
In March 2016, we established the special subsidiary Lion Tomoni Co., Ltd. as a workplace designed to maximize the valuable attributes of people with disabilities, such as dedication, persistence, motivation, ability to concentrate, desire to contribute and positive attitude. The business actives of Lion Tomoni help streamline and rationalize Group operations.
Lion Tomoni Co., Ltd.'s 28 employees and six instructors (as of December 31, 2020) engage in a wide variety of operations, such as cleaning the employee cafeteria and washing laboratory ware, preparing business cards and employee badges, and operating a stationery reuse service. Under the mottos of "safety first" and "working with dedication and vigor," Lion Tomoni will continue to promote the hiring and professional participation of people with disabilities.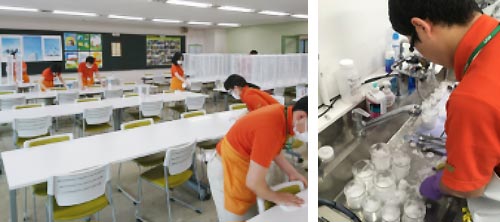 Diverse Work Styles
Career Design Support
From 2011 to 2019, Lion's career counseling desk helped employees proactively enhance their own career path. Focused on Lion employees, the desk accepted consultations via phone or email, and provided opportunities for face-to-face career consultations to help employees gain new insights by soliciting employee participation. A cumulative total of 819 employees used the system (as of the end of 2019). Annual surveys of its users found a high level of satisfaction regarding their consultations and positive changes in their mindsets and actions. In 2020, we completely revamped the career counseling desk and launched what we call Career Design Support, which is aimed at supporting conscious autonomy that will enable employees to advance their careers themselves based on their own aspirations and actions. The desk offers career consultations and disseminates information in and outside the Company, helping employees design their careers and rediscover their own potential.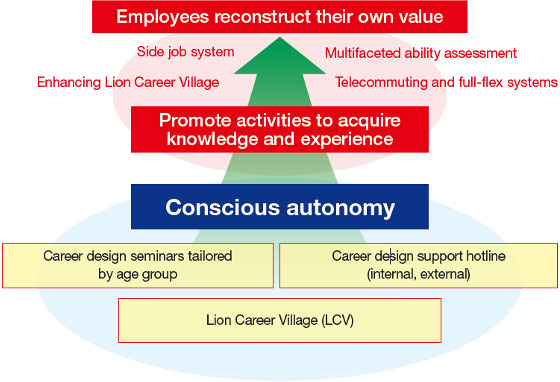 Support Systems for Accompanying Spouses on Work Transfer
Since 2011, Lion has offered support systems for married couples who both work for Lion as a way of supporting the diversifying work styles of its employees. With prior registration, when an employee's spouse is transferred within Japan or overseas, the employee can either accompany their spouse while taking a leave of absence, resign from the Company with the option of being rehired within five years, or change their own work location to that of their spouse.
Retired Employee Re-Hiring System
Lion introduced a system for re-hiring retired employees in 2006. Under the revised system, the Company seeks to increase the motivation of re-hired employees by providing an environment that allows them to work on terms similar to those applying to ordinary employees. This includes re-hiring all applicants, permitting changes of duties during their contract period and awarding performance-based bonuses. Furthermore, incorporating employee suggestions, the Company conducts explanatory orientations about the system for employees three years before they reach the standard retirement age as well as meetings with their superiors upon re-hiring to help them understand their new roles. In 2020, the re-hiring rate for retirees was 86.3%.
System for Re-Hiring Former Employees
Lion has established a system to re-hire former employees who have voluntarily resigned so that they might leverage their diverse life and career experience and knowledge in working at Lion again.
Regionally Based Employee Program
Lion has offered a regionally based employee program since 2013. This program is aimed at securing outstanding human resources who are contributing greatly from among Lion's pool of temporary employees and enabling regular employees to practice diverse work styles. Under the system, the whole of Japan is divided into seven blocks, and participating employees are guaranteed not be transferred out of the block of their choosing. These employees' compensation and benefits are on par with those of regular employees.
Hires under the Regionally Based Employee Program

| 2016 | 2017 | 2018 | 2019 | 2020 |
| --- | --- | --- | --- | --- |
| 9 | 5 | 17 | 17 | 2 |
Employee Data
Employee data for Lion Corporation (non-consolidated) and domestic Group companies
(excluding employees on loan from Lion Corporation*1). All as of December 31.
2016
2017
2018*2
2019*2
2020*2
Employees
Lion Corporation
Male
2,239
2,203
2,267
1,863
1,971
Female
775
821
917
987
1,148
Domestic Group companies
Male
636
643
560
374
384
Female
173
182
145
57
57
Female employee ratio
Lion Corporation
25.7%
27.1%
28.8%
34.6%
36.8%
Domestic Group companies
21.4%
22.1%
20.6%
13.2%
12.9%
New hires (new graduates)
Lion Corporation
Male
49
57
63
42
54
Female
29
36
33
34
33
Domestic Group companies
Male
11
16
16
12
19
Female
6
7
6
9
10
Re-hired retirees
Lion Corporation
Number
250
216
210
160
185
%
8.3%
7.1%
6.6%
5.6%
5.9%
Domestic Group companies
Number
10
9
8
47
58
%
1.2%
1.1%
1.1%
10.9%
15.1%
Temporary employees
Lion Corporation
467
458
532
528
196
Domestic Group companies
60
66
27
68
67
Female employees at the management level*3
Lion Corporation
Number
149
170
186
200
226
%
12.9%
14.4%
15.8%
17.1%
18.4%
Female managers*4
Lion Corporation
Number
62
68
74
76
77
%
6.9%
7.5%
8.2%
11.0%
10.6%
Domestic Group companies
Number
6
2
2
5
6
%
3.8%
1.5%
1.6%
2.6%
3.2%
Employees with disabilities
Lion Corporation
Number
55
63
76
77
75
%
2.2%
2.4%
2.8%
2.8%
2.7%
Employees who took childcare leave
Lion Corporation
Male
2
9*5
16
13
32
Female
53
57
53
61*5
78
Domestic Group companies
Male
0
1
3
0
3
Female
5
8
7
3
1
Employees who took shorter work hours for childcare
Lion Corporation
Male
0
0
0
0
0
Female
40
57
64*5
63*5
73
Domestic Group companies
Male
0
0
0
0
0
Female
9
6
7
3
4
Average overtime per month
Lion Corporation
12.3hours
12.5hours
13.7hours
13.5hours
8.7hours
Domestic Group companies
11.2hours
9.4hours
13.8hours
10.2hours
8.1hours
Annual paid leave used
Lion Corporation
55.1%
50.7%
60.3%
73.7%
68.6%
Domestic Group companies
57.3%
53.2%
53.7%
64.2%
64.6%
Average service years (excluding rehired retirees)
Lion Corporation
Male
20.3
20.4
19.6
17.2
16.7
Female
18.0
18.0
16.8
14.1
12.8
Domestic Group companies
Male
15.5
15.4
14.7
18.9
20.7
Female
13.2
13.8
11.8
14.7
13.0
Employees who resigned within three years of entering the Company
Lion Corporation
Number
4
1
2
8*5
10
%
1.6%
0.4%
0.8%
3%*5
4%
Domestic Group companies
Number
2
9
2
1
3
%
3.8%
1.1%
3.8%
1.5%
4.6%
*1 Non-consolidated figures include employees on loan
(except for figures for female employees at the management level)
*2 Data for domestic Group companies reflects the decrease in the number of consolidated subsidiaries
*3 Personnel holding managerial positions at the level of assistant manager or higher
*4 Personnel holding managerial positions at the level of manager or higher
*5 The figures have been revised due to an error in past data