Approach
The Lion Group strives to foster habits that allow employees to feel secure and take on challenges so that they can autonomously exercise their abilities to the fullest. By doing so, we aim to develop human resources who generate innovative dynamism.
To encourage the growth mindset* necessary for autonomous growth, we provide a program that promotes self-understanding as well as career design support aimed at helping each employee develop a career vision. Furthermore, we offer ongoing e-learning that employees can use for autonomous study aimed at achieving their particular vision and a variety of group discussion programs. Through these and other means, we provide wide-ranging support to suit each individual.
Furthermore, the entire Company works to maintain a culture that promotes employee growth. By enhancing the relationships between supervisors and their subordinates, we are working to foster a high level of psychological safety at all workplaces.
Furthermore, enhancing the creativity of each and every employee will be key to creating the new value that is essential to realize the management vision. To this end, we are taking a two-pronged approach comprising supporting the development of diverse talents and providing opportunities to utilize such diverse talents.
We provide support for human resource development in which employees grow by autonomously acquiring knowledge and experience in order to realize the careers they have designed for themselves and thus make maximum use of their diverse talents.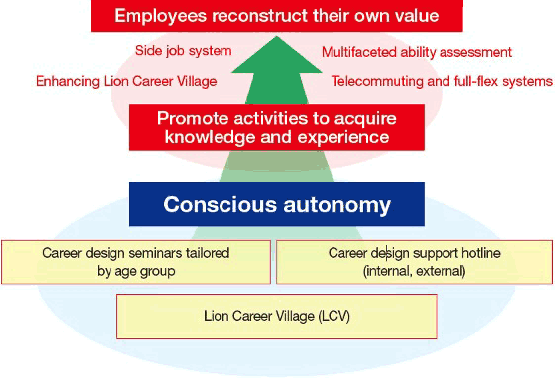 * The belief that one's talents and abilities can be developed through experience and effort
Lion's Ideal Human Resources
Individuals who proactively think and take action regarding their careers, work and work styled and engage in their work productively
Human Resource Development System that Support Autonomous Learning
By implementing the following four policies, we will develop human resources who proactively learn and act. In this way, we will generate personnel-based dynamism.
Enhancing leader development programs
Building new educational frameworks to develop human resources with the ability to proactively absorb wide-ranging insights and take action
Promoting mindset development at career turning points, such as upon hiring or promotion
Linking department-level knowledge and skills acquisition programs with headquarters-led programs to further develop expertise in specific work areas

Multifaceted Evaluations of Ability
One of the four overarching themes of the Lion Professional Fulfillment Reforms is Work Management. As a measure in this area, we carry out multifaceted evaluations of ability, which provide an impetus for employees to autonomously grow and work in ways that better suit them.
Once a year, employees and their colleagues evaluate their behavioral characteristics and receive feedback from their supervisors. This initiative, adopted from fiscal 2021, helps spur self-directed, autonomous growth.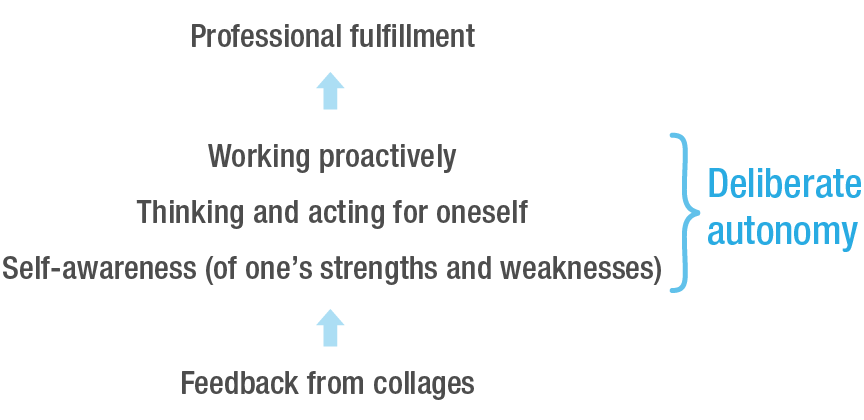 Lion Career Village (LCV)
Since 2019, to adapt to changing modes of learning while creating new learning opportunities, we shifted from conventional level-specific training to a more self-directed mode of learning via Lion Career Village (LCV), our platform for learning. LCV offers programs divided into e-learning (mainly video content) and small group discussions. Users can access and learn from approximately 4,000 units of online content and discussion-style programs encompassing knowledge from within the Group and outside.

Going forward, to help employees gain knowledge that will further expand the breadth and depth of their work and with an eye to accelerating institutional learning, we will create environments that enable them to teach one another and share what they have learned.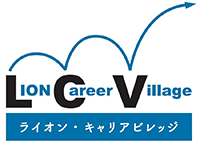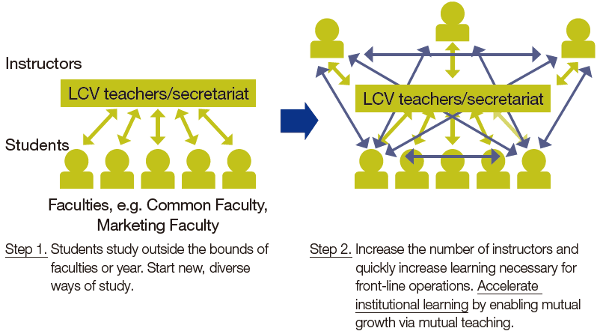 Going forward, we will continue to improve work environments that promote ambition and creation to help all employees advance their careers in an effort to reinforce front-line capabilities.
Career Planning Support
Lion's career design support hotline offers consultations about employees' careers and provides information from inside and outside the Company to support employees in realizing career autonomy in the form of advancing their own careers based on their own aspirations and actions.
From 2011 to 2019, Lion's career counseling desk helped employees proactively enhance their own career path. Focused on Lion employees, the desk accepted consultations via phone or email, and provided opportunities for face-to-face career consultations to help employees gain new insights by soliciting employee participation. A cumulative total of 819 employees used the system (as of the end of 2019). Annual surveys of its users found a high level of satisfaction regarding their consultations and positive changes in their mindsets and actions. In 2020, we completely revamped the career counseling desk and launched what we call Career Design Support, which is aimed at supporting conscious autonomy that will enable employees to advance their careers themselves based on their own aspirations and actions. The desk offers career consultations and disseminates information in and outside the Company, helping employees design their careers and rediscover their own potential.
We also hold career design seminars by age group. For young people in their 20s and 30s, the seminars provide an opportunity to gain insight into career development in response to changes in society and the environment. For those in their 40s and 50s, the seminars provide a place to take stock of their careers to date and consider future careers that make use of their personal characteristics, including their experiences, values and strengths. In total, 789 people participated in the seminars in 2020 and 2021.
Strengthening Relationships
One of the four overarching themes of the Lion Professional Fulfillment Reforms is Strengthening Relationships. The Lion Group is implementing Relationship Enhancement Program for Group Management aimed at strengthening relationships among employees.* Targeting all 600 officer-level Group employees, the program seeks to redefine their relationships with their workplace colleagues. With 100 individuals participating in every six-month term, the program will run for a total of six terms (three years). To realize professional fulfillment, strengthening relationships among employees—the foundation of professional fulfillment—is absolutely essential. Accordingly, with a focus on psychological safety, the program aims to encompass everyone in the Group, including management.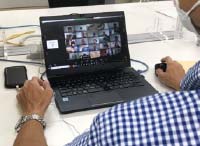 * The program is being implemented in an online format for all Group officer-level employees of the Lion Group working at domestic offices.
ReDesign FORUM
Lion is carrying out ReDesign Activities, a Company-wide initiative, in accordance with the idea that it is necessary to engage in action that creates dynamism for personnel, organizations and management based on earnest discussion between employees and management about essential issues that could alter Lion's corporate behavior.
As part of ReDesign Activities, Lion launched the ReDesign FORUM in 2018 with the aims of directly conveying to management the passionate desire of employees to bring change to the Company and of rapidly implementing their proposals.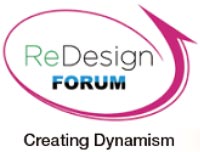 Overview of Activities
The ReDesign FORUM brings together employees from a wide range of divisions.
Participants form teams to work on specific themes and explore issues related to each. They then work to find solutions to these issues by, for example, implementing experimental measures and meeting with related departments, external experts and other companies. The teams brush up their proposals through direct dialogue with management before making their final reports, at which point management decides whether or not their proposals can be implemented.
Management has examined the feasibility of the measures proposed by the teams in each of the ReDesign FORUM's three years. A variety of these have been put into practice and taken root within the Company.
Participants have commented that the ReDesign FORUM gave them a chance to directly convey their passion and ideas to management and see them realized. They also noted that participating increased their affection for Lion and gave them a greater sense of professional fulfillment in their work. As these comments demonstrate, this initiative is both creating opportunities to change Lion's corporate activities and helping to increase employees' professional fulfillment.
Participants
Themes
Measures implemented
First term
(2018)
95
・Work style reforms for maximizing new value creation
・Operational reforms for maximizing the speed of business
・Maximizing the use and development of human resources
Measures based on the themes at left are being implemented as part of Company-wide initiatives, such as the Lion Professional Fulfillment Reforms
Second term
(2019)
35
・Expand and Evolve Our Business Domains through New Value Creation
・Accelerate Growth in Overseas Businesses through Glocalization
・Reinforce Our Management Base through Business Structure Reform
Self-led LION ACADEMIA activities and other measures aimed at transforming corporate culture are being implemented
Third term
(2020)
26
・Accelerating and Refining the Value Chain
・Informing Organizational Action with Data
・Reorienting to Promote Company-Wide Internationalization and Form a United Team
Measures are being implemented to break down barriers between employees in Japan and overseas, such as the internal side-work system, which enables participants to get more experience in international operations
NOIL
Under the theme of going beyond conventional healthcare wisdom, we launched NOIL, a program for selecting and implementing new business ideas in 2019, with the aim of continuously creating businesses that offer new value.

Held every year, the program has run three times thus far, each year collecting ideas based on diverse perspectives from among employees in not only the R&D Division and Marketing Division, but divisions across the Company, including sales divisions and the Production and Logistics Headquarters. The applicants examine issues faced by society and consumers and, on their own, come up with ideas aimed at resolving them that they turn into business proposals. To commercialize the ideas for new products and services that management and outside experts select as promising, the employees who submitted the ideas that are chosen are transferred to the Business Development Center, where they take a central role in building their new businesses.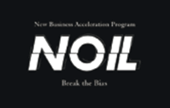 Commercialized Business: Gokinjo Cheftomo
The experience of independently coming up with the solution to a problem I had in my own daily life was the impetus for my applying to NOIL. I wanted to share my solution with others and spread the joy it brought. I also wanted to work on solving consumers' problems from a wider perspective that transcends the boundaries of the areas I had worked in previously. Bringing together underutilized resources and consumers' real desires, I started to work toward commercialization after my idea was selected through the NOIL new value creation program in December 2019.

From there, we went through about a year of commercialization study and testing, culminating in the launch of Gokinjo Cheftomo, a service for reserving dinner take out. Gokinjo Cheftomo is a service by which users can reserve dinner take out via an app for the days they need it on a weekly basis. In addition to reducing the burden of housework, Gokinjo Cheftomo fosters the added value of healthy eating habits and community connection, differentiating it from existing delivery services. The service has been well received by both users and participating restaurants, and the numbers of both are expanding. Going forward, we will work to grow Gokinjo Cheftomo into a business that contributes to the formation of new housework habits and value.

Gokinjo Cheftomo [Japanese]
Commercialized Business: Kyuzituhack
I worked in sales for eight years after joining Lion, but I decided to apply to the NOIL program because I wanted to create a business based on my own ideas in order to offer something exciting to the world. I proposed a service, Day Off Hack! to help customers mix up their stale regular routines. My idea was selected for development through NOIL in December 2019.

We established Kyuzituhack Co., Ltd. with venture capital funding, and I was appointed its president. I had my hands more than full, what with establishing the company, running it as president and developing its business. First, we developed Day Off Hack! (released October 2020), a service that connects users with interesting things to do outside the home. Then, in response to growing demand driven by the COVID-19 pandemic for home-based alternatives, we released At-Home Hack!, a service that delivers kits that provide fun, unexpected experiences that can be enjoyed at home (released March 2021).
Since their release, the services have been well received, with more than 40,000 registered users. Through services that offer encounters with new things you wouldn't think to seek out yourself, I hope we can offer new living habits and value in a fun and enjoyable way.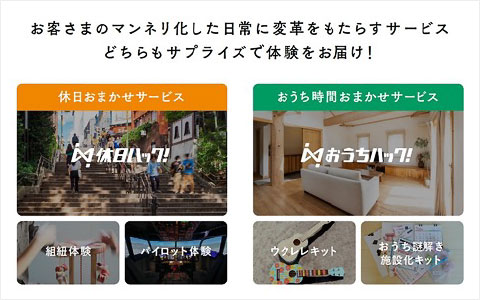 Kyuzituhack [Japanese]
Marketing Study Program
The Marketing Study Program has been implemented continuously in the Marketing Division since 2014. This program offers opportunities for the systematic study of such topics as practical marketing theory and planning design based on consumer insights and competitive strategies. The program also serves to develop marketing personnel in accordance with individual career paths.
Global Personnel Development Program
The Global Personnel DevelopmentProgram was launched in 2021 to further expand Lion's overseas business in Asia. The program's training curriculum encompasses problem solving, understanding cultural differences and learning foreign languages as well as visits to overseas locations. Through the program, we are developing globally capable human resources who can excel across Asia, including Japan, based on outstanding expertise.
Systems
Side Job System
In 2020, we introduced a side job system (in which employees can either devise their own side job or choose from a number of options) to create opportunities for employees acting with deliberate autonomy to gain knowledge and experience. Pursuing a side job can be an opportunity for employees to expand their own potential and take a fresh look at their own abilities. As such, we are both granting employees permission to work side jobs outside the Group and recruiting outside talent to work side jobs at Lion. By gaining experience outside the Company, employees can grow and evolve while expanding the breadth of their career and career options. Furthermore, we aim to leverage the external knowledge and connections that employees build through their side jobs to help create new value.
Expected Benefits
Employees will build relationships outside the Group and broaden their horizons externally, enabling them to expand the breadth of their careers and grow as individuals. They will then be able to apply the experiences gained to their work at Lion.
Lion will gain skills, knowledge and experience that it lacks internally.
Handpicked Appointment and Early Promotion
We have launched systems of merit-based "handpicked appointment" to select project leaders and persons to fill specific positions without regard to years of service or age as well as "early promotion" to quickly identify outstanding human resources early and expand their responsibility and authority. In addition, we have implemented multifaceted evaluations of ability with an eye to increasing employee satisfaction and fostering professional fulfillment.