Sustainability Material Issue 5 Developing Human Resources

Objectives
Foster human resources who generate dynamism to realize innovative change by creating environments that allow all employees to exercise their diverse abilities to the fullest and embrace challenges.
Indicators (2030)
Employees who are using diverse educational programs (Lion Career Village) for individualized skill acquisition and ability development⇒100%
Progress
(2022 results)
57%
Globally Common Measures to 2030

Introduce e-learning system and curriculum that meet the needs of overseas Group companies.
Create mechanisms that will be used to provide contents for learning opportunities on an ongoing basis.
Approach
The core concept of the Lion Group's human resource development is to generate human resources who proactively think and take action regarding their careers, work and work styles and engage in their work productively.
To put our purpose, "Make a difference in everyday lives by redesigning habits: ReDesign," into action, it is essential that each and every one of our employees is able to achieve a clear sense of professional fulfillment as well as ongoing personal growth and self-realization. We aim for all employees to operate as autonomous individuals, spurring one another on in order to generate dynamism across the organization as a whole. In this way, we seek to become an advanced daily healthcare company and contribute to the realization of healthy minds and bodies for all consumers.

The Lion Group strives to foster habits that allow employees to feel secure and take on challenges so that they can realize career autonomy and exercise their diverse abilities. By doing so, we aim to develop human resources who generate innovative dynamism.
In addition to offering support that facilitates individual self-realization, the entire Company strives to foster a culture that encourages employee growth and to strengthen relationships between supervisors and subordinates. In this way, we strive to provide conditions that enable employees to feel secure across all departments.
To enable employees to realize the careers they have designed for themselves, we provide human resource development support that empowers them to grow through the autonomous acquisition of knowledge and experience and thus make maximum use of their diverse talents.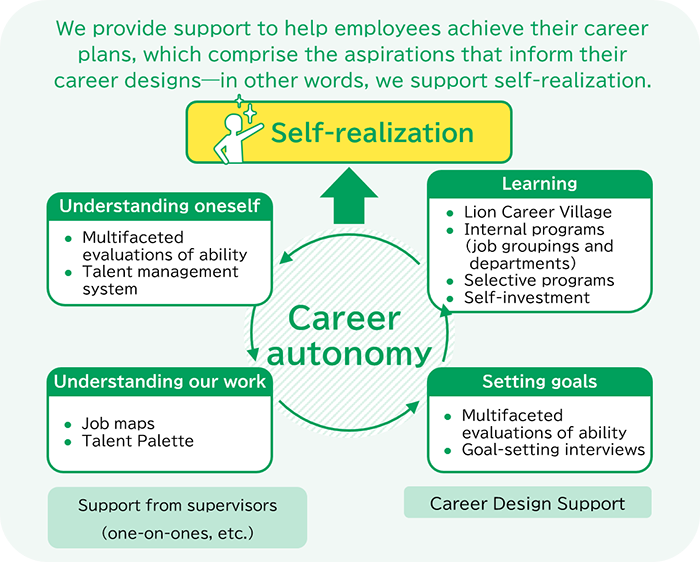 Lion's Ideal Human Resources

Human Resource Development to Support Career Autonomy
Key Points
Lion offers programs, most of which are elective, by career theme. Through these programs, we advance human resource development tailored to the growth of each individual employee.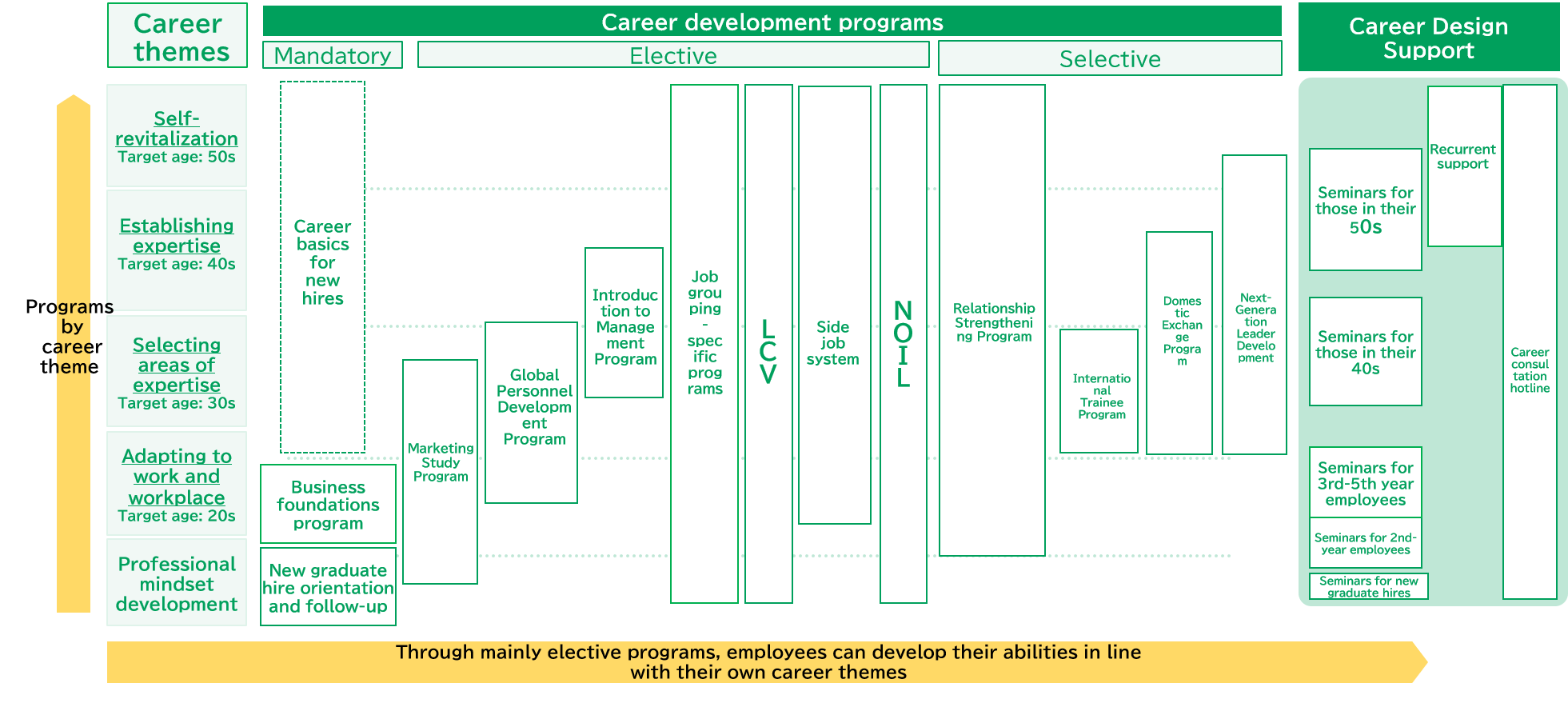 To nurture highly competent professionals, we implement human resource development through the head office, job groupings* and departments.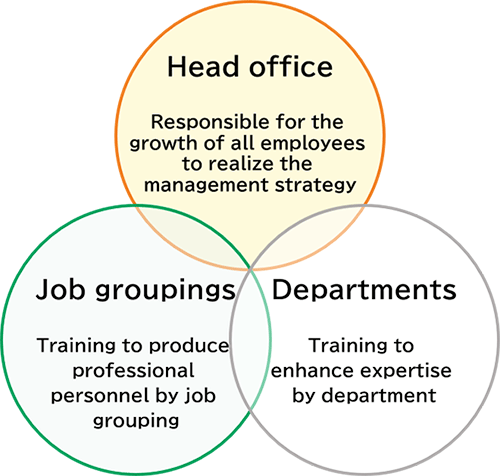 *Job groupings are cross-departmental categorizations of roles and job types that require similar expertise. The groupings serve to drive human resource development aimed at increasing expertise in specific areas and are utilized in coordination with the personnel-related initiatives of the head office and individual departments.
Career Autonomy Support Measures Multifaceted Evaluations of Ability
One of the four overarching themes of the Lion Professional Fulfillment Reforms is Management. As a measure in this area, we carry out multifaceted evaluations of ability, providing an impetus for employees to autonomously grow and work in ways that better suit them.
Once a year, employees and their colleagues evaluate their behavioral characteristics and receive feedback from their supervisors. This initiative, adopted from fiscal 2021, helps spur self-directed, autonomous growth.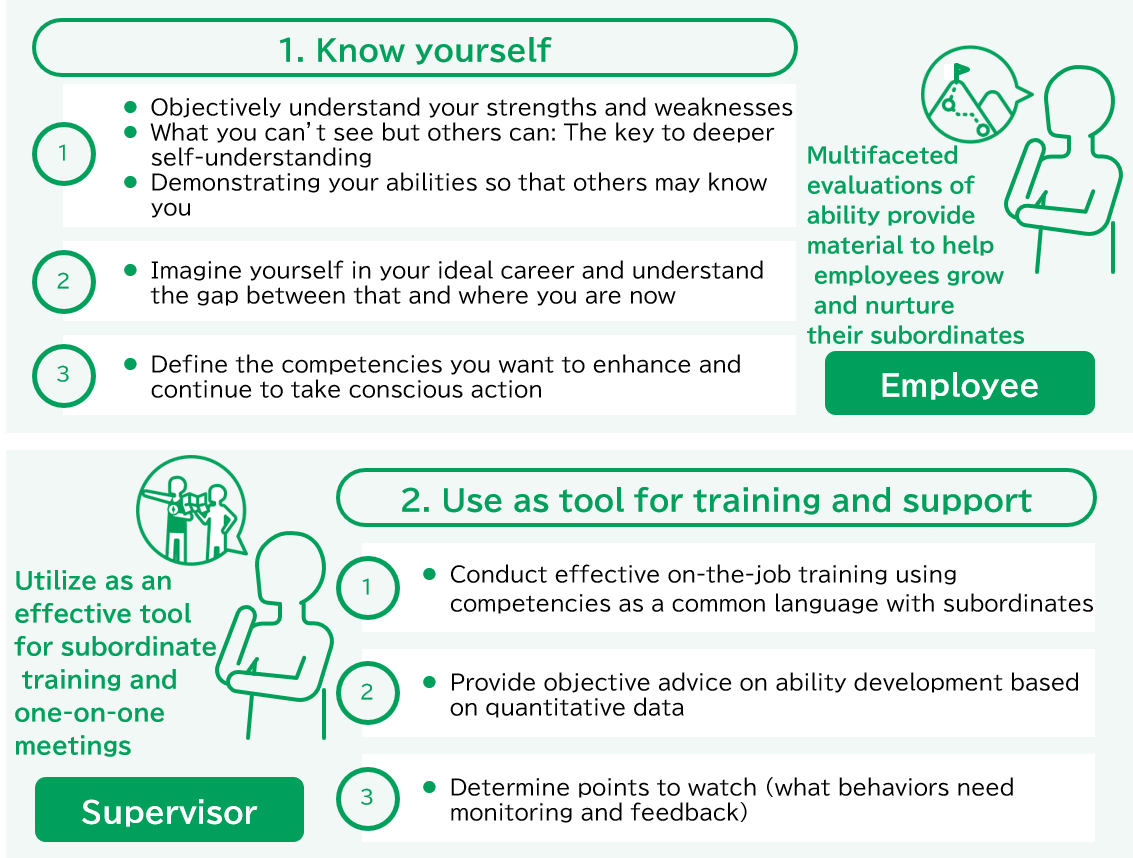 Talent Management System
One of the overarching themes of the Lion Professional Fulfillment Reforms is "Strengthen relationships." Efforts in this area include the adoption of a talent management system that gathers existing data on individuals and organizations and enables them to register and broadcast additional information themselves.
Functioning like an internal social media platform for finding as well as connecting and collaborating with others, the system helps create opportunities to strengthen relationships.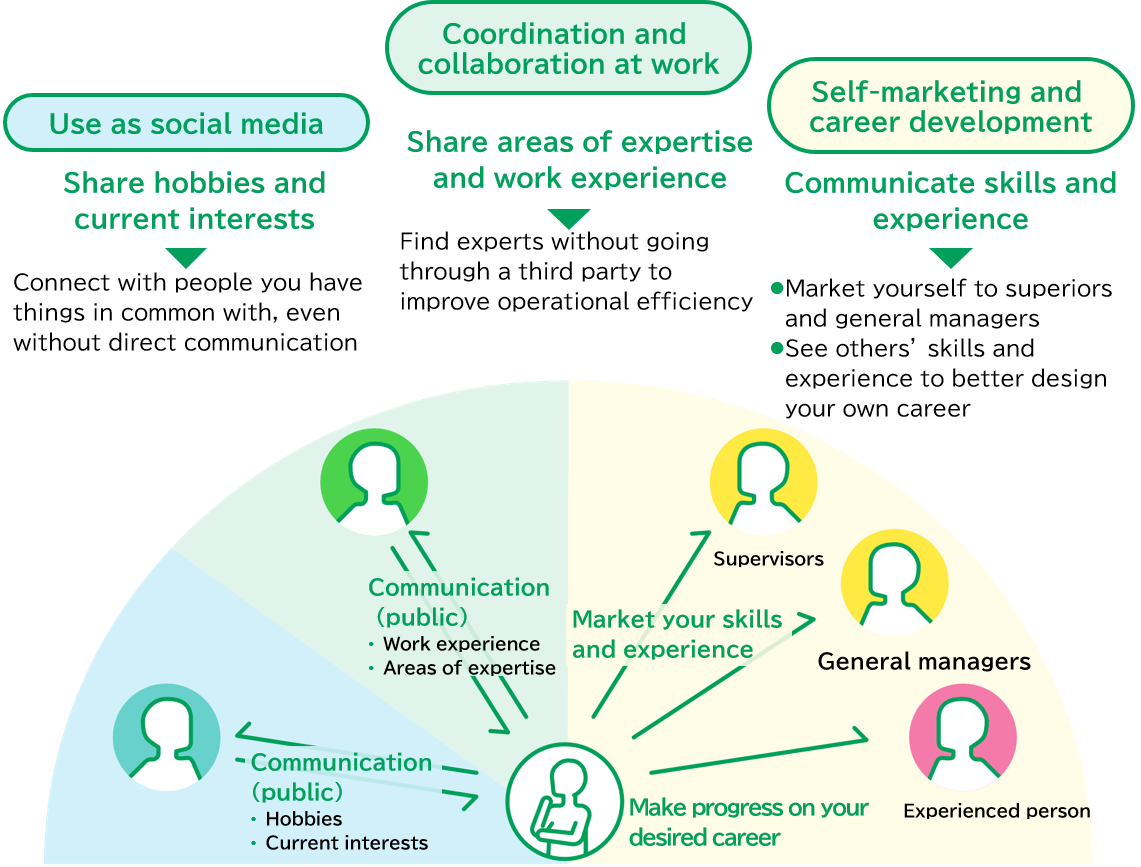 Job Maps
Job maps provide, on a single sheet, a clear visual explanation of the delineation of duties within each department, serving as an easy-to-use alternative to conventional detailed written explanations of duties by theme.
Introduced in January 2023, job maps include information on the specific duties of each role and the skills and competencies they require. This enables employees to take steps to prepare themselves for the career path they aspire to and is aimed at promoting self-development, ingenuity and ambitious effort.
Lion Career Village (LCV)
Since 2019, to adapt to changing modes of learning while creating new learning opportunities, we shifted from conventional level-specific training to a more self-directed mode of learning via Lion Career Village (LCV), our platform for learning.

LCV offers programs divided into e-learning (mainly video content) and small group discussions. Users can access and learn from approximately 4,000 units of online content and discussion-style programs encompassing knowledge from within the Group and outside.

Going forward, to help employees gain knowledge that will further expand the breadth and depth of their work and with an eye to accelerating institutional learning, we will create environments that enable them to teach one another and share what they have learned.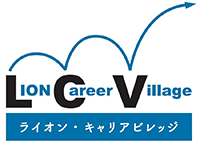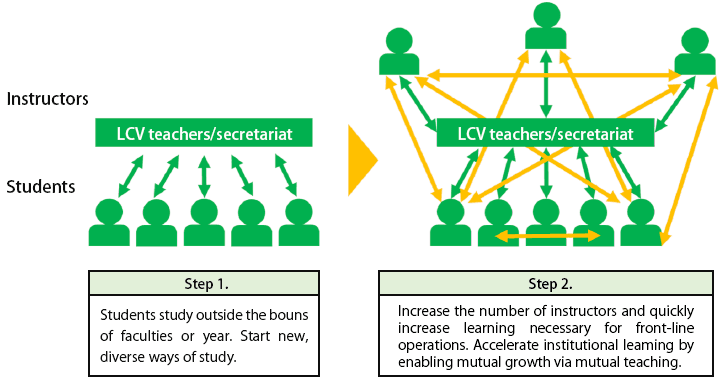 Going forward, we will continue to improve work environments that promote ambition and creation to help all employees advance their careers in an effort to reinforce front-line capabilities.
Human Resource Development Programs
Career Design Support
Lion has established the Career Design Support hotline to help employees practice conscious autonomy that will enable them to advance their careers based on their own aspirations and actions. The hotline allows employees to seek consultation about their careers and provides information from within and outside the Company, helping employees design their careers and rediscover their own potential.
We also hold career seminars for specific age groups and offer lectures on specific career themes to meet employees' particular needs while helping them develop an awareness of the ways in which they can leverage their unique strengths and experience in their careers.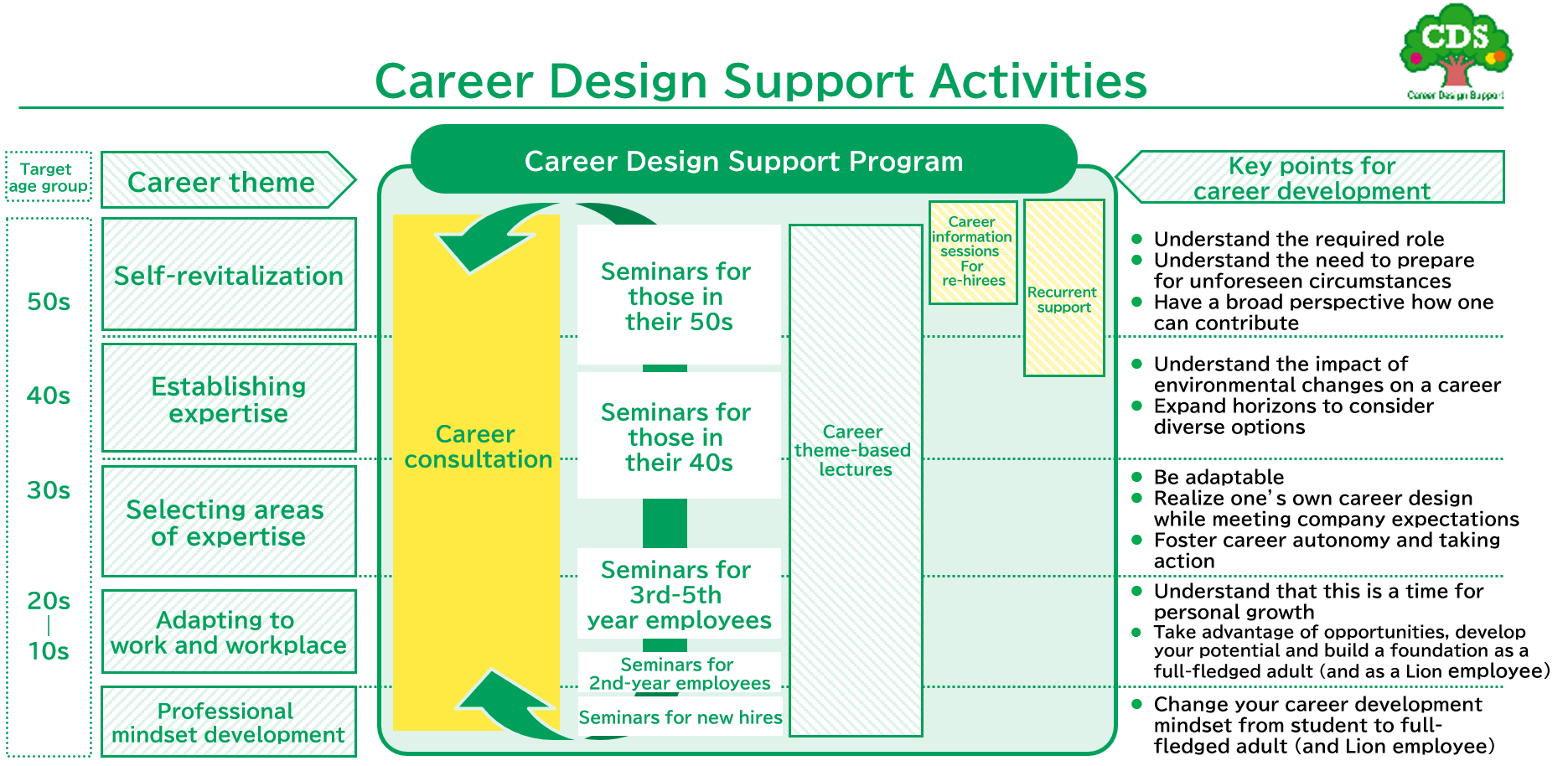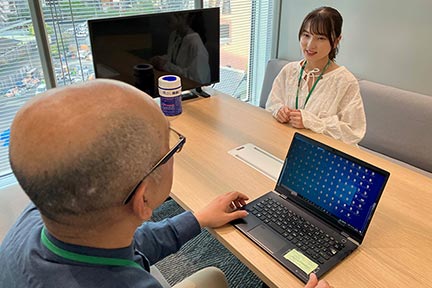 Orientation Program for New Graduate Hires
Purpose: Instilling an adult mindset and an understanding of the business structure while building a foundation for career autonomy
Overview: For all new graduate hires of all job types, we provide a curriculum that not only encourages a shift from the mindset of a student to that of a full-fledged adult but also incorporates a breadth of on-site experiences to promote an understanding of business structure.
Follow-up Program
Purpose: Providing opportunities for employees to review day-to-day tasks as well as to reexamine their individual aspirations and values and then utilize the realizations gained to design their own careers
Overview: We provide a curriculum centered on supporting junior employees (employees hired as new graduates in their first and second years with Lion) in designing their careers.
Marketing Study Program
Purpose: Providing study opportunities to enhance understanding of marketing for interested individuals
Overview: The Marketing Study Program has been implemented continuously in the Marketing Division since 2014. This program offers opportunities for the systematic study of such topics as practical marketing theory and planning design based on consumer insights and competitive strategies. The program also serves to develop marketing personnel in accordance with individual career paths.
Global Personnel Development Program
Purpose: Building the knowledge, insights and connections needed to forge autonomous careers by imparting basic skills necessary in globally capable personnel and an understanding of the Lion Group's overseas business in Asia
Overview: The Global Personnel Development Program was launched in 2021 to further expand Lion's overseas business in Asia. The program's training curriculum encompasses problem solving, understanding cultural differences and learning foreign languages as well as visits to overseas locations. Through the program, we are developing globally capable human resources who can excel across Asia, including Japan, based on outstanding expertise.
Introduction to Management Program
Purpose:
Understanding the roles expected of upcoming managers
Acquiring interpersonal management skills through both theoretical understanding and hands-on learning
Enhancing participants' understanding of Lion's corporate governance while instilling an awareness of proactively modeling compliance
Understanding managers' responsibility to look out for the mental health of subordinates and putting that responsibility into practice in the workplace
Overview: Comprising the Management Skill Training Program and Leadership Training Program, this program aims to impart both the knowledge and practical skills necessary for interpersonal management in management positions, covering such topics as compliance, understanding business conditions and looking out for the mental health of subordinates.
Side Job System
In 2020, we introduced a side job system (in which employees can either devise their own side job or choose from a number of options) to create opportunities for employees acting with conscious autonomy to gain knowledge and experience. Pursuing a side job can be an opportunity for employees to expand their own potential and take a fresh look at their own abilities. As such, we are both granting employees permission to work side jobs outside the Group and recruiting outside talent to work side jobs at Lion. By gaining experience outside the Company, employees can grow and evolve while expanding the breadth of their career and career options. Furthermore, we aim to leverage the external knowledge and connections that employees build through their side jobs to help create new value.
Expected Benefits
Employees will build relationships outside the Group and broaden their horizons externally, enabling them to expand the breadth of their careers and grow as individuals. They will then be able to apply the experiences gained to their work at Lion.
Lion will gain skills, knowledge and experience that it lacks internally.
NOIL
Under the theme of going beyond conventional healthcare wisdom, we launched NOIL, a program for selecting and implementing new business ideas in 2019, with the aim of continuously creating businesses that offer new value.

Held every year, the program has run three times thus far, each year collecting ideas based on diverse perspectives from among employees in not only the R&D Division and Marketing Division, but divisions across the Company, including sales divisions and the Production and Logistics Headquarters. The applicants examine issues faced by society and consumers and, on their own, come up with ideas aimed at resolving them that they turn into business proposals. To commercialize the ideas for new products and services that management and outside experts select as promising, the employees who submitted the ideas that are chosen are transferred to the Business Development Center, where they take a central role in building their new businesses.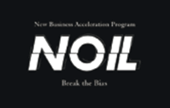 Commercialized Business: Kyuzituhack
I worked in sales for eight years after joining Lion, but I decided to apply to the NOIL program because I wanted to create a business based on my own ideas in order to offer something exciting to the world. I proposed a service, Day Off Hack!, to help customers mix up their stale regular routines. My idea was selected for development through NOIL in December 2019.

We established Kyuzituhack Co., Ltd. with venture capital funding, and I was appointed its president. I had my hands more than full, what with establishing the company, running it as president and developing its business. First, we developed Day Off Hack! (released October 2020), a service that connects users with interesting things to do outside the home. Then, in response to growing demand driven by the COVID-19 pandemic for home-based alternatives, we released At-Home Hack!, a service that delivers kits that provide fun, unexpected experiences that can be enjoyed at home (released March 2021). Since their release, the services have been well received, with more than 40,000 registered users.
Since 2022, we have been working on Machi Hack!, a service for creating experiences involving entire neighborhoods. This, too, has garnered positive feedback from customers.
Through services that offer encounters with new things you wouldn't think to seek out yourself, I hope we can offer new living habits and value in a fun and enjoyable way.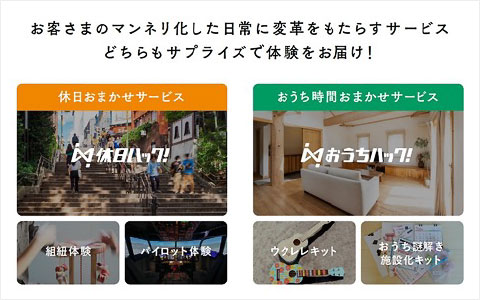 Kyuzituhack [Japanese]
Relationship Strengthening Program
Purpose:
Reviewing operational management and interpersonal management to redefine personal goals
Reconsidering the roles expected of colleagues and subordinates and reestablishing one's own goals as a manager
Enhancing management and leadership skills through both theoretical understanding and hands-on learning
Overview: In line with Lion Professional Fulfillment Reforms, we are reinforcing initiatives to strengthen relationships as a foundation for promoting and enhancing the effectiveness of various measures related to skill development, work styles and work management.
Domestic Exchange Program
This program dispatches employees to business schools in Japan to acquire MBAs. Candidates are selected from among employees who have a strong desire to learn new skills and who have been with Lion for at least three years.
Next-Generation Leader Development
This program selects and trains highly skilled personnel to lead organizations.