Approach
Lion's basic policy regarding intellectual property is set forth in its Behavioral Guidelines. These stipulate that we will strive to create, properly protect and actively utilize intellectual property, and that we will respect the intellectual property of others and not seek to improperly acquire or use it.
Implementation Framework
To promote and manage intellectual property activities, we have established a dedicated Intellectual Property Department under the direct control of management.
The department coordinates investments in intellectual property with management strategies, ensures that intellectual property rights are used appropriately and conducts accurate information disclosure. In addition to managing patents, trademarks and copyrights, the Intellectual Property Department protects and utilizes a wide range of other intellectual property and intangible assets, such as manufacturing and assessment methods (proprietary information) and healthcare data. An intellectual property committee, chaired by the director responsible for intellectual property, meets twice yearly to formulate intellectual property strategies and report and discuss progress on key measures.
The Intellectual Property Department at our Headquarters in Japan is in charge of managing and utilizing main overseas intellectual property rights, and works to eliminate counterfeit goods.
Intellectual Property Based on Memorable Sounds
Since its founding, Lion has pioneered marketing focused on sound. The registration of sound trademarks began in Japan in 2015, and since then we have been actively registering such trademarks. Lion currently holds 10 registered sound trademarks, the most of any company in Japan. This illustrates Lion's capabilities in implementing branding that is memorable for consumers. The Japan Patent Office's website includes a webpage for kids that highlights a trademark for KireiKirei (Trademark no. 5842092) as an example of a sound trademark.
Japan Patent Office Kids' Page: "Do you recognize this sound? Sounds can be trademarked, too"
Trademarks for Initiatives in the Oral Care Supply Chain
Lion designs flavors for oral care products using only natural mint to foster good tooth brushing habits. To build connections with consumers through pleasant flavors, in addition to applying our strengths in flavor formulation technologies, collaborating with others in the supply chain, such as mint farmers and flavoring suppliers, is crucial. We have named these supply chain-wide activities "MINT PRIDE" and registered a trademark (Patent no. 6356636 (JP)) for this unique Lion initiative to help foster a sense of unity among internal and external stakeholders (internal branding).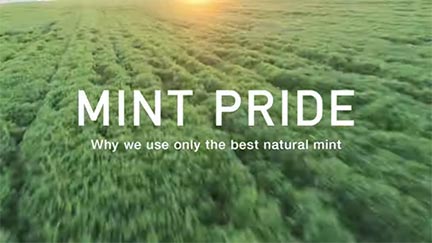 Employee Award Program for Wide-Ranging Intellectual Property Activities (In-house Intellectual Property Contribution Awards)
In addition to a performance incentive system based on Article 35 of the Patent Act (Employee Inventions), we broadly recognize intellectual property (IP) contributions—not only patented inventions or design rights—with awards. Because Lion's IP activities are wide-ranging, these awards were begun with the purpose of broadly honoring employees who contribute to diverse IP activities.
In the 15th annual awards in fiscal 2021, nine employees from a wide range of organizations and departments received awards, including an employee stationed overseas who worked very hard on counterfeit product countermeasures during the pandemic and an employee in the Sustainability Department who did outstanding work to secure copyrights for educational tooth brushing videos.
Investment in Human Resources to Utilize IP Data
The Intellectual Property Department supports employees in taking IP analyst certification courses for self-development, thereby stimulating employee motivation to pursue self-development and helping develop human resources who can utilize IP and IP data to create innovative business models.
In fiscal 2021, two employees from the R&D Division were certified as analysts. We look forward to them putting their new abilities to good use in IP landscape analyses* at R&D bases.
* The use of IP data analysis to provide strategic advice for IP management.
Global Trademark Protection
In order to spread fun hand washing habits among children not only in Japan, but across Asia, Lion has registered trademarks for the KireiKirei brand and its family character logo in several countries. In South Korea, the brand was at first not deemed a sufficiently recognizable term to trademark. However, as a result of the sales and educational efforts of Lion Corporation Korea, the Korean Intellectual Property Office eventually accepted the trademark registration. Such global trademarking outside of Japan helps to eliminate counterfeit products.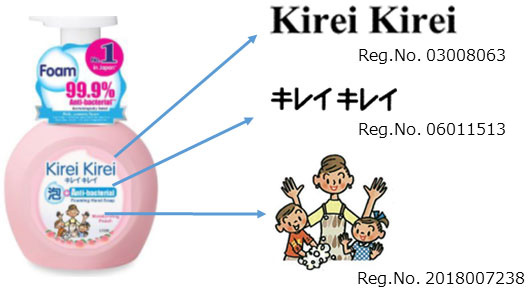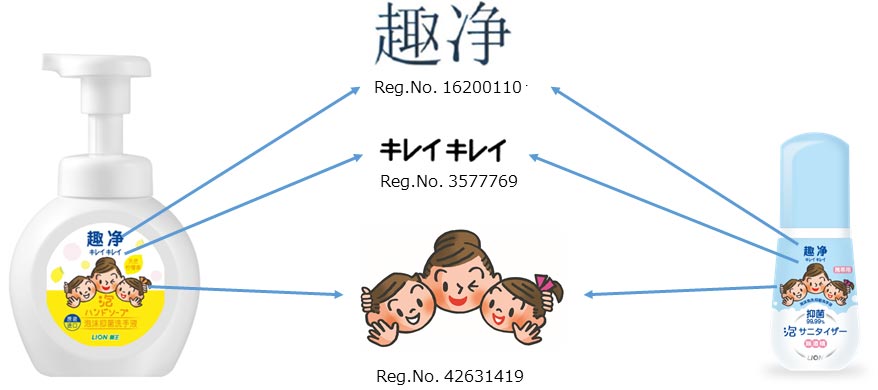 Focus: Invention Promotion Award
Focus: Patent for Easy-to-Bend, Hard-to-Break Safety Toothbrush Receives Invention Promotion Award
Lion developed a kids' toothbrush with a flexible neck that better distributes the impact to the inside of the mouth if it is jammed into the mouth during a fall. This technology was applied to the CLINICA Kid's Toothbrush models for children 0 to 2 years old and 3 to 5 years old. The patent for the technology (Patent no. 6591988 (JP)) was recognized as an outstanding invention with an invention promotion award in the 2020 Kanto Commendation for Invention organized by the Japan Institute of Invention and Innovation.
News Release: Patent for Easy-to-Bend, Hard-to-Break Safety Toothbrush Receives 2020 Invention Promotion Award [Japanese]