Approach
Strategic Investment in Intellectual Property and Intangible Assets for Creating Healthier Living Habits
Lion's basic policy regarding intellectual property is set forth in its Behavioral Guidelines. These stipulate that we will strive to create, properly protect and actively utilize intellectual property, and that we will respect the intellectual property of others and not seek to improperly acquire or use it.
Basic Policy and Promotional Framework for Intellectual Property Strategy
To promote intellectual property initiatives, we have established a dedicated Intellectual Property Department under the supervision of the Board of Directors and the direct control of management. The department coordinates and executes investments in intellectual property in line with Group-wide management strategies, ensures that intellectual property rights are used appropriately and conducts accurate information disclosure.
The Intellectual Property and Licensing Committee chaired by the director responsible for the Intellectual Property Department meets twice yearly to formulate strategies, and to report and discuss progress on key measures. The results of these discussions are reported and deliberated at meetings of the Board of Directors and the Executive Committee.
In addition to patents, trademarks and copyrights, 'our core strengths in intellectual property include intangible assets such as manufacturing and assessment methods (proprietary information) and healthcare data. We are using these key management resources to increase corporate value.
The Intellectual Property Department also provides specialized intellectual property functions for affiliates in Japan and elsewhere, managing and utilizing main intellectual property rights and working to eliminate counterfeit goods.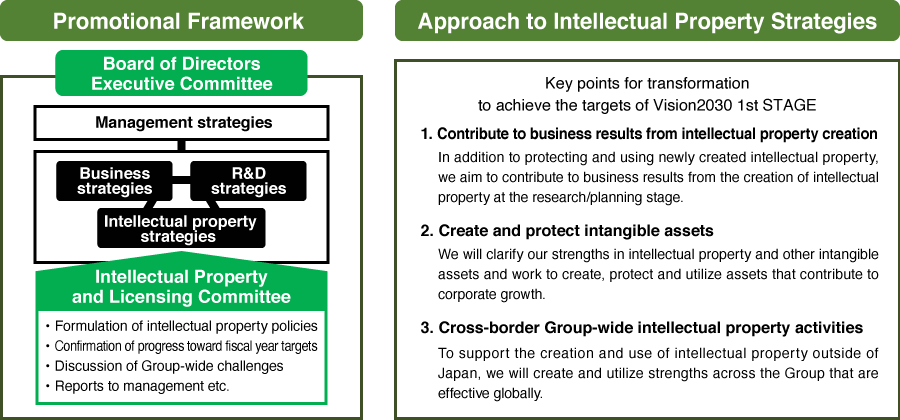 Intellectual Property Activities that Support Creation of Intellectual Capital
Patent Protection of a Technology for Preventing Cavities That Increase with Age
Lion owns the largest number of patents in the field of Japan's toothpaste products* and uses many patented inventions for cavity prevention in its products.
Root surface caries, also known as root cavities, develop due to receding gum tissue linked to old age or gum disease. This exposes dentin at the root of the tooth, which is more vulnerable to tooth decay than tooth enamel.
Lion has developed a toothpaste that protects against cavities by coating the dentin on the root surface with pyrrolidone carboxylic acid in addition to fluoride to prevent demineralization and collagen degradation.
We initially applied this technology to the Check-Up toothpaste sold at dental clinics and are currently extending its application to over-the-counter toothpastes.
The invention of this technology, which is suited to the oral health issues of Japan's aging society, received Local Commendation for Invention of Kanto 2022 "The Encouragement Prize for Invention" (Patent no. 6474375).
* Number of patents owned; as pending application or valid patent (as of April 2023), search for F-term 4C083CC41 on the Japan Platform for Patent Information.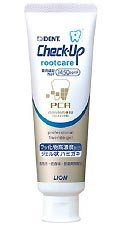 Environmentally Friendly "Zero-Rinse Wash" Technology
Acron Smart Care, a laundry detergent designed for delicates contains our proprietary anti-redeposition agent of the same name, made with a new formulation that boosts surfactant performance, thus drastically reducing the amount of surfactant required. The product effectively removes soil even with low amounts of surfactant, while preventing it from reattaching to the clothing. This eliminates the need for a rinse stage, halving laundry time, water and electricity used and even CO2 emissions. This environmentally friendly "zero-rinse wash" technology is protected by patents on product formulation and washing method.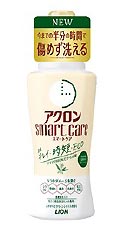 Intellectual Property Activities That Support Social Capital Building
Intellectual Property Based on Memorable Sounds
Since our founding, our marketing activities have focused on highly distinctive sounds to help consumers create Positive habits. As a result of our promotional and advertising activities, we have developed brand names and key phrases that are highly recognizable and identifiable to the ear. We have the highest number of registered sound trademarks of any company in Japan, showing our strength in linking sounds with consumer memory in our marketing activities.
The children's website of the Japan Patent Office includes the KireiKirei sound (trademark registration no. in Japan: 5842092) as an example of a registered sound trademark.
Japan Patent Office Kids' Page: "Do you recognize this sound? Sounds can be trademarked, too"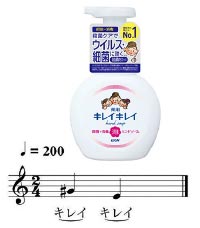 Trademarks for Initiatives in the Oral Care Supply Chain
Lion designs flavors for oral care products using only natural mint to foster good tooth brushing habits. To build connections with consumers through pleasant flavors, in addition to applying our strengths in flavor formulation technologies, collaborating with others in the supply chain, such as mint farmers and flavoring suppliers, is crucial. We have named these supply chain-wide activities "MINT PRIDE" and registered a trademark (Patent no. 6356636 (JP)) for this unique Lion initiative to help foster a sense of unity among internal and external stakeholders (internal branding).
Global Trademark Protection
In order to spread fun hand washing habits among children not only in Japan, but across Asia, Lion has registered trademarks for the KireiKirei brand and its family character logo in several countries. In South Korea, the brand was at first not deemed a sufficiently recognizable term to trademark. However, as a result of the sales and educational efforts of Lion Corporation Korea, the Korean Intellectual Property Office eventually accepted its recognizability and allowed the trademark registration. Such global trademarking outside of Japan helps to eliminate counterfeit products.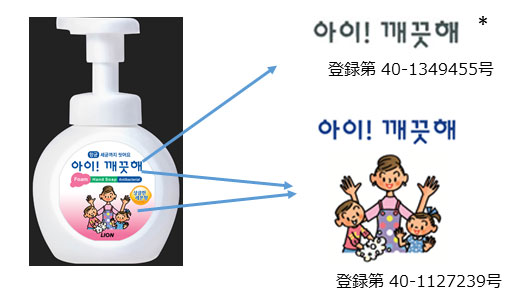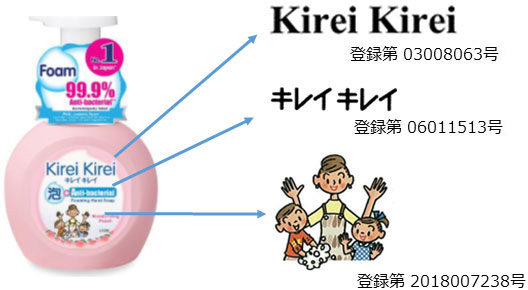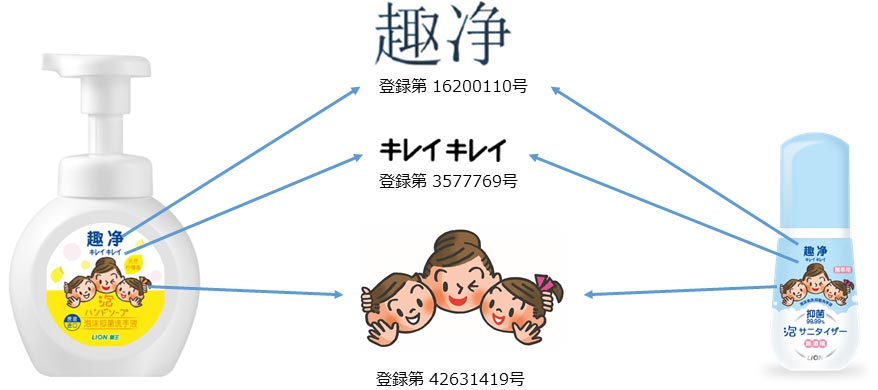 Intellectual Property Activities that Support Creation of Human Capital
Awarding Employees for Wide-Ranging Intellectual Property Activities (In-House Intellectual Property Contribution Awards)
In line with our wide-ranging intellectual property(IP)activities and patent incentive program based on Article 35 of the Patent Act (Employee Inventions), we have established the Contribution Awards for Intellectual Property to commend employees who contribute to diverse intellectual property activities.
At the 16th annual Contribution Awards for Intellectual Property held in fiscal 2022, nine employees from eight different divisions were commended for a diverse range of activities, including collaboration with overseas affiliates on new inventions and enhancement of intellectual property information disclosure.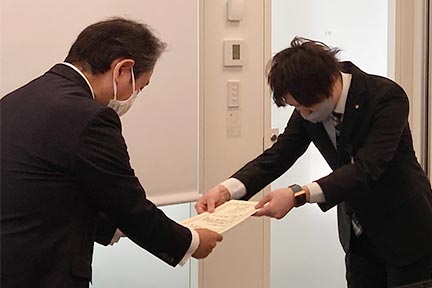 Investment in Human Resources to Utilize IP Data
To increase employee motivation for self-development and help develop personnel who can use intellectual property and related information in creating innovative business models, we also support employees from outside the Intellectual Property Department who wish to take IP Analyst Certification Courses offered by the Association of Intellectual Property Education.
Since 2021, four employees from the R&D Division have been certified as analysts. We look forward to them putting their new abilities to good use in IP landscape analyses* at R&D bases.
* The use of IP data analysis to provide strategic advice for IP management.
Testimonial from a Certified IP Analyst
Using patent analysis methods learned during IP analyst certification courses, I research technology trends among competitors and raw material suppliers. I will continue to use this information to create competitive technologies and products in order to provide new value to our customers.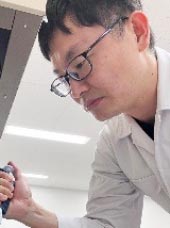 Focus: Invention Promotion Award
Patented Technology for Liquid Skin Cleanser with Intensive Moisturizing Properties Receives Invention Promotion Award 2022
For makers of hand and body soaps, maintaining foaminess and detergency during washing while ensuring lasting moisturizing power after washing has always been a challenge. To solve this problem, we developed a technology that transforms moisturizing ingredients that are typically rinsed away into a rinse-resistant moisturizing complex, thereby ensuring that more moisturizing ingredients stay on the skin (Patent No. 6845847).
The technology has been used in hadakara, a body soap whose marketing centers on its foaminess during washing and moisturizer that does not wash away, and received the 2022 Kanto Commendation for Invention organized by the Japan Institute of Invention and Innovation.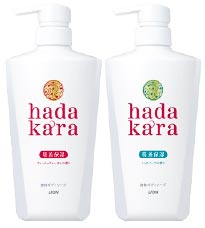 News Release: Patents for Root Surface Caries-Prevention Toothpaste and Liquid Skin Cleanser with Intensive Moisturizing Properties Receive Invention Promotion Awards in the 2020 Kanto Commendation for Invention Organized by the Japan Institute of Invention and Innovation [Japanese]
Patent for High-Volume Ejection Trigger Sprayer Receives Invention Promotion Award 2021
The patent for a spray nozzle that provides an even, continuous spray over a wide area used in LOOK Plus Bath Cleansing (Patent no. 6726606 (JP)) received the Japan Patent Attorneys Association Chairman Award and Practical Implementation Award at the 2021 Shikoku Commendation for Invention held by the Japan Institute of Invention and Innovation. This product enables a strong, high-volume spray to help lessen the burden of cleaning bathtubs for consumers. LOOK Plus Bath Cleansing is protected not only by patent rights, but by a complex intellectual property mix that combines multiple intellectual property rights to protect the product from a variety of aspects, including trademark rights and design rights.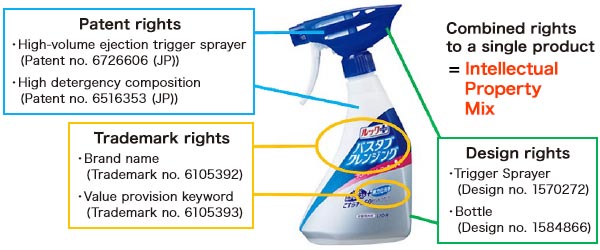 News Release: Patent for High-Volume Bathtub Detergent Ejection Trigger Sprayer Receives the Japan Patent Attorneys Association Chairman Award and Practical Implementation Award at the 2021 Shikoku Commendation for Invention [Japanese]
Patent for Easy-to-Bend, Hard-to-Break Safety Toothbrush Receives Invention Promotion Award 2020
Lion developed a kids' toothbrush with a flexible neck that better distributes the impact to the inside of the mouth if it is jammed into the mouth during a fall. This technology was applied to the CLINICA Kid's Toothbrush models for children 0 to 2 years old and 3 to 5 years old. The patent for the technology (Patent no. 6591988 (JP)) was recognized as an outstanding invention with an invention promotion award in the 2020 Kanto Commendation for Invention organized by the Japan Institute of Invention and Innovation.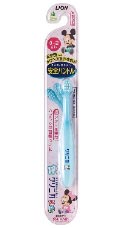 News Release: Patent for Easy-to-Bend, Hard-to-Break Safety Toothbrush Receives 2020 Invention Promotion Award [Japanese]