Basic Approach
Based on the Lion Group Charter for Corporate Behavior*1 and the Behavioral Guidelines,*2 we aim to have all employees spurring one another on and operating as autonomous individuals in order to generate waves of innovative change, that is, dynamism, across the organization as a whole. We believe that enhancing the professional fulfillment, ambition and motivation of each individual helps to increase productivity and create new value. We are advancing the Lion Professional Fulfillment Reforms*3 toward a new growth stage. By promoting mutual understanding and respect between organizations and employees, we aim to build stronger organizations.
*1 The Lion Group Charter for Corporate Behavior stipulates that "We shall promote fair treatment and respect the diversity, individuality and personalities of our employees" and "We shall ensure a safe and comfortable workplace to realize the mental and physical well-being of our employees."
*2 The Behavioral Guidelines state that "We will promote a healthy work-life balance and strive to maintain work environments that flexibly allow a variety of working styles," "We will do our utmost to assist employees who strive to learn specialized skills and knowledge and aim for ambitious goals" and "We will engage sincerely in dialog and discussion with employees and their representatives."
*3 Initiatives to increase the professional fulfillment of each and every employee, develop personnel who generate new value and improve labor productivity.
Overview
We are advancing a variety of initiatives rooted in the common approach of activating individuals and organizations.
In addition to efforts to enable diverse human resources to succeed, promote diverse work styles and develop independent human resources, we aim to realize better workplace environments by maintaining and enhancing labor-management relations, health and safety (Figure 1).
Furthermore, via the Lion Professional Fulfillment Reforms, we are offering a wide range of options and opportunities for employees based on four overarching themes aimed at making maximum
use of diverse talent. By doing so, we are working to create environments that allow employees to utilize their own strengths, find the work styles that best suit them and better coordinate with others (Figure 2).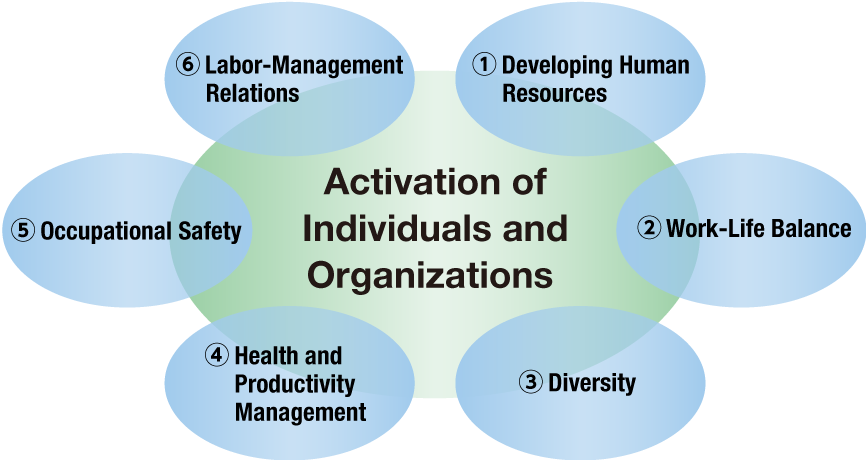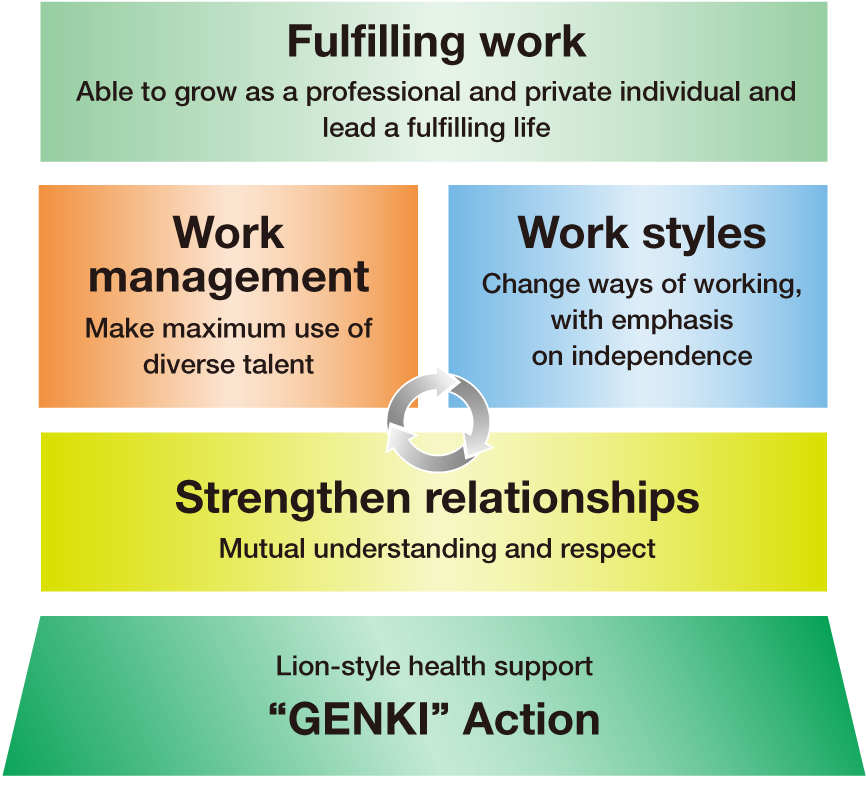 Initiatives