Approach
Lion has been conducting oral care research for more than a century. Recent years have seen new insights into the impact of conditions in the oral cavity on the body's overall health, and we believe that maintaining good oral health is thought to contribute to the realization of health, comfort and cleanliness in everyday living. By helping maintain the health of the mouth through oral healthcare, we are working to improve consumers' overall health with the goal of realizing healthy minds and bodies for all.
The keys to oral healthcare are learning correct knowledge and establishing preventive dentistry habits to manage dental health and prevent problems.
Lion's approach to preventive dentistry focuses not on waiting to treat cavities until after they form, but preventing them before they can occur.
We believe proactively protecting oral and dental health though daily self-care based on guidance from dentists and other oral care professionals as well as professional care at a dental clinic are both necessary.
Daily oral care is an important habit that affects lifelong health. Forming healthy oral care habits from a young age is crucial. Lion aims to help enhance health, comfort and cleanliness in everyday living through oral healthcare at all life stages, and going forward, we will continue to promote preventive dentistry.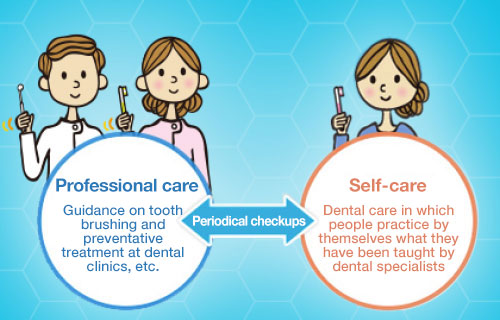 Activity Policy
Based on the concept of preventive dentistry, Lion implements activities to promote both self-care and professional care at dental clinics. In addition to providing products and services, Lion offers information and educational activities for consumers. By doing so, we put into practice Lion's purpose, "Make a difference in everyday lives by redesigning habits: ReDesign."
Initiatives