Approach
When employees act on their own initiative with a high level of health awareness to acquire sound health habits, it not only serves to maintain and improve their health, but helps them achieve personal growth and professional and personal fulfillment. This, in turn, serves to enhance corporate productivity and creativity and expand opportunities for Lion to contribute to society through sustainable growth.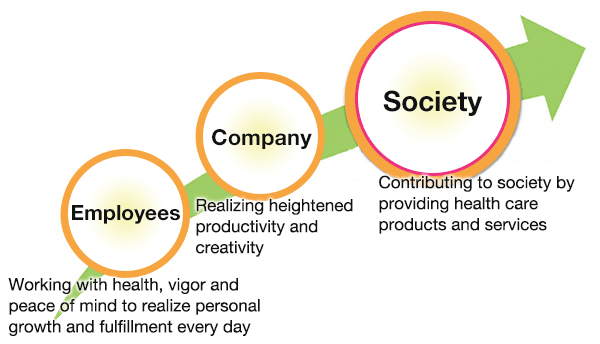 Guidelines
Lion believes that the health of employees is the management foundation underlying sound corporate growth. In line with this belief and in pursuit of its management vision, "Becoming an advanced daily healthcare company," the Company works in close coordination with employees and the Lion Health Insurance Society to support the formation of healthy habits in such areas as improving lifestyles, oral heath, mental health, cancer prevention and anti-smoking, based on the Guidelines for Health, with the goal of realizing healthy minds and bodies for all.
Health and Productivity Management Strategy Map:
Mapping out the ways that the effects of health investments connect with the management issues we seek to solve through Health and Productivity Management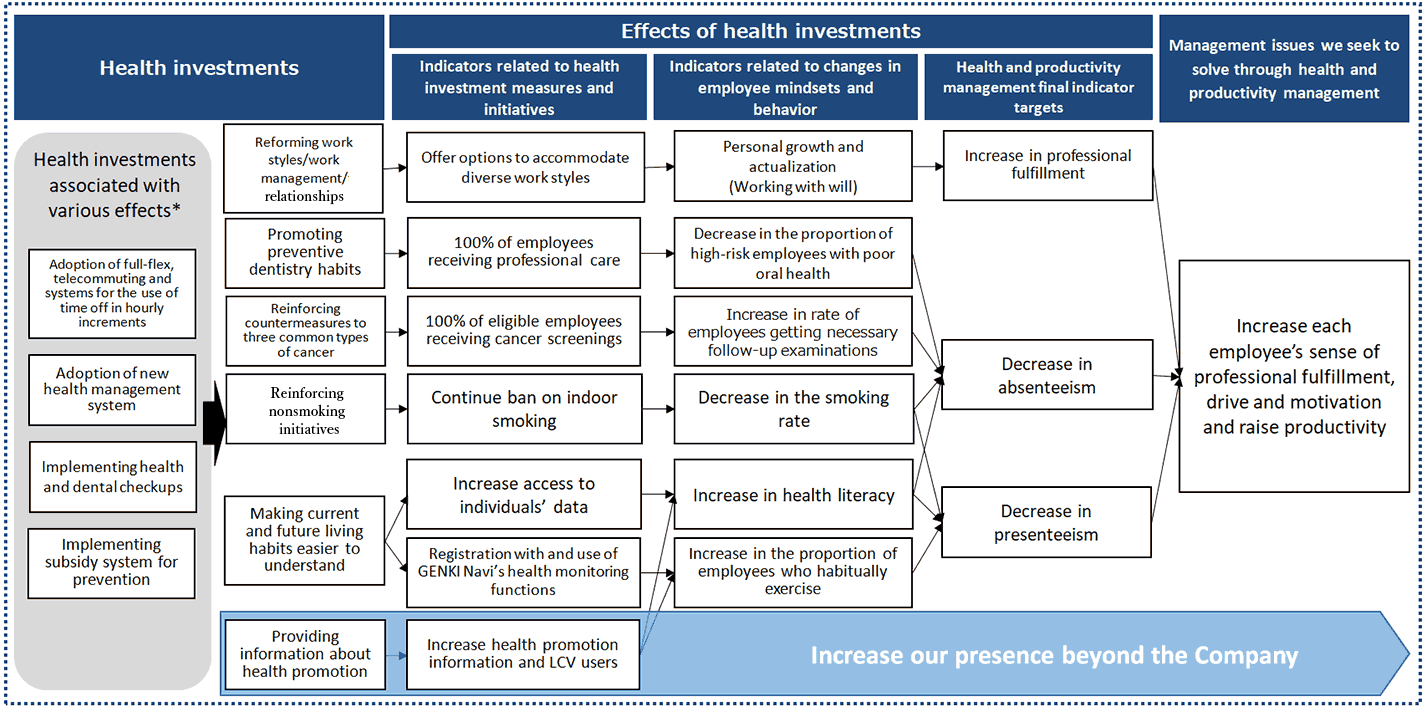 * Generally, health investments correspond one-to-one to the indicators related to health investment measures and initiatives.
However, some health investments correspond to multiple indicators related to health investment measures and initiatives.
These health investments are deemed "health investments associated with various effects."
Implementation Framework
Lion aims to promote health and vitality throughout the Company. To this end, the officer responsible for Company-wide health and productivity management (the director of the Human Resources Development Center) oversees general health management, while the Health Support Office, the Lion Health Insurance Society, the individuals responsible for health and productivity management at each office and industrial health staff (industrial physicians, health nurses, etc.) coordinate to promote organizational health management.
Health Support Offices
Health support offices have been set up at each of Lion's 11 domestic operating sites. At these offices, industrial health staff carry out health and productivity management operations. Each health support office coordinates with the Health Support Office at Lion's headquarters to manage such operations and implement measures aimed at improving health.
The Headquarters Health Support Office formulates Company-wide health management policy, basic plans and annual plans, and coordinates the implementation of plans and gathering of related data.
Health Maintenance Promotion Committee
The officer responsible for Company-wide health and productivity management (the director of the Human Resources Development Center), along with representatives from the Health Support Office and the Lion Health Insurance Society hold regular joint meetings as the Health Maintenance Promotion Committee to discuss Company-wide health management issues and measures.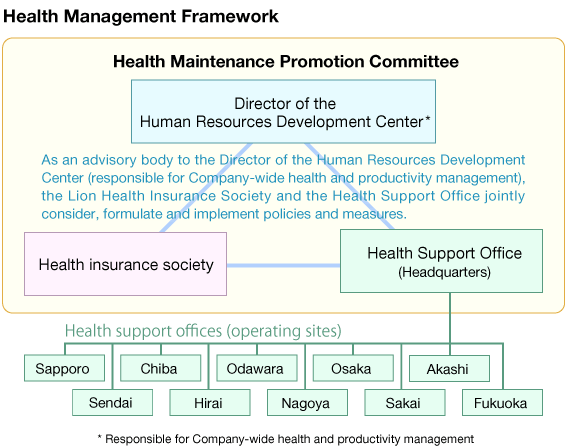 Recognized as a White 500 Company under the Certified Health & Productivity Management Outstanding Organization Recognition Program
For the five consecutive years since 2017, Lion has been recognized as a White 500 company under the 2021 Certified Health & Productivity Management Outstanding Organization Recognition Program. This program recognizes enterprises engaging in outstanding efforts to promote health and productivity management based on initiatives to overcome health-related challenges in communities or the promotion of health-conscious activities led by the Nippon Kenko Kaigi.

To achieve its management vision, "Becoming an advanced daily healthcare company," the Lion Group will further reinforce management driven by its purpose, "Make a difference in everyday lives by redesigning habits: ReDesign," aiming to contribute to the realization of a sustainable society and achieve business growth.
To that end, we believe that it is important for employees to form better habits. We are implementing a wide range of measures in this area, including initiatives in oral healthcare (a strength of Lion), enhancing our various systems aimed at mental and physical well-being, and creating environments that ensure that employees can work with safety and confidence in the new normal created by the COVID-19 pandemic.
Going forward, Lion will continue to evaluate and analyze such initiatives to further reinforce its health and productivity management.
Overview
Health Management Program—Mental, Physical and Awareness
For ease of understanding how each initiative fits into the program as a whole, we have broken down our health management program into three categories: mental, physical and awareness (awareness of self-directed health management). In each category, we are advancing health management measures for employees tailored by age group.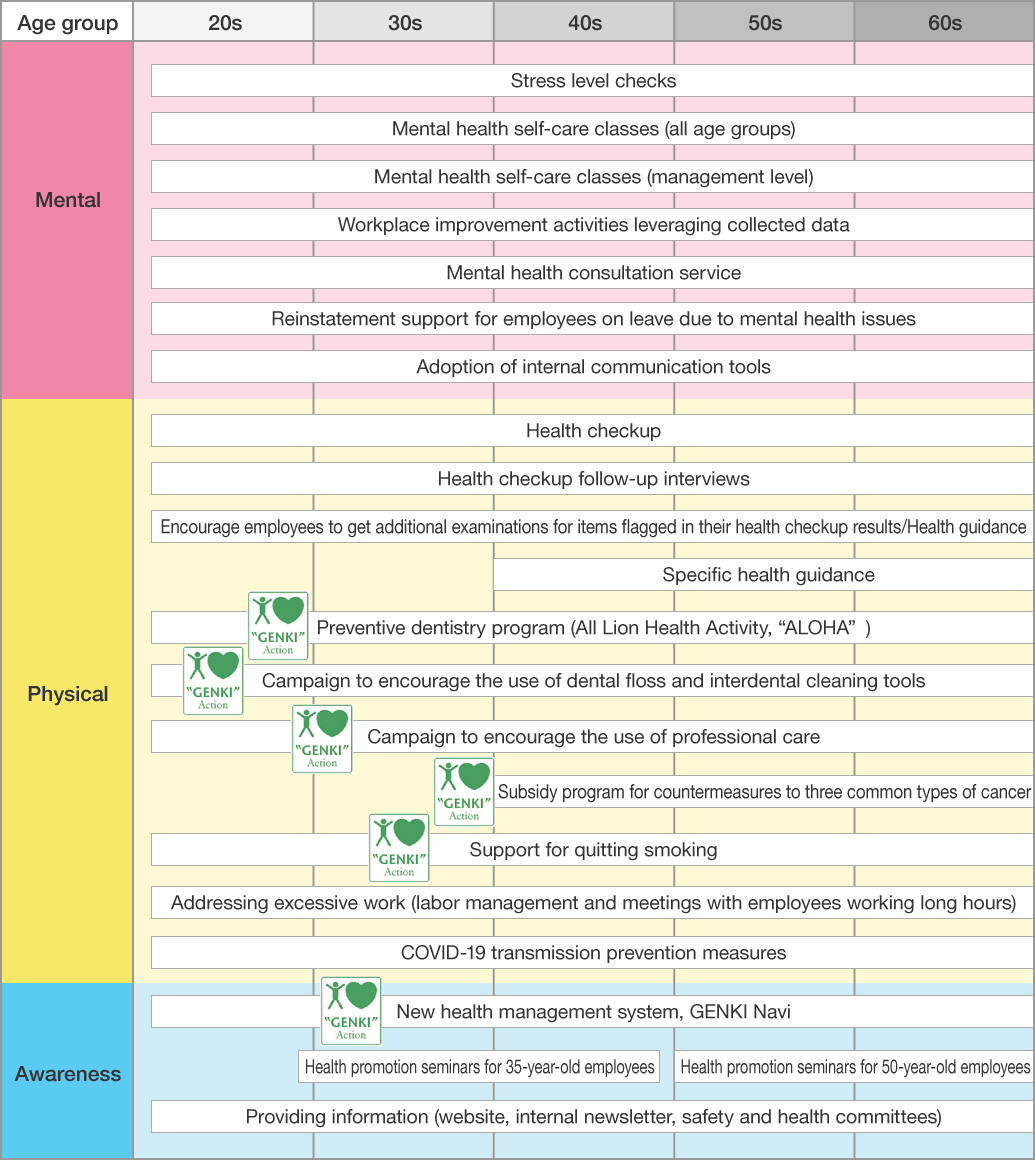 Lion-Style Health Support—"GENKI" Action
We are implementing Lion-style health support, "GENKI" Action, to promote the formation of healthy habits. The concept behind "GENKI" Action initiatives is to "ReDesign" employees' health-related habits to be more natural, easy and enjoyable. Through these initiatives, we are working to raise employees' health awareness and provide support for self-directed preventive activities.

Key Measures
1. Development of new health management system, GENKI Navi
We developed GENKI Navi, a new health management system, based on the concepts of making data (such as that about health status, countermeasures and future risk) easy to see and understand, enabling self-management (self-checks) and making health improvement efforts more fun. The system can be accessed using a computer or smartphone. Through the system, we aim to increase employees' health awareness and foster healthy habits.
The system includes a wide range of functions, including the following.
1) Making employee health checkup data accessible (showing dental checkup results, changes over time, advice, etc.)
2) Self-check of data from daily life (input and see weight, step count, food, temperature, blood pressure, etc.)
3) Content to encourage employees to improve their lifestyle habits (setting goals, social media functions, etc.)
4) Answering medical questionnaires (for health checkups)
5) Stress level checks (self-checks)
2. Fostering preventive dentistry*habits
As an advanced daily healthcare company, Lion is focusing on initiatives to foster preventive dentistry habits among employees. In terms of self-care, we are providing health guidance during dental checkups, providing individual guidance to employees identified as high risk based on dental health questionnaires and checkup results, implementing a campaign to encourage the use of dental floss and interdental cleaning tools and providing educational videos. In terms of professional care, we are carrying out a campaign of subsidies for receiving professional care and recommending dentists to employees.
*An approach focused on prevention, rather than receiving treatment after cavities or other problems arise. This approach entails both receiving professional care at a dental clinic and practicing daily self-care on an ongoing basis.
3. Subsidy program for countermeasures to three common types of cancer*
The number of persons afflicted with and dying from cancer in Japan is steadily rising. However, advances in diagnostics and treatment are increasingly enabling the early detection and treatment of some cancers. In light of this, separate from employees' regular health checkups, Lion has introduced a subsidy program for countermeasures to three common types of cancer aimed at early detection and treatment. In particular, as cancers of the lungs, stomach and colon account for a large portion of cancer-related deaths, Lion subsidizes the expenses of detailed screenings for these types of cancers to make them more accessible to employees. The Company also responds to employee inquiries about consultations at medical institutions that provide such screenings.

* Lung, stomach and colon cancers
4. Reinforcing anti-smoking initiatives
We provide support and have created facilitative environments for employees who want to quit smoking in order to prevent exposure to secondhand smoke in the workplace. To improve work environments, in January 2020 we banned smoking during work hours, and in April 2020 we implemented official rules banning smoking indoors. Furthermore, for employees deemed at high risk of chronic obstructive pulmonary disease (COPD)* based on health questionnaire results, we provided meetings with industrial doctors, offered guidance related to quitting smoking and encouraged such employees to see a doctor.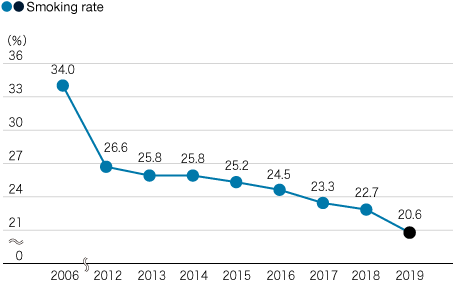 *A disease in which the functioning of the lungs gradually deteriorates due to tobacco use and other factors.
Mental
Lion established the Mental Health Basic Policy in 2004, and continually and systematically promotes mental care for employees based on the Guidelines for Maintaining and Improving Mental Health of Workers.
Mental Health Initiatives (Four Types of Care)
(1) Self-Care
Stress Level Checks
Since 2006, before the amendment of the Industrial Safety and Health Act, Lion has been providing stress level checks for employees to assist them in their own self-care. In 2019, 98.0% of all employees underwent stress level checks.
In 2020, the COVID-19 pandemic forced rapid changes in lifestyles and ways of working. To monitor to psychological impact of these environmental changes, Lion conducted stress level checks twice, testing more than 98.0% of employees each time. Employees found to have high stress levels were required to meet with industrial health staff.
Stress Level Check Testing

| | Tested employees | Test rate |
| --- | --- | --- |
| 2015 | 3,756 | 97.9% |
| 2016 | 3,812 | 97.0% |
| 2017 | 4,267 | 96.3% |
| 2018 | 4,331 | 99.0% |
| 2019 | 4,328 | 98.0% |
| April 2020 | 4,186 | 98.2% |
| November 2020 | 4,265 | 98.1% |
Workplace Improvement Activities Leveraging Stress Level Check Data
After the results of stress level checks are compiled, each year, the officers in charge of health management at operating sites and Lion's headquarters provide feedback to individual workplaces. Based on analyses of workplaces' strengths and weaknesses, this feedback is used to help create more sound work environments. The Health Support Office provides feedback to high-risk workplaces, creating opportunities for dialogue about workplace issues and improvement measures.
Mental Health Care Education as Part of Level-Specific Training
As part of annual level-specific training, industrial health staff give lectures about the importance of mental self-care and related techniques.
(2) Care via Line of Command
Lion aims to create workplaces that foster health and vitality by enhancing workplace communication and conditions.
Education about Care via Line of Command
Care via line of command refers to efforts on the part of supervisors, including employees' direct supervisors (directly above them in the workplace line of command), to help reduce their subordinates' stress and consider their mental health. Specifically, this entails quickly noticing when employees seem different from usual, reaching out and listening, and taking any necessary steps to address the situation, such as referring them to industrial health staff. Lion is working to create conditions that ensure supervisors are able to easily and naturally respond this way whenever needed though ongoing video-based education about care via line of command. Beginning in 2020, we have been implementing such education in a format that is compatible with remote work.
Support for Reinstatement of Employees on Leave Due to Mental Health Issues
When an employee returns to work after leave due to mental health difficulties, we hold a support meeting, at which the individual's boss, the workplace health management officer and industrial health staff coordinate to provide support. We proactively utilize Rework* to help employees reacclimate to the workplace after their return.
*Rework: Short for "Return to Work," this program is aimed at supporting the smooth return to work of individuals after leave due to mental illness or disorder.
(3) Care by Internal Industrial Health Staff
At the Health Support Office, Lion's supervising industrial physician, a psychiatrist and an industrial health nurse are available for consultation at any time. When responding to a request for consultation, we ensure that adequate consideration is given to ensuring privacy so that employees can feel at ease asking for advice about issues or concerns they may have. In line with the diversification of work styles, consultation is available not only in person, but via email, phone or online video conference, as needed. Furthermore, we have set up a mental health help desk in an effort to direct employees to the consultation resources they need, when they need them, in a clear manner. A career counselor offers counseling related to individuals' careers. The Health Support Office provides support finely calibrated to employees' individual health circumstances, including providing feedback after health checkups and health consultations after stress level checks.
(4) Care by External Specialists
We maintain agreements with external institutions so that employees can easily consult with them over the phone or receive counseling. In addition, depending on the specific circumstances, the Health Support Office may refer employees for specialist treatment and works in coordination with such providers.
Physical
Every year, we provide both health and dental checkups for all employees. The items covered by these checkups exceed the legal requirements for such checkups. When an employee's checkup results indicate that they require further examination, we strongly encourage them to get such examination and provide individual guidance.
Health and Dental Checkup Items for Specific Needs
In-depth checkups: For employees age 40 or above. 21 legally required items + 11 additional items.
Gynecological examinations: Age-specific examination items.
Hepatitis B and C tests: For employees age 40 and above.
Prostate cancer (PSA) examinations: For men age 50 and above.
Stomach cancer (ABC) examinations: For employees age 40 and above.
Dental checkups: For all employees. Dental hygienists provide health guidance. Includes health guidance from a dental hygienist.
Specific Health Checkups*1 and Specific Health Guidance*2 Related to Metabolic Syndrome
Lion's Health Support Office coordinates with the Lion Health Insurance Society to implement specific health checkups and specific health guidance related to metabolic syndrome. We strive to ensure that these serve as effective and clear inducements to employees to improve lifestyle habits that cause lifestyle-related illnesses.
Portion of Lion Employees Subject to Specific Health Checkups and Specific Health Guidance*3 Classified as Having Metabolic Syndrome or Pre-Metabolic Syndrome

| | Metabolic syndrome | Pre-metabolic syndrome |
| --- | --- | --- |
| 2015 | 13.4% | 12.2% |
| 2016 | 12.6% | 13.1% |
| 2017 | 15.0% | 14.0% |
| 2018 | 13.5% | 14.2% |
| 2019 | 13.4% | 14.9% |
| 2020 | 13.6% | 14.7% |
Reference: A 2018 survey about specific health checkups and specific health guidance implementation by the National Federation of Health Insurance Societies of 1,034 health insurance societies found that 15.0% of all said societies' members were classified as having metabolic syndrome and 14.0% as having pre-metabolic syndrome.
*1Health checkups to identify individuals who need specific health guidance, aimed at reducing the number of individuals who have visceral obesity (metabolic syndrome) or pre-metabolic syndrome in order to prevent lifestyle-related diseases, which are involved in approximately 60% of deaths in Japan. Specific health checkups are conducted for all insured persons and their dependents between the ages of 40 and 74.
*2Health guidance, including providing information, helping generate motivation and offering proactive support from specialized staff (health nurses, registered dieticians, etc.) for individuals who, based on the results of specific health checkups, are at high risk of developing lifestyle-related illnesses and for whom the onset of metabolic syndrome is expected to be preventable through lifestyle improvement.
*3Employees ages 40 and over (who are enrolled in the Company's health insurance).
Furthermore, in collaboration with the Lion Foundation for Dental Health (LDH), Lion has elucidated the link between gum disease and metabolic syndrome. We will continue to reinforce initiatives aimed at the prevention of gum disease and metabolic syndrome among employees going forward.
Proactive Encouragement and Guidance
Under the joint leadership of the Lion Health Insurance Society and the director of the Human Resources Development Center, individuals identified as requiring specific health guidance are encouraged to receive health guidance. We strive to offer a health guidance program that facilitates understanding of the goals of specific health guidance and what it comprises while making makes it easy for individuals to take action and enjoyable for them to continue their efforts.
In 2020, as an internal collaborative initiative, we provided Lactoferrin products and an email newsletter to employees who signed up, supporting their lifestyle improvement efforts. Furthermore, a dedicated registered dietician provided nutritional guidance internally. Through these and other efforts, Lion proactively provided support, working with professionals with abundant knowledge and experience from in and outside the Company.
Preventive Dentistry Program
Since the 1970s, Lion has implemented in-house dental checkups, brushing guidance, scaling and cleaning, education via lectures and other preventive dentistry measures.
In 2002, in cooperation with the Lion Health Insurance Society and LDH, Lion launched All Lion Oral Health Activity (ALOHA), aimed at increasing employees' health management abilities. ALOHA is based on practicing oral health management primarily though the provision of regular oral checkups to all employees and primary prevention as well as support to enhance employees' self-directed health management abilities. In accordance with three-year plans, we have been implementing a PDCA cycle for the dental health program and are currently implementing the ALOHA V plan. The content of dental checkups varies depending on whether the individual is receiving professional dental care, placing greater emphasis on health guidance for those who are not in order to foster awareness of the importance of professional care.
Furthermore, we seek to increase the ratio of employees who use interdental cleaning goods and are able to effectively implement preventive dentistry through both self-care and professional care. Our main activities are shown below.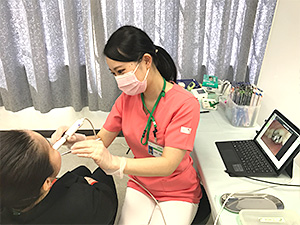 *The Salivary Multi Test, which can rapidly measure patients' risk of cavities and gum disease and oral cleanliness using a saliva sample
Practicing Preventive Dentistry (Encouraging Professional Care)
Lion is proactively promoting preventive dentistry both within the Company and externally. In line with the belief that it is important that employees practice preventive dentistry, we offer limited-time financial incentives for receiving professional care to spur employees to find a primary care dental clinic where they can receive regular professional oral care.
In 2020, due to the COVID-19 pandemic, the campaign to encourage the use of professional care was suspended. Instead, we carried out a campaign to encourage the use of dental floss and interdental cleaning tools. We resumed the campaign to encourage the use of professional care in April 2021.
Employee Food Service Committee
We regularly hold meetings of the employee food service committee to enhance the offerings at our employee cafeterias. In consideration of employee health, we strive to offer healthy, delicious meals. Furthermore, we display information on the calorie, sodium and sugar content of all menu items and seek ways to make meals healthier, such as offering reduced-sodium soy sauce.
Supporting Cultural and Athletic Activities
Lion supports employees' cultural and athletic activities with the aim of helping employees cultivate healthy minds and bodies and deepen friendly bonds.
Cultural clubs include Japanese tea ceremony and flower arrangement, while athletic clubs include yoga, Pilates, basketball, tennis, soccer and baseball. A total of approximately 700 employees take part in 52 such clubs nationwide. Club activities take place after work hours or on weekends and help employees foster healthy minds and bodies.
In 2019, employees held a futsal tournament for the Western Japan block. 65 employees from locations from Nagoya westward took part in this fun and exciting event.
Creating Pleasant Work Environments
To ensure that employees can work in comfort, every two months, Lion measures indoor humidity, temperature, and concentrations of carbon monoxide and carbon dioxide, as well as dust at its workplaces.
We also regularly take measurements related to noise and lighting to confirm that there are no problems in our work environments.
Data Health Plan Initiatives
The government's Japan Revitalization Strategy includes the key issue of "Extending the nation's healthy life expectancy." To address this issue, as part of "developing a new system concerning the promotion of preventive care and health management," the strategy calls for all health insurance societies to analyze such data as health insurance claims to develop, announce, implement and evaluate effective and efficient "data health plans" in order to help maintain and improve the health of their members.
Lion has for some time been promoting initiatives in the area of data-based healthcare in cooperation with the Lion Health Insurance Society.
Specific health guidance is the foundation of our initiatives in this area; we provide finely tailored health guidance and encourage employees to seek care after health checkups and provide health guidance using AI-generated blood sugar level prediction sheets
We have implemented a wide variety of collaborative measures, such as a walking campaign
Awareness
We are reinforcing age-specific measures designed to reflect the timing of changes in the body and working to strengthen awareness of self-directed health management.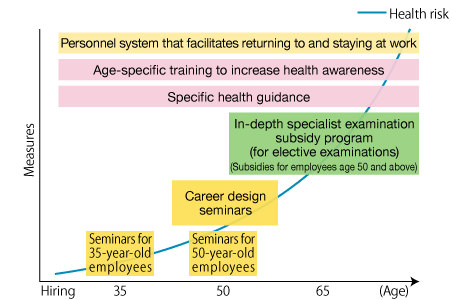 Health Promotion Seminars for 35-Year-Old Employees
To increase employees' self-directed health management abilities, every year, we hold the Lion Life Innovation Seminar 21 (LIS21) health promotion seminar for our 35-year-old employees. This seminar teaches employees about how making the effort to improve their health while they are young can prevent disease in the future, helping to reinforce health awareness.
Since 2017, we have been implementing LIS21 in whole-day format (three times per year in Tokyo and once in Osaka), aiming to increase employees' health management abilities (by establishing self-healthcare habits) and promote health maintenance and improvement (lifestyle-related disease prevention) through experiences and learning about healthy habits, with a primary focus on food and exercise.
In 2020, we implemented health promotion through a health advice app that 51 employees downloaded. Users input data about their living habits, such as food intake and exercise, and took action based on the advice the app provided, then had a follow-up interview with an industrial health nurse. This was aimed at firmly establishing healthy habits.

LIS21Participation

| | Participants | Participation rate |
| --- | --- | --- |
| 2015 | 48 | 94% |
| 2016* | - | -% |
| 2017 | 159 | 83% |
| 2018 | 75 | 79% |
| 2019 | 51 | 68.9% |
| 2020 | 51 | 68.9% |
*Due to a typhoon, one of the two scheduled sessions was cancelled, and its participants were eligible to participate the following year.
Health Promotion Seminars for 50-Year-Old Employees
Since 2013, we have held the annual LIS21 Senior health promotion seminar for 50-year-old employees. To control health risks that rise significantly with age, bolstering self-directed health management skills is crucial. We also aim for the seminar to serve as an opportunity for employees at the landmark age of 50 (given increasingly long lifespans) to reflect on their circumstances and lives from multiple perspectives, including their health, work, and home life going forward, so that they can engage with their work with a renewed sense of vigor.
Although we had planned an in-person group seminar for 2020, it was postponed due to the COVID-19 pandemic. We are planning online seminars for the future.
LIS21 Senior Participation

| | Participants | Participation rate |
| --- | --- | --- |
| 2015 | 140 | 87% |
| 2016 | 152 | 76% |
| 2017 | 100 | 68% |
| 2018 | 95 | 68% |
| 2019 | 120 | 85.7% |
Lion Employee Preventive Dentistry Data
Self-Care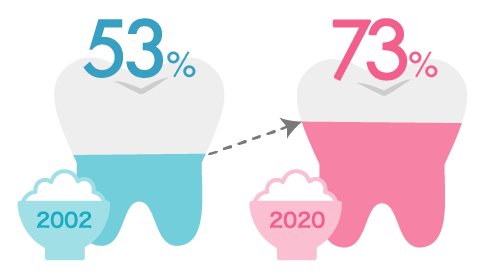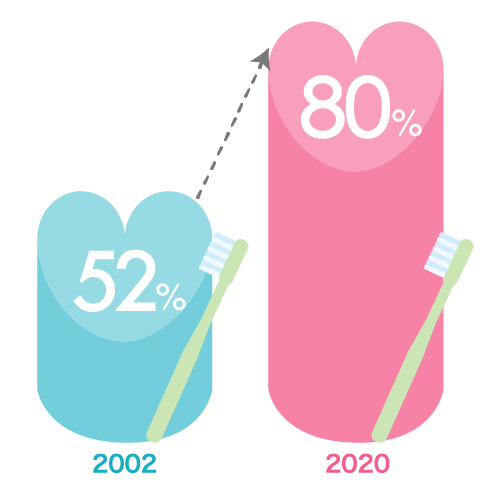 *Employees who brush at least twice a day for at least three minutes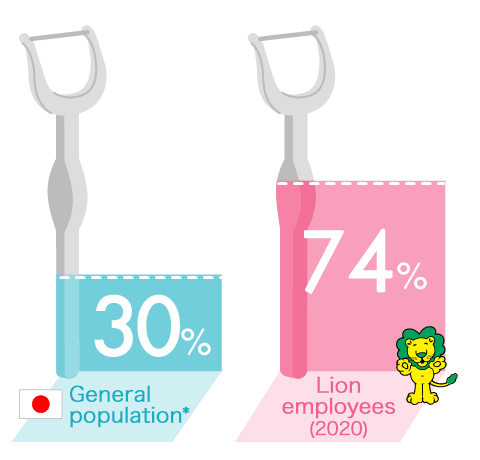 *Fiscal 2014 comprehensive oral care survey (women ages 20–59)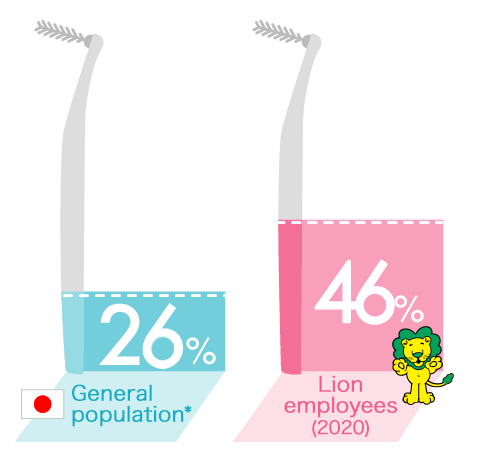 *Fiscal 2014 comprehensive oral care survey (women ages 20–59)
Professional Care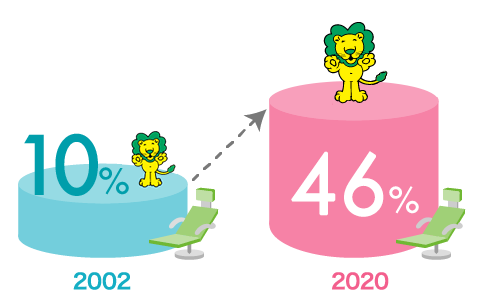 *Employees who went for regular cleanings at dental clinics during the year (excludes employees undergoing treatment)
Employee Oral Health Data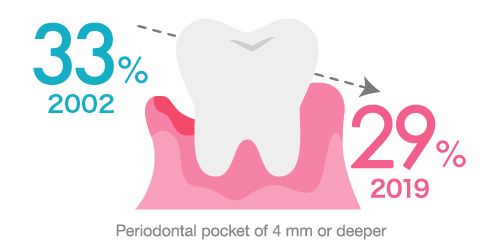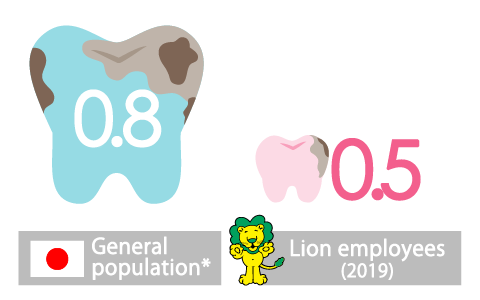 *2016 Odontopathy Survey (Ministry of Health, Labour and Welfare) Ages 20–59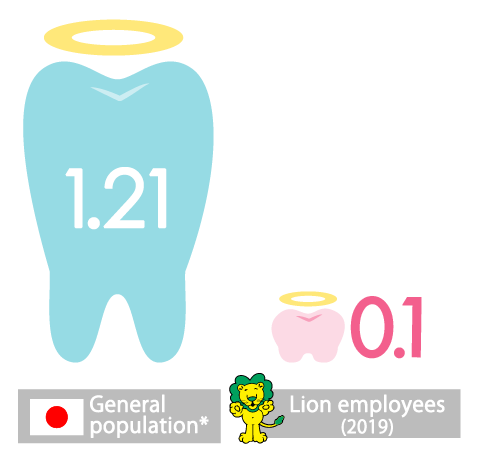 *2016 Odontopathy Survey (Ministry of Health, Labour and Welfare) Ages 20–59