LION Eco Challenge 2050 Long-Term Environmental Objectives
Since its founding, the Lion Group has manufactured and sold products made from vegetable oils and fats and has worked to address problems in aquatic environments, including rivers, and global warming by pursuing technological innovation and providing new value to consumers.
In 2019, the Lion Group established the LION Eco Challenge 2050, a set of long-term environmental objectives, to contribute through its business activities to the accomplishment of worldwide goals related to addressing global-scale social issues, such as those identified by the Paris Agreement and the Sustainable Development Goals (SDGs). We are working toward the achievement of the LION Eco Challenge 2050 objectives.

While striving for business growth, the Lion Group is working to contribute to global environmental sustainability, aiming to realize decarbonized, resource-circulating society by 2050.
Through all of its businesses, the Lion Group will address the issues of decarbonization (climate change) and resource circulation (plastics, water resources) to contribute to the realization of a healthy future for people and the planet.
By offering products and services based on an environment-conscious design, the Lion Group will reduce the environmental burden attributable to the household use stage of its products' life cycles.
The Lion Group will provide products that contribute naturally to environmental conservation without entailing user inconvenience or sacrifice and promote the formation of eco-friendly living habits by engaging in interactive communication with consumers.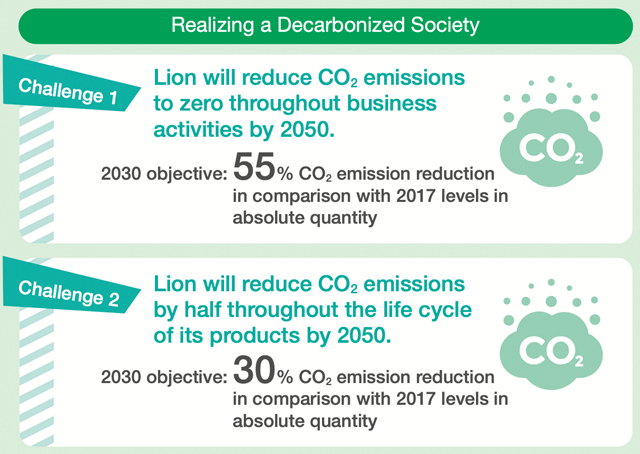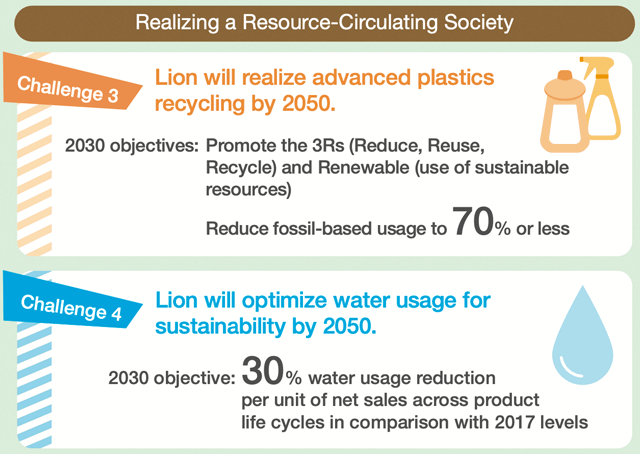 Response to the TCFD
The Lion Group's businesses are only possible because of value derived from nature, such as the natural resources used as key raw materials in its products. As such, the impact of climate change on our business activities is significant, and we regard addressing climate change as an important task.
The Task Force on Climate-related Financial Disclosures (TCFD), established by the Financial Stability Board (FSB), promotes corporate disclosure of information on climate-change related risks and opportunities as well as governance from an investor's perspective.
In May 2019, Lion endorsed the recommendations of the TCFD and began evaluations of the financial impact on its operations of climate-related risks and opportunities (scenario analyses*).
Going forward, we will leverage insights gleaned thus far while enhancing our scenario analyses, considering response measures and advancing disclosure based on the TCFD framework.

*"Practical guide for Scenario Analysis in line with the TCFD recommendations 3rd edition" (published March 2021; pp. 194-200)
Greenhouse Gas Reduction Target Validated by the SBT Initiative
In July 2020, Lion's greenhouse gas (GHG) reduction target for 2030 was validated by the Science Based Targets (SBT) initiative*1 as being based on sound scientific grounds and aligned with the target of limiting global warming to well below 2°C*2.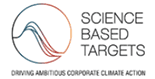 *1The SBT initiative is a collaborative international initiative established in 2015 by the Carbon Disclosure Project (CDP), the United Nations Global Compact (UNGC), World Resources Institute (WRI) and the World Wide Fund for Nature (WWF). The initiative assesses and validates whether GHG reduction targets set by companies are properly science-based to help achieve the goal of the Paris Agreement of holding the increase in the global average temperature to well below 2°C above pre-industrial levels.
*2SBT-validated target: Reduce total Scope 1, 2 and 3*3 GHG emissions 30% by 2030 (compared with 2018 levels).*4
*3 Scope 1: Direct emissions from the use of fuel by the Company.
Scope 2: Indirect emissions from electricity and heat purchased and used by the Company.
Scope 3: Indirect emissions from the Company's value chain
(excluding those covered by Scope 1 and Scope 2)
*4 CO2 accounts for 99.4% of Lion's GHG emissions (2019 figure).
News release: Lion's Greenhouse Gas Reduction Targets Validated by the SBT Initiative
Eco Vision 2020 Environmental Targets
In 2013, we formulated the Eco Vision 2020 environmental targets for the period of 2012 to 2020. Specifically, we set and worked to achieve targets for 2020, in the categories of greenhouse gases, water, waste, wastewater, procurement, biodiversity, and awareness and education in society.
In 2020, the final year, we largely achieved the Eco Vision 2020 targets. We will continue efforts to address the targets that we did not meet (sustainable procurement and awareness and education in society).
Eco Vision 2020 Achievements and Targets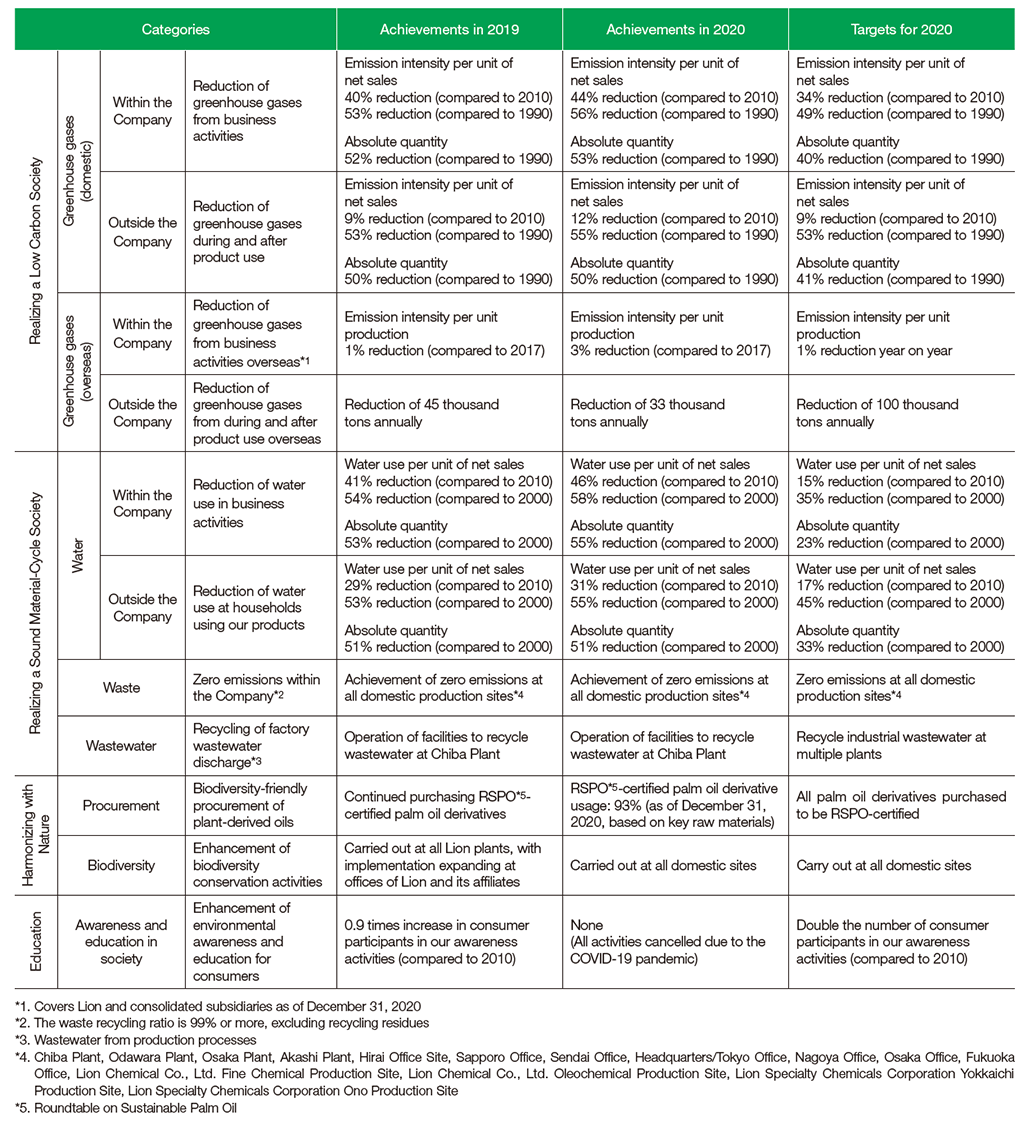 Eco-First Commitment
In 2008, Lion became the first company in a manufacturing industry to be certified as a member of the Ministry of the Environment's Eco-First Program. In 2019, we updated our Eco-First Commitment [Japanese] to reflect the LION Eco Challenge 2050 long-term environmental objectives.
Under the Eco-First Program, companies make a commitment to the Minister of the Environment regarding their global warming countermeasures, efforts to reduce waste and promote recycling, and other voluntary initiatives to conserve the environment. The Minister of the Environment then certifies that such companies are leaders in their industries in terms of implementing forward-looking, voluntary business activities in environmental areas.
Eco First Promotion Council
The Eco First Promotion Council [Japanese] is an organization established in December 2009 to reinforce coordination among environment-related governmental bodies and EcoFirst Program member companies, increase awareness of the program and further enhance initiatives to address environmental issues.
Since the council's establishment, Lion has actively participated as a core member, serving as the chair company from fiscal 2012 to 2013 (Chairman: Lion President Itsuo Hama, current Lion Chairman). Lion is currently involved with council operations as the managing company.
Participation in External Environmental Initiatives