Some activities have been cancelled or postponed to prevent the spread of COVID-19. The Lion Group is revising its activities, including the use of online technologies, as it continues working to create healthy living habits.
Oral Health Care
Oral Health Class for Children
With the aim of fostering children's awareness of dental and oral health from a young age, the Lion Group has held the Oral Health Event of Tooth Brushing for Children since 1932. Started in Japan, the event is presently held in Asia.
As part of this event, in cooperation with the Lion Foundation for Dental Health (LDH), Lion Home Products (Taiwan) Co., Ltd. ("LHPT") conducted oral health classes at two Japanese elementary schools and three local elementary schools in June 2019.
76 children from Japanese elementary schools (33 from Kaohsiung Japanese School and 43 from Taichung Japanese School) and 820 children from local elementary schools (120 from Taichung Wurih Elementary School, 100 from Kaohsiung Wucyuan Elementary School and 600 from New Taipei City Jimei Elementary School), for a total of 896 students, participated in the event. LHPT first held such classes at local elementary schools in 2018 and extended its outreach to different local schools in 2019. The event featured programs prepared specifically for students in lower grades (grades 1 to 3) and higher grades (grades 4 to 6).*
Students in lower grades were taught about the "function of teeth and replacement of the baby teeth by adult teeth" and "the source of cavities (plaque)" in a 30-minute class. They were also taught tooth brushing techniques for their specific tooth alignment using hand mirrors and toothbrushes.
For students in the higher grades, LDH explained the cause of gingivitis, gave tips for observing the gums, and then provided individual instruction on how to brush according to specific tooth alignment for preventing gingivitis using a model set of teeth.
Participating students found the content easy to understand and learned about the importance of teeth and tooth brushing.
* The Japanese elementary school system lasts for 6 years, from 1st grade to 6th grade.
Photos of the oral health class for children at Japanese elementary schools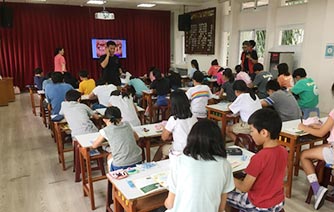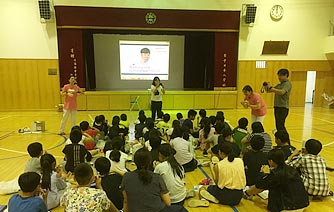 Photos of the oral health class for children at local elementary schools


Hygiene Care
Conducting Educational Programs to Raise Awareness of Hand Washing Habits
Hand washing has taken on an increased importance as preventive measure against the ongoing COVID-19 pandemic. LHPT, in collaboration with YoYo TV,* conducted educational programs on hand washing habits at 20 kindergartens across Taiwan from April to May, 2021, with the aim of teaching children the importance of hand washing and proper hand washing methods. Classes conducted under the program last 30 to 40 minutes and comprise the following parts.
1. Lesson from the teacher on hand washing hygiene
2. Singing and dancing to a special hand-washing song
3. Drawing original hand soap bottle labels and putting up posters
4. Hand washing
5. Bacteria check
We also donated Kirei Kirei Foaming Hand Soap to the schools for use in their hand washing areas so children could put the lessons into practice.
In the lesson on hand washing hygiene, the teachers talked about germs and viruses, how hand washing can protect your loved ones, the correct way to wash hands and the features of Kirei Kirei Foaming Hand Soap.
After the lesson, the children took home their original soap bottles drawn with crayons to use with their families, helping to promote their continued use of Kirei Kirei Foaming Hand Soap. A total of 622 children participated in the lessons.
Another 5,600 parents of children at 60 kindergartens that were unable to participate due to preventive COVID-19 restrictions were provided with leaflets (sent home in children's parent-teacher notebooks) about the importance of hand washing. At the same time, we worked to encourage parents to purchase and try the product by offering special discounts on our e-commerce site, thereby promoting sales and expanding recognition of the Kirei Kirei brand.
Furthermore, to publicize the event, in addition to posting on the YoYo kindergarten website and Facebook, we collaborated with newspapers to publish articles in print and online. This increased the exposure of the event and boosted awareness of the importance of hand washing among an even greater segment of the public.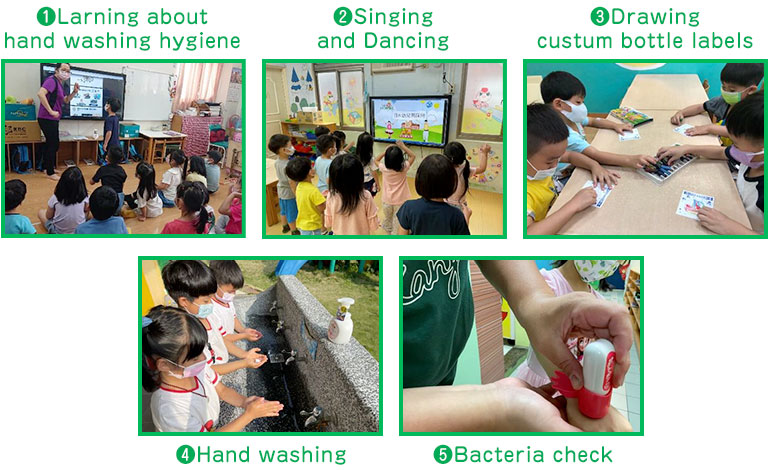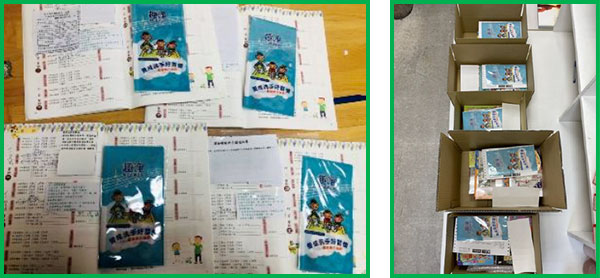 * EBC YoYo, also known as YoYo TV, is a Taiwanese children's cable channel operated by Eastern Television.
Donation Activities
To fulfill its corporate social responsibility, LHPT actively engaged in such social contribution activities as donations of products sold by the company.
Donation activities related to the COVID-19 pandemic
Activity 1Donation of products to local residents
Period
June 2021
Location
Taitung
Outside collaborators
Taipei Medical University Medical Service Group
Donations
·750

SYSTEMA

kids toothbrushes
·375

SYSTEMA

toothbrushes
The above products are worth a total NT$9,859
Details
Provided knowledge of correct oral care and donated LHPT products to Taitung residents ages 6–80 with the aims of reducing future needs for dental treatment and promoting health.