Some activities have been cancelled or postponed to prevent the spread of the novel coronavirus.
We plan to restart these activities when conditions improve and safety can be assured.
Oral Health Care
1 Improving the Oral Function of Senior Citizens in Cooperation with a Provincial Public Health Office
Phrae province is a markedly graying area in northern Thailand. Since 2018, Lion Corporation (Thailand) Ltd. ("LCT") has been promoting activities to increase senior citizens' quality of life by reducing incidents of choking, increasing chewing strength and improving dry mouth in cooperation with the Provincial Public Health Office. The idea for these activities was the topic of a talk given by a dental specialist at the Lion Oral Health Award 2016 . Dentists of the Provincial Public Health Office lecture about oral care regularly in communities with large concentrations of senior citizens. To prevent declines in the mouth's function and to maintain and improve the vitality of the area around the mouth, the dentists teach mouth exercises called "Kenkobi" developed by Lion Foundation of Dental Health (LDH), a public interest incorporated foundation established by Lion Corporation in Japan. Six months after starting the exercise program, most attendees improve, and their difficulties with choking and dry mouth are reduced. LCT provides "Kenkobi" brochures and display boards to the province to help more senior citizens do the exercises.
In 2020, activities were conducted in Chonburi Province in eastern Thailand and in Bangkok. A total of about 150 senior citizens participated in the event.
LCT will continue to contribute to improving oral care for the citizens of Thailand in cooperation with the Provincial Public Health Office.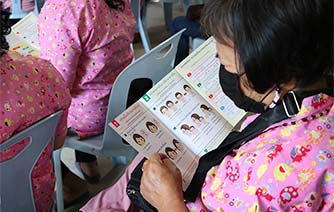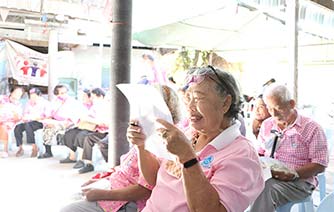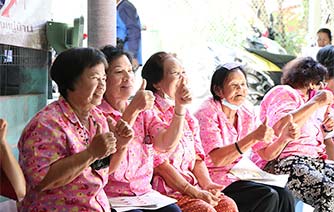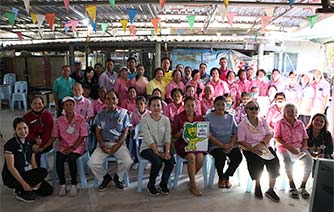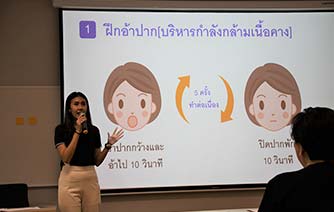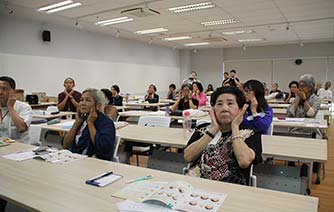 2 Collaboration with Provincial Hospitals, Health Offices and Retailers
Milk teeth sometimes receive less attention than adult teeth because they come out eventually. However, implementing oral care from a young age is very important because oral health affects overall health.
With the aim of promoting proper oral health care and firmly establishing the concept of preventive dentistry,* LCT collaborates with provincial hospitals and health offices to carry out related activities, for example, offering oral check-ups, treatment and instruction in proper brushing to children. At local schools this begins with local dental hygienists conducting a dental checkup. If cavities are found, a treatment called "Smart Technique" is performed by a dentist.
In 2018, LCT collaborated with local retailers to introduce correct brushing methods through a show for children ages 2 to 5 using the KODOMO brand. LCT provided discount coupons for LCT products viable only at the cooperating retailers. This initiative is aimed at encouraging children to continue to brush their teeth correctly at home.
The activity was conducted in Ranong Province (in southern Thailand) in 2020, with 238 children. LCT will expand this initiative to other areas to teach more citizens in Thailand about oral care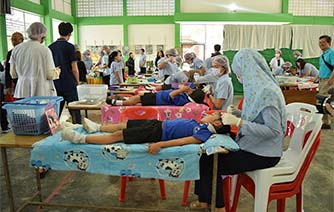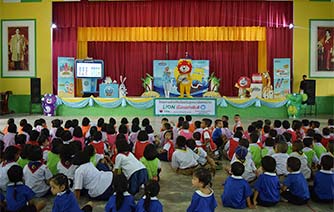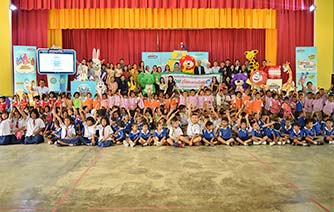 * Lion Group companies overseas are collaborating with dental professionals and retailers on initiatives based on the concept of preventive dentistry. Working together with dental professionals, Lion strives to increase awareness and understanding of oral care by sharing information on good oral care and practical tooth brushing methods. In addition, Lion promotes good oral care habits by providing products that suit individuals' specific oral care needs through retailers and other markets.
3 Oral Care and Health Education for Employees during Their Pregnancy
During pregnancy, the secretion of saliva tends to decrease due to an increase in the production of such hormones as estrogen, causing the risk of cavities and periodontal disease to rise.
LCT conducts seminars to communicate the importance of health and oral care during pregnancy to expectant employees at its Humanized Hall facility. Regarding health management, nurses from LCT's nurse office and doctors give lectures on necessary nutrition during pregnancy. With regard to oral care during pregnancy, they conduct lectures on how a mother's oral condition can affect her baby's oral health and teach correct tooth brushing practices.
In 2020, 10 employees who were either expecting or recent mothers participated in this seminar.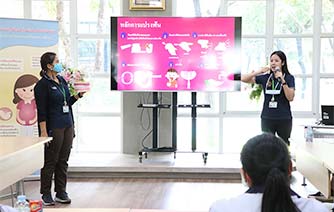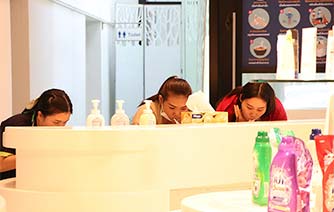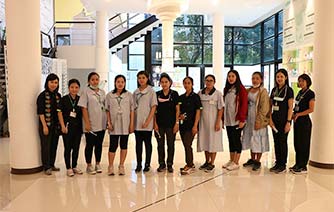 4 Lion Oral Health Award
LCT has been supporting and fostering people conducting studies and activities that are beneficial to preventive dentistry in Thailand since 2009.
In 2019, LCT collaborated with the Health Department of the Ministry of Public Health in Thailand to hold an academic seminar titled "Good Teeth for Better Life." LCT bestowed three awards to dentists and dental nurses. About 500 people, including dentists and dental hygienists, participated in this seminar.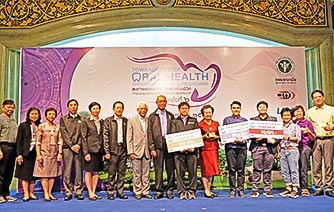 5 Working with a Provincial Public Health Office in Southern Thailand to Reduce Cavities
Childhood cavities are a big problem in southern Thailand. To solve this problem, LCT has started a project aimed at reducing cavities among five local families in cooperation with the Provincial Public Health Office in Pattani Province. The issue in this area is that neither parents nor children are well educated about oral care. They do not know correct practices for preventing cavities. The idea for this project, called "preventive dentistry with the whole family," was the topic of a lecture given by a dentist at the Lion Oral Health Award 2017.
The participating five families will practice correct self-care at their homes and go to see a dentist periodically for additional routine care. Their dentist will record their oral conditions using smartphones and use these records to give them feedback.
LCT will contribute to solving social issues in southern Thailand by establishing good oral care habits and reducing cavities through this project.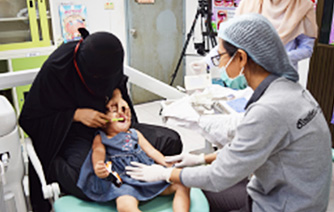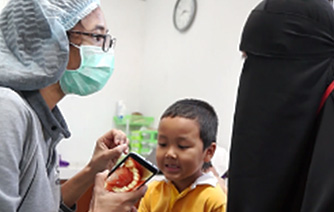 6 Oral Care Promotional Activities in Cooperation with the Government
The Thai government has held an annual Health Fair since 2012 with the aim of increasing Thai citizens' awareness of health issues. The 2018 Health Fair was held at the Ao Udom Community Center in Laem Chabang, Sriracha district. The fair's events take place in local community centers, where medical facilities and health product retailers set up booths manned by volunteer physicians and nurses who provide checkups for participants and prescribe medicine. LCT ran a booth in this fair to introduce and practice "Kenkobi" mouth exercises with participants over 50. LCT also gave participants products from its GoodAge and SALZ oral care brands for seniors. About 1,000 people participated in the Health Fair in 2018.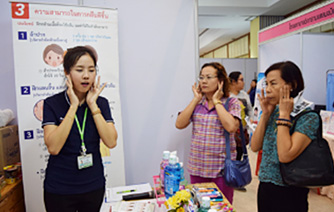 7 Tooth Brushing Seminars at a Community Center near Production Site
Seminars for those aged 50 to 80 on correct oral care were conducted by LCT at Rai Nueng community center near the Sriracha plant, LCT's production site. In the class, participants were taught correct methods of tooth brushing and flossing, then did "Kenkobi" exercises to improve the function of their mouths. In 2018, 75 people took part in this seminar.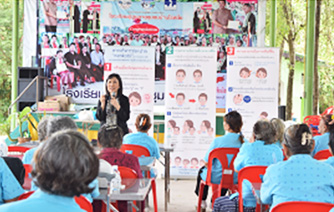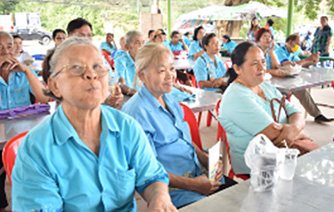 8 Conducting Oral Care Exercises at Seminars in a National Hospital
At Ramathibodi National Hospital, in observance of World Alzheimer's Day* on September 21, medical and dentistry students of Mahidol University held a seminar for elderly citizens and caregivers. LCT also participated in this seminar and promoted awareness of the importance of oral health.
At the seminar, dentistry students gave a presentation titled "Healthy Oral Conditions Are Fundamental to Brain Health," ran a booth to teach correct tooth brushing techniques and conducted oral care check-ups of participants using a special oral camera.
LCT also set up a booth and distributed toothbrushes and a Thai-language booklet entitled "Kenkobi" Mouth Exercises, created by the Lion Foundation of Dental Health (LDH). Many people were interested in the exercises and practiced them together at the booth.*
* World Alzheimer's Day was established by Alzheimer's Disease International (ADI) and the World Health Organization (WHO) in 1994. September 21st is designated as a day to promote educational activities about Alzheimer's disease.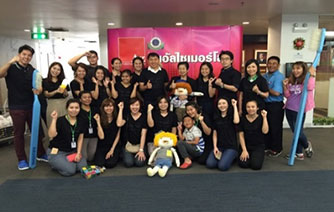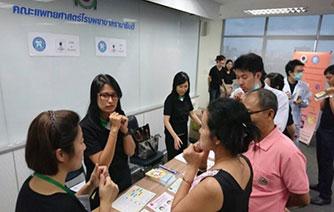 Cleanliness
1 Instruction on Healthy, Hygienic Living Habits at Elementary Schools
In August, October and November 2020, LCT held the Happy Life Happy Home program for 4th, 5th and 6th graders (ages 9 to 12) at elementary schools (Wat Dokmai School (Bangkok), Wat Phrapratanporn School (Chonburi) and Kasikon Songkrow School (Chonburi) in Bangkok and Chonburi Province (in Eastern Thailand). This program taught the students techniques for keeping their bodies healthy and clean and for keeping their homes clean and comfortable.
The program comprises two parts, Happy Life (covering tooth brushing, hand washing, face washing and showering) and Happy Home (covering laundry, dish washing and floor cleaning), and is aimed at increasing awareness of health, comfort and cleanliness through the use of LCT products. The elementary school students learned ways of keeping their bodies and homes clean, as well as the proper use of related products, from the participating LCT staff. 383 students participated in these events.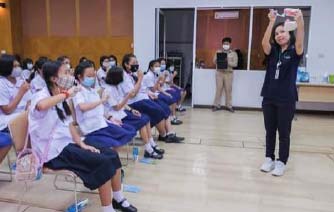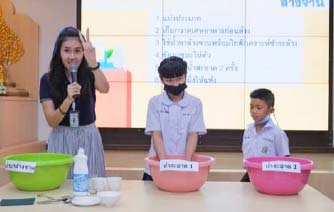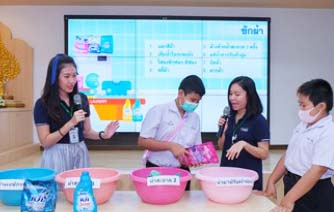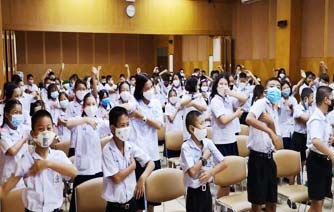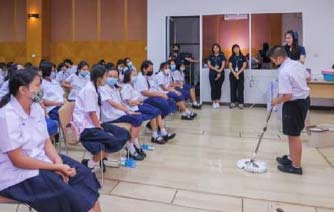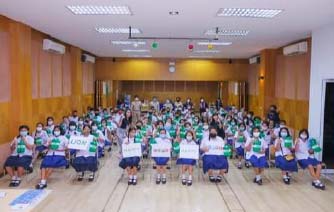 2 The Public-Private Collaboration Project
LCT contributes to the Public-Private Collaboration Project being advanced by the government of Thailand. In 2019, oral health and hand-washing educational activities were held in Lamphun Province and at the Saha Group's Fair.* The theme of LCT's booth was the importance of proper oral health and hygiene practices.
At the Saha Industrial Park in Lamphun, LCT encouraged good hygiene practices using Kirei Kirei hand soap to teach the local students and provided education about "Kenkobi" mouth exercises for senior citizens.
At the Saha Group Fair, group companies of the Saha Group meet each year and set up booths to exhibit their public-private collaboration projects. This year, LCT invited senior citizens from a senior club in Yannawa district, Bangkok, and Rai Nueng community center in Sriracha district, Chonburi, to join "Kenkobi" mouth exercises training and provided instruction on proper tooth brushing methods at the booth. About 360 people from nearby communities participated this year.
* LCT is a joint venture of Lion Corporation and the Saha Group.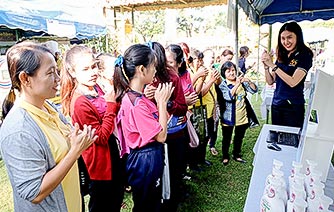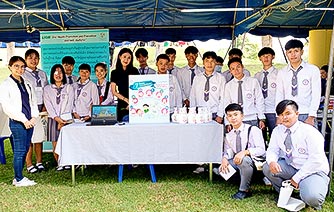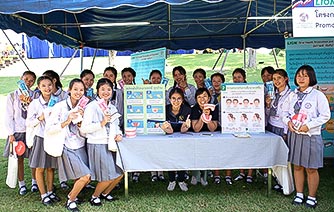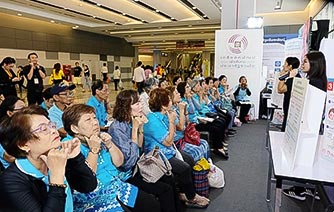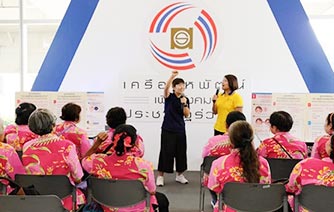 3 Conducting Hand Washing Classes for Elementary School Students near a Production Site
LCT provides classes on hand washing for children at schools near its Sriracha Plant. Children first rub a special cream on their hands, which glows under a black light, to simulate grime. Then, they are asked to wash their hands and check under the black light how well the cream came off. From this exercise, children see how washing hands with just water or washing hands poorly cannot get rid of dirt properly, and are then taught proper washing techniques.
Since most of the students who participate in the hand washing lecture do not habitually wash their hands before lunch, LCT will continue its efforts to contribute to the establishment of hygienic habits among students.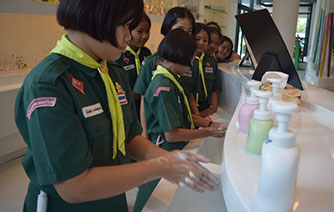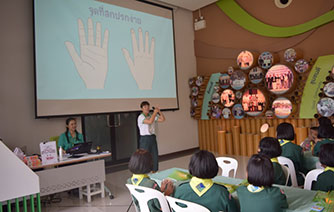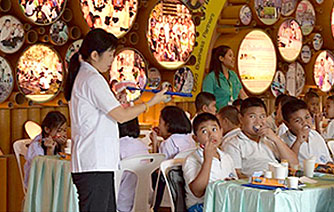 Environmental Conservation Activity
Tooth Brushing Lectures at an Environmental Fair
LCT operated a booth at the "Eco-Products International Fair 2016," an environmental fair. The concept of the booth was that humans are part of the environment and that "people can harmonize with the environment as long as they are healthy." The booth also featured the environmental efforts of LCT and Lion Corporation Japan.
On the event's main stage, LCT conducted tooth brushing seminars for elementary school students to teach that one's overall health starts with oral health, in line with LCT's booth concept.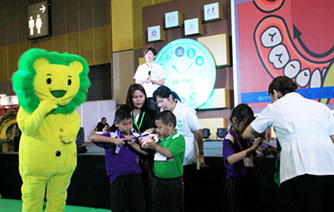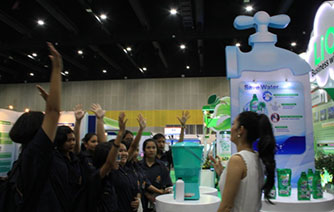 Donation Activities
As the entire country confronted the COVID-19 pandemic, LCT, as a corporate citizen and hygiene product manufacturer, actively engaged in corporate social responsibility activities, such as in-kind donations of hygiene-related products sold by the company.
Donation activities related to the COVID-19 pandemic
Activity 1 Monetary donations to support medical professionals
Period
April 2020
Location
The eight medical facilities below
Outside collaborators
Donations
Donate money 4.1 million baht to support medical equipments etc. for fighting COVID-19 as follows.
1) Bamrasnaradura Infectious Disease Institute 1,000,000 baht
2) Siriraj Hospital 500,000 baht
3) Chulalongkorn Hospital 500,000 baht
4) Ramathibodi Hospital 500,000 baht
5) Charoenkrung Pracharak Hospital 300,000 baht
6) Somdej Phraborom Ratchathewi Hospital 300,000 baht
7) Chonburi Hospital 500,000 baht
8) Thammasat Hospital 500,000 baht
Details
LCT donated funds to eight medical facilities to support medical professionals treating COVID-19 patients

Activity 2 "LION pan suk" donation project
Period
August 2020
Location
Bangkok
Donations
1,000 sets of LCT products (contents listed below)
● Kirei Kirei alcohol gel (one 50 ml bottle)
● Lipon F dishwashing detergent (one 500 ml bottle)
● DENTOR Toothbrush (one)
● SYSTEMA Toothpaste (one 96 g tube)
● Shokubutsu-Monogatari (Plant Story) Shower Cream (one 250 ml bottle)
● Q'lean Shampoo (one 170 ml bottle)
● Pao White Powder laundry detergent (one 900 g package)
● Lion original cloth mask (one)
Details
LCT donated sets of its products to taxi drivers impacted by the COVID-19 pandemic. LCT promoted the project over traffic news radio stations. The sets were distributed to taxi drivers via a drive-through set up at LCT's office on Rama 3 Road in Bangkok.
Activity 3 Products donation to fishermen in Andaman Sea
Period
May 2020
Location
Ranong Province, Phangnga Province, Phuket Province
Donations
1 set per household (Total 1,600 sets)
● Pao Active Powder laundry detergent 80g
● Essence Power laundry detergent 40g
● Lipon F dish washing detergent 100ml
● Lipon F F Bergamot dish washing detergent 100ml
● SALZ Sensitive Toothpaste 100g
● St.Andrew Kids Toothpaste 50g
● Flore Bar Soap
● St.Andrew Talcum Powder 50g
Details
LCT donated its products to fishermen in Ranong Province, Phangnga Province and Phuket Province who got impact from COVID-19.