Implementing Human Rights Due Diligence*
Lion regards the identification of and response to potential human rights issues throughout its value chains, from raw material procurement to use by consumers, as a top priority. Accordingly, we identify and assess potential negative impacts on human rights by stakeholder category to enhance mechanisms for preventing, mitigating and remedying such adverse impacts. In particular, our raw material procurement sites, which are mostly overseas, present such potential risks of human rights violations as child labor or coerced immigrant labor. In addition, Lion's activities overseas include potential risks of racial or religious discrimination and abuse of authority at workplaces.
To reduce and mitigate such human rights risks and to monitor related initiatives and issues, once a year, we hold hearings about the state of compliance with the officers responsible at eight overseas affiliates. Furthermore, we hire external consultants to disseminate information about new laws and systems related to human rights and labor in the countries where we operate as well as examples of human rights infringements that have occurred there, so that our overseas employees will be better able to take ownership of such issues. By providing such information locally, we encourage efforts to respond to human rights risks. In these ways, we seek to eliminate coerced labor and child labor and protect children's rights in raw material procurement and to ensure respect for diversity, including that of race, religion, gender, sexual orientation, age, nationality and disability, in Lion's activities.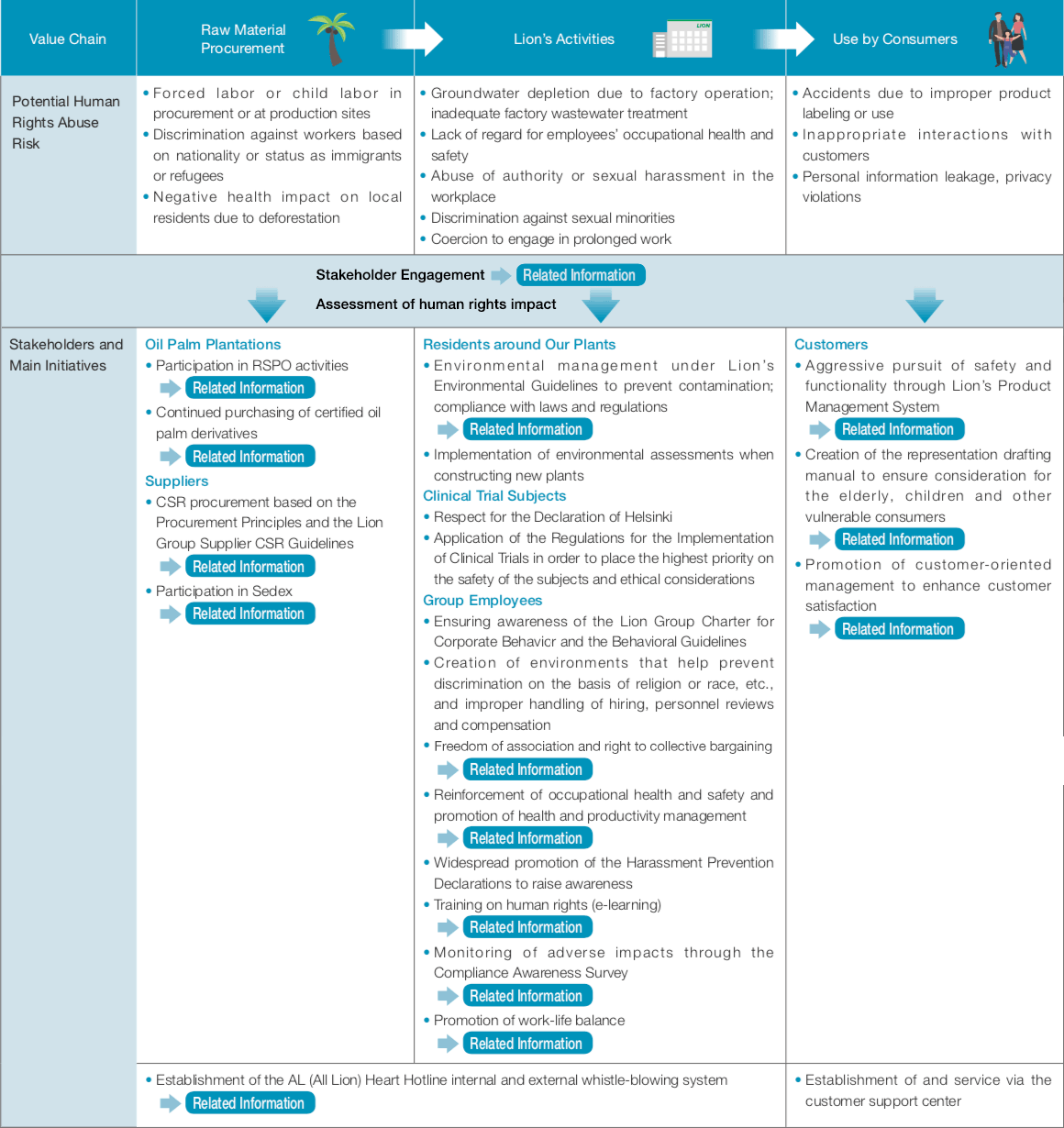 * Corporate measures to avoid causing human rights violations and provide relief for the victims of such violations
①Raw Material Procurement
Palm Plantations
Palm oils are used as raw materials in Lion's detergents. However, human rights problems that reflect a lack of social justice have been identified at many palm plantations. These include poor labor conditions with inadequate consideration given to health and safety, low wages, improper treatment of immigrant workers and the use of child labor. To help resolve these issues, Lion has been a member of the Roundtable on Sustainable Palm Oil (RSPO) since 2006 and uses RSPO-certified palm oils.
Suppliers
The Lion Group requires the materials manufacturers it works with as well as the procurement partners of its production contractors in and outside Japan to avoid causing adverse impacts on human rights in procurement and production processes. To confirm that there are no risks of such impacts and advance responsible procurement activities, each year we ask that such partners implement self-checks based on the Lion Group Supplier CSR Guidelinesand request improvements as needed.
In this way, we are promoting the creation of frameworks throughout the supply chain to avoid risk related to human rights and labor practices as well as the environment, fair operating practices, consumer issues and compliance
Lion joined Sedex as an AB member at the end of 2019 in order to further reduce social and environmental risk in its purchasing. We encourage our suppliers to join Sedex to reduce the burden of self-checks and request that they use the platform provided by Sedex to submit their annual self-check responses.
②Lion's Initiatives
Lion Group Employees
The Lion Group Charter for Corporate Behavior states that "We shall respect human rights," and the Behavioral Guidelines state that the Group will not permit child labor or forced or coerced labor, will provide equal employment opportunities and treat employees fairly, and will take an active interest in the human rights practices of its suppliers, working with them to mutually promote the fulfillment of corporate social responsibility. Furthermore, we have established the LION Human Rights Policy and are working to ensure awareness of it throughout the Group.

All domestic employees of the Lion Group (including part-time workers) are asked to complete the annual Compliance Awareness Survey. The survey results are reported to management and feedback is provided to individual divisions in order to help maintain and strengthen our compliance systems.

Lion conducts periodic e-learning training for all employees in order to spread correct understanding of human rights issues throughout the Group. We added content about harassment related to pregnancy and childcare in 2017 and content about LGBT issues in 2018. Through such efforts, we are actively working to prevent harassment.
In 2019, we added new content about the LION Human Rights Policy in an effort to spread awareness among employees.
In 2020, we made human rights issues part of the mandatory e-learning curriculum of Lion Career Village (LCV) in an effort to spread awareness among employees.
Measures for Both ① and ②
Lion has set up an internal and external whistle-blowing system, the AL (All Lion) Heart Hotline (Japanese) as a grievance mechanism. This system can be used not only by Group employees, but also by suppliers and other external stakeholders, and the anonymity of users is assured.
Furthermore, via the annual Compliance Awareness Survey of all domestic employees, including part-time workers, we provide an explanation of the hotline and monitor its recognition among employees. The recognition rate among employees was 99.5% in 2020.
Going forward, we will continue to promote thoroughgoing awareness of these initiatives as we work to promote respect for human rights throughout our corporate activities.
③Use by Consumers
Customers
Promoting Awareness Internally on Human Rights Day
Human Rights Day is on December 10 every year. To honor the adoption of the Universal Declaration of Human Rights at the third session of the United Nations General Assembly on December 10, 1948, this day was designated as Human Rights Day at the General Assembly's fifth session, in 1950.
For Human Rights Day in 2019, the domestic Lion Group put up Human Rights Day posters at its headquarters, six sales offices, research institutes and four plants across Japan, aiming to further increase awareness among employees of the importance of respecting human rights and the LION Human Rights Policy, adopted in January 2019. On display for two weeks, these posters served as an impetus to get employees thinking about human rights.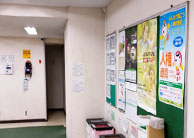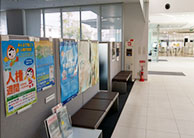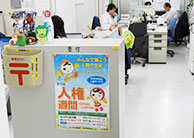 Participation in External Human Rights Initiatives
Lion has declared its support for the Ten Principles of the United Nations Global Compact. As part of this support, in 2019, Lion took part in the Human Rights Due Diligence (HRDD) Subcommittee of the Global Compact Network Japan (GCNJ), deepening its understanding of respect for human rights and human rights due diligence through workshops held by the subcommittee.
Furthermore, Lion is member of the Japan Cosmetic Industry Association (JCIA) , an organization established by cosmetics manufacturers to promote the sound development of the industry. The JCIA has formulated a sustainability policy and proactively works to contribute to sustainable social development though the cosmetics industry. As part of these efforts, in August 2019, the JCIA's Environment and Sustainability Committee , of which Lion is a member, formulated a basic guide for handling human rights and labor risks in the supply chain.
Human Rights Study Meetings
To promote awareness and understanding of the LION Human Rights Policy at overseas Group companies, in March 2019, we held study sessions for all employees from Japan stationed at such companies, promoting understanding of human rights initiatives.
Going forward, to reinforce governance related to ensuring respect for human rights, we will develop methods of raising awareness suited to overseas companies and advance employee education on related issues while strengthening human rights initiatives in the value chain.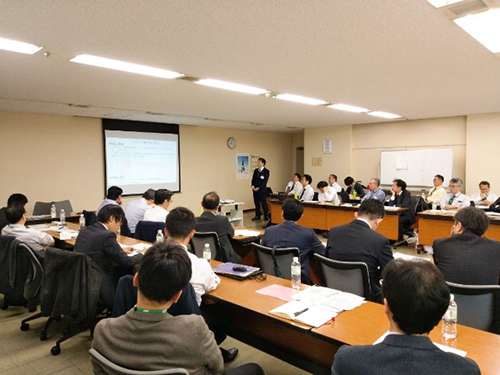 Initiatives at Overseas Group Companies
In 2013, Lion surveyed the status of human rights initiatives at overseas Group companies by visiting them, conducting interviews with management and touring factories. Through these actions we were able to confirm that these companies do not hire employees who are below the legal working age, and that the plants of Southern Lion Sdn. Bhd., PT. Lion Wings and Global Eco Chemicals Malaysia Sdn. Bhd. provide prayer rooms for Muslim employees. Furthermore, in countries where there are many reports of discrimination against immigrant workers, we have shared with Group companies that inadequate communication with immigrant workers can create business risks and worked with them to respond as needed. Since 2015, we have been checking the status of sustainability initiatives at overseas Group companies annually.
Going forward, we will continue to monitor and to help improve human rights initiatives at overseas Group companies.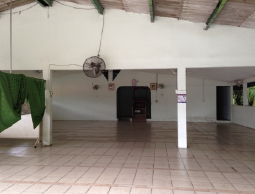 Compliance Initiatives at Southern Lion Sdn. Bhd.
Southern Lion Sdn. Bhd. ("SL") distributes an Employee Handbook, containing its CSR policy and stance on human rights, to all employees. Furthermore, SL has prepared a Code of Conduct that includes the key elements of the Lion Group's latest policies and works to ensure awareness of it among employees.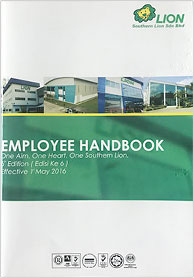 Halal Certification Initiatives
Lion does business in countries with many Muslim residents, such as Malaysia and Indonesia. As such, we are working to obtain halal certification* for our products, so that Muslim customers can use them with peace of mind. We are advancing halal certification for a wide range of products, from toothpaste, which is used in the mouth, to hand soaps, body washes, laundry detergents and fabric softeners, displaying halal-certified marks on certified products.
Going forward, we will continue to advance product creation that is considerate of religions and lifestyles in the countries where we operate.
* Certification under systems for labeling products that have cleared halal certification standards with a halal-certified mark. A halal certificate issued by a certifying body officially recognized by the country's halal certification authority is required to sell products with a halal-certified mark.
Example Halal-Certified Products