To ensure respect for the human rights of people affected by the business activities of the Lion Group, we implement the following human rights due diligence* process. In addition, we promote human rights due diligence based on the United Nations Guiding Principles on Business and Human Rights.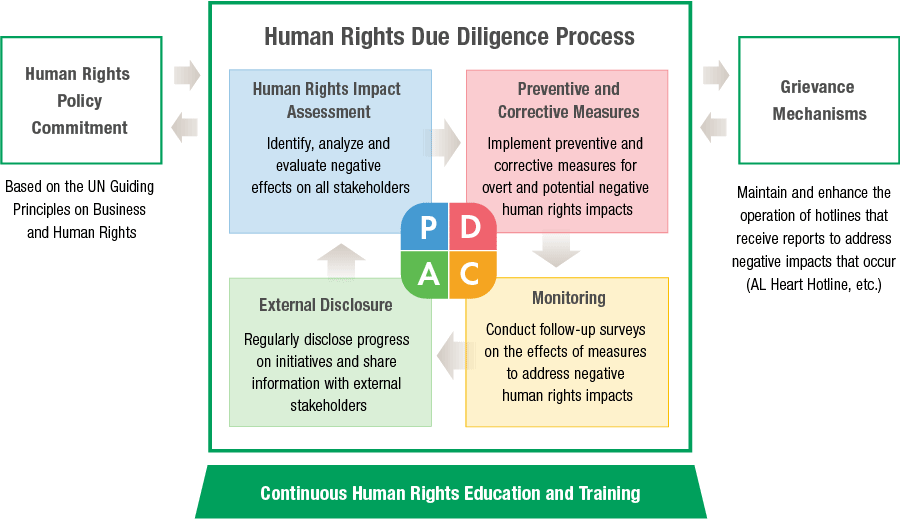 * Corporate measures to avoid causing human rights violations and provide remediation for the victims of such violations
Identifying Human Rights Risks
Human Rights and Business Risks Assumed as Business Characteristics of the Group
The Group's main business encompasses the development, manufacture and sale of household products. Among these, we notably handle many cleaning products, including laundry detergents. The surfactants that comprise the washing ingredients of such products are derived from palm oil, palm kernel oil and their derivatives, which are renewable and carbon-neutral raw materials. However, the global palm oil industry confronts environmental and human rights issues, such as deforestation through illegal land clearing and child labor. Specifically, we must be vigilant with regard to labor and environmental risks to palm plantation workers (such as overwork, child labor and smoke damage from illegal slash-and-burn forest clearing), supply risks related to raw materials for Lion products, and the risk of loss of trust from various stakeholders due to the use of unsustainable raw materials.
In addition, for household products, we use many packaging materials (paper and pulp), including individual packaging and cardboard boxes for shipping. This presents potential supply risks and reputation risks due to the use of wood chips—the raw material of paper and pulp—for which sufficient forest management cannot be assured.
In the manufacturing process, we are supplied with many types of raw materials from a wide array of material manufactures and work with a large number of production contractors. Transactions with suppliers whose sustainability activities are insufficiently advanced present potential raw material and product supply risks and reputation risks.
Furthermore, with regard to planning, manufacturing and selling household products, we have in place various departments covering the entire value chain, including procurement, research, planning, production, sales and administration. The Group has over 7,500 consolidated employees, and the content of its business operations is finely segmented. Among possible human rights risks, human rights violations could occur, including race and gender discrimination and harassment as well as conflict between employees regarding work content and employee benefits. This could hinder the smooth execution of business.
Methods and Overviews of Identifying Human Rights Risks Used to Date
The Group conducts annual surveys of domestic and overseas Group companies and suppliers as a way to reduce and mitigate human rights risks.
Domestic Group Companies
Each department identifies and evaluates business risks and considers risk mitigation measures.
Overseas Group Companies
We hire external consultants to disseminate information about new laws and systems related to human rights and labor that is newly enacted in the countries and areas where we operate as well as examples of human rights infringements that have occurred in such locations, so that our overseas employees will be better equipped to take ownership of such issues. We share information and hold hearings about the state of compliance with the officers responsible at eight overseas Group companies in order to monitor initiatives and challenges at these companies.
Suppliers (Raw Material Manufacturers and Production Contractors)
We ask suppliers to conduct self-checks based on the Lion Group Supplier CSR Guidelines. We confirm and evaluate the results of these checks.
Based on the results of said checks, Lion identifies potential human rights violation risks throughout its value chains, from raw material procurement and internal business activities and use by consumers. In addition, we work to enhance measures to mitigate human rights violation risks by stakeholder category and utilize the AL Heart Hotline as a mechanism for remedying violations.
In raw material procurement, we work to protect children's rights and worker's rights by forbidding child labor and coerced labor. In addition, we ensure respect for diversity, including that of race, religion, gender, sexual orientation, age, nationality and disability, in Lion's activities.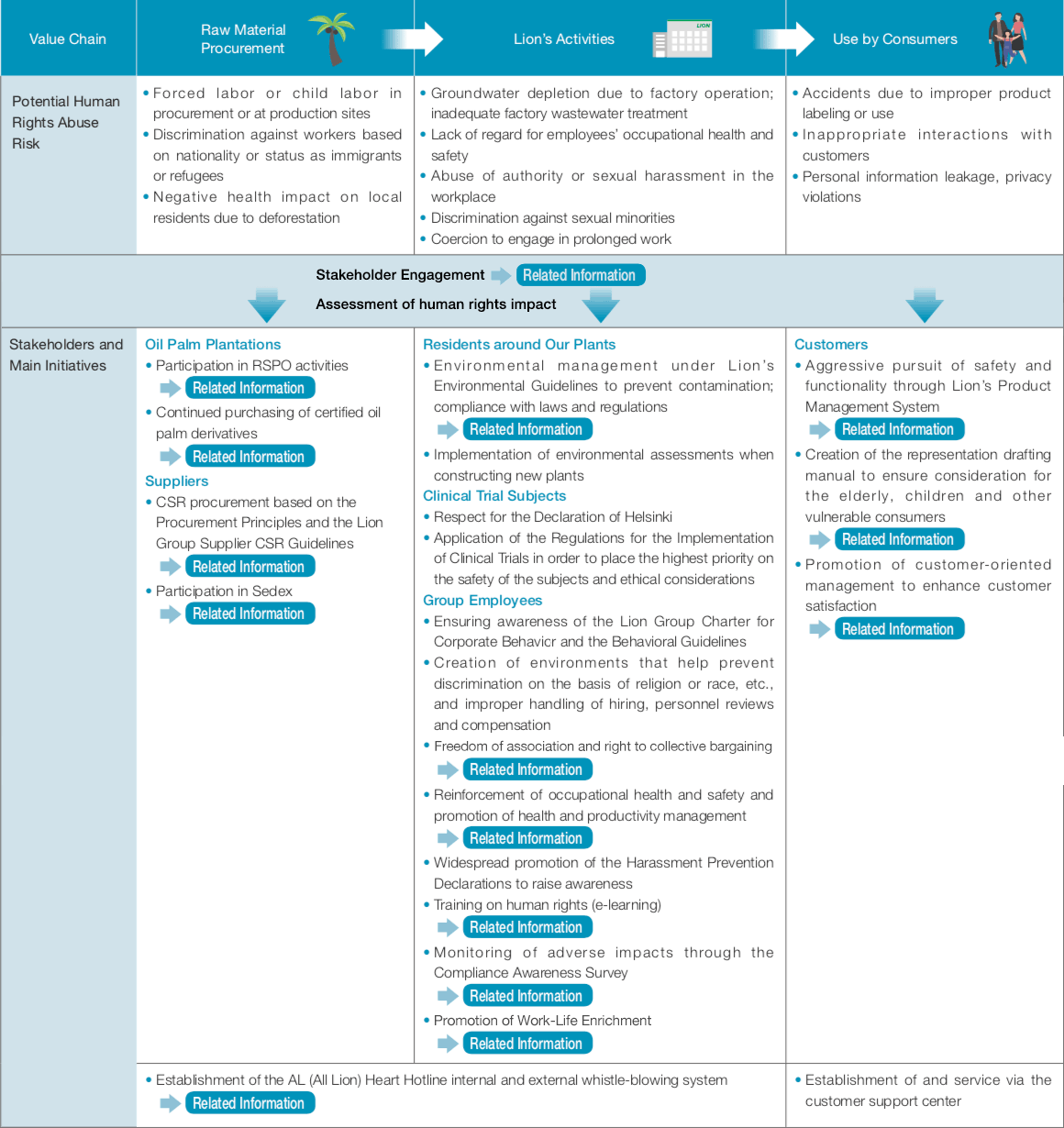 Preventing and Mitigating Negative Impacts
Lion considers human rights risks related to the supply chain and Group employees in Japan and overseas to be major human rights issues that should be addressed in its businesses. As such, we are working to prevent and mitigate negative impacts by regularly reviewing the identification and assessment of human rights risks in these areas.
Measures to Prevent and Mitigate Risks in the Supply Chain
(1) Raw Materials
Prevention and Mitigation Measures
Targets and Progress in 2021
Procure third party-certified raw materials → Procure products certified by the Roundtable on Sustainable Palm Oil (RSPO) and Forest Stewardship Council (FSC)

Target: 100% procurement of RSPO-certified materials
Progress: 93% of key raw materials are RSPO-certified (scope: consumer products sold in Japan)

Target: 100% procurement of FSC-certified materials
Progress: 65% of materials are FSC-certified (percentage of product types sold in Japan); we are promoting the use of paper certified by the FSC or the Programme for the Endorsement of Forest Certification (PEFC) and recycled paper as copy paper and in office supplies

Promote trade with suppliers with the ability to resolve social and environmental problems that may occur in the supply chain → Suppliers that support efforts aimed at zero deforestation

Target: Procurement from suppliers that support efforts aimed at zero deforestation: All suppliers
Progress: 50% of suppliers of palm oil and related materials and 58% of suppliers of paper and pulp (scope: raw material suppliers for the Lion Group in Japan)
(2) Suppliers
Prevention and Mitigation Measures
Progress in 2021
Regular risk evaluations of the sustainability activities of suppliers
Implementing supplier CSR checks for suppliers of Lion, domestic Group companies , Lion Corporation Korea and Qingdao Lion
Risk assessment through Sedex: 14companies
Identification of high-risk suppliers
Set standards for high-risk suppliers for checks based on Supplier CSR Guidelines
Audits of high-risk suppliers and formulation of improvement plans
High-risk suppliers were not applicable
Measures to Prevent and Mitigate Risks among Group Employees
The Lion Group Charter for Corporate Behavior states that "We shall respect human rights," and the Behavioral Guidelines state that the Group will not permit child labor or forced or coerced labor, will provide equal employment opportunities and treat employees fairly, and will take an active interest in the human rights practices of its suppliers, working with them to mutually promote the fulfillment of corporate social responsibility. Furthermore, we have established the LION Human Rights Policy and are working to ensure awareness of it throughout the Group.
All domestic employees of the Lion Group (including part-time workers) are asked to complete the annual Compliance Awareness Survey. The survey results are reported to management and feedback is provided to individual divisions in order to help maintain and strengthen our compliance systems.
Lion conducts periodic e-learning training for all employees in order to spread correct understanding of human rights issues throughout the Group. We added content about harassment related to pregnancy and childcare in 2017 and content about LGBT issues in 2018. Through such efforts, we are actively working to prevent harassment.
In 2019, we added new content about the LION Human Rights Policy in an effort to spread awareness among employees.
In 2021, as in 2020, we made Lion's initiatives related to human rights part of the mandatory e-learning curriculum of Lion Career Village (LCV) in an effort to spread awareness among employees.
Access to Remediation(Grievance Mechanism)
Lion has set up an internal and external whistle-blowing system, the AL (All Lion) Heart Hotline (Japanese) as a grievance mechanism. This system can be used not only by Group employees, but also by suppliers and other external stakeholders, and the anonymity of users is assured.
Furthermore, via the annual Compliance Awareness Survey of all domestic employees, including part-time workers, we provide an explanation of the hotline and monitor its recognition among employees. The recognition rate among employees was 99% in 2021.
Going forward, we will continue to promote thoroughgoing awareness of these initiatives as we work to promote respect for human rights throughout our corporate activities.
AL Heart Hotline
Promoting Awareness Internally on Human Rights Day
Human Rights Day is on December 10 every year. To honor the adoption of the Universal Declaration of Human Rights at the third session of the United Nations General Assembly on December 10, 1948, this day was designated as Human Rights Day at the General Assembly's fifth session, in 1950.
For Human Rights Day in 2019, the domestic Lion Group put up Human Rights Day posters at its headquarters, six sales offices, research institutes and four plants across Japan, aiming to further increase awareness among employees of the importance of respecting human rights and the LION Human Rights Policy, adopted in January 2019. On display for two weeks, these posters served as an impetus to get employees thinking about human rights.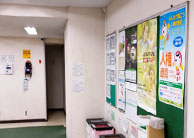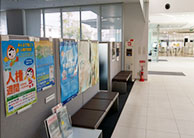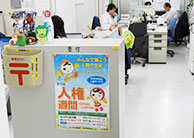 Human Rights Study Meetings
To promote awareness and understanding of the LION Human Rights Policy at overseas Group companies, in March 2019, we held study sessions for all employees from Japan stationed at such companies, promoting understanding of human rights initiatives.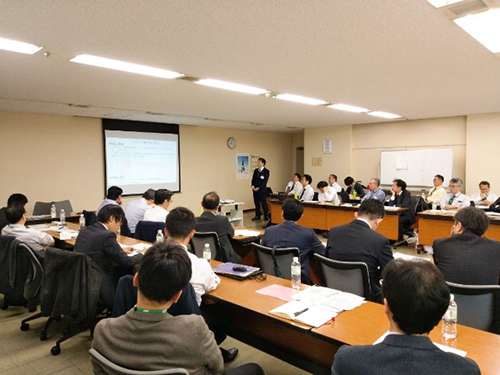 In 2022, as part of efforts to promote human rights due diligence, we held study meetings on human rights for upper management and human rights managers in major departments in Japan (cross-department teams).
Going forward, to reinforce governance related to ensuring respect for human rights, we will develop methods of raising awareness suited to overseas companies and advance employee education on related issues while strengthening human rights initiatives in the value chain.
Participation in External Human Rights Initiatives
Lion has declared its support for the Ten Principles of the United Nations Global Compact. As part of this support, in 2019, Lion took part in the Human Rights Due Diligence (HRDD) Subcommittee of the Global Compact Network Japan (GCNJ), deepening its understanding of respect for human rights and human rights due diligence through workshops held by the subcommittee.
Furthermore, Lion is member of the Japan Cosmetic Industry Association (JCIA) , an organization established by cosmetics manufacturers to promote the sound development of the industry. The JCIA has formulated a sustainability policy and proactively works to contribute to sustainable social development though the cosmetics industry. As part of these efforts, in August 2019, the JCIA's Environment and Sustainability Committee (currently the Sustainability Promotion Committee), of which Lion is a member, formulated a basic guide for handling human rights and labor risks in the supply chain. Furthermore, we participated in the Social Issues Countermeasure Working Group, which was newly established under said committee in 2021. In March 2022, we planned and held a seminar for members on respect for human rights and gender equality.
Initiatives at Overseas Group Companies
In 2013, Lion surveyed the status of human rights initiatives at overseas Group companies by visiting them, conducting interviews with management and touring factories. Through these actions we were able to confirm that these companies do not hire employees who are below the legal working age, and that the plants of Southern Lion Sdn. Bhd., PT. Lion Wings and Global Eco Chemicals Malaysia Sdn. Bhd. provide prayer rooms for Muslim employees. Furthermore, in countries where there are many reports of discrimination against immigrant workers, we have shared with Group companies that inadequate communication with immigrant workers can create business risks and worked with them to respond as needed. Since 2015, we have been checking the status of sustainability initiatives at overseas Group companies annually.
Going forward, we will continue to monitor and to help improve human rights initiatives at overseas Group companies.
Compliance Initiatives at Southern Lion Sdn. Bhd.
Southern Lion Sdn. Bhd. ("SL") distributes an Employee Handbook, containing its CSR policy and stance on human rights, to all employees. Furthermore, SL has prepared a Code of Conduct that includes the key elements of the Lion Group's latest policies and works to ensure awareness of it among employees.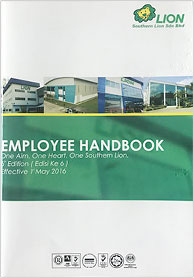 Halal Certification Initiatives
Lion does business in countries with many Muslim residents, such as Malaysia and Indonesia. As such, we are working to obtain halal certification* for our products, so that Muslim customers can use them with peace of mind. We are advancing halal certification for a wide range of products, from toothpaste, which is used in the mouth, to hand soaps, body washes, laundry detergents and fabric softeners, displaying halal-certified marks on certified products.
Going forward, we will continue to advance product creation that is considerate of religions and lifestyles in the countries where we operate.
* Certification under systems for labeling products that have cleared halal certification standards with a halal-certified mark. A halal certificate issued by a certifying body officially recognized by the country's halal certification authority is required to sell products with a halal-certified mark.
Example Halal-Certified Products