Supporting cleanliness,
health and comfort
while protecting the environment
for people each and every day.
Products
Lion communicates with customers
through the many products that they use in their daily lives,
gaining insight into consumer living,
one of Lion's distinct strengths.
Research &
Development
Products offering new value are created through coordination
between R&D divisions and a range of other departments
and by combining the results of our research
with feedback from customers.
Sustainability
Addressing evolving social issues
while striving to realize better living
for each individual every day toward a brighter future.
Lion works with customers and other stakeholders
to find solutions to problems big and small.
We are collecting and recycling used toothbrushes, which are commonly just thrown away, to promote sustainable resource use and protect the environment.

Hand washing is an important way of protecting the health of our families and communities. We are advancing activities to foster hand washing habits that maximize fun and effectiveness.
Lion News
New Products
2021-04-07
SOFLAN Premium Deodorizer Ultra Zero
Developed in the pursuit of total odor elimination.
A next-generation fabric softener featuring first-in-Japan1 technology for making odors undetectable.
This product provides odor-cancelling technology developed with a focus on the mechanisms of olfaction to block odors before you smell them.2

1. Deodorizing technology based on highly branched cyclic dextrin and a specific group of fragrances, within the fabric softener field (September 2020 Lion survey of advanced technologies)
2. Does not block all odors
Fragrance

Pure Soap (dissipates upon drying)
Contents

530ml bottle; 400ml refill pack; 1,200ml large-size refill pack
---
2021-03-31
Lightee Toothpaste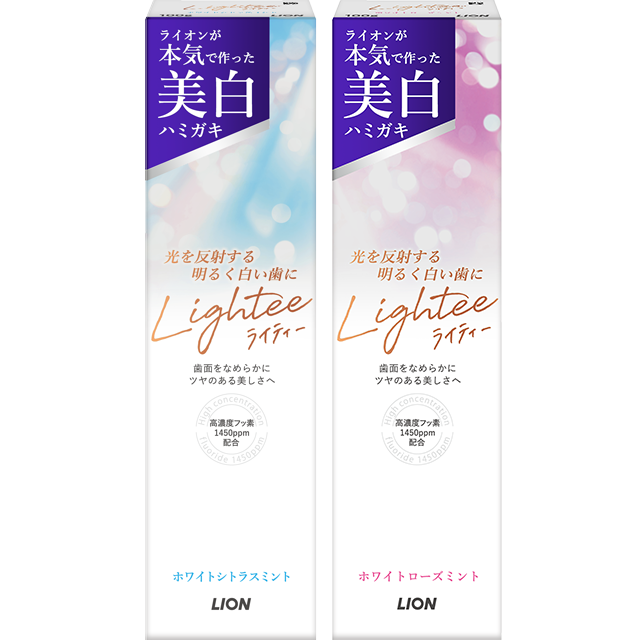 A powerful whitening toothpaste developed by Lion that thoroughly removes grime from micro-level imperfections in the dental surface while promoting enamel repair* to prevent cavities. This toothpaste helps bring out the teeth's natural, shining whiteness.
* Remineralization
Flavors

White Citrus Mint; White Rose Mint
Contents

100g; 53g
---
2021-03-31
KireiKirei Medicated Hand Sanitizing Spray
Quickly disinfect as soon as you get home!
KireiKirei Medicated Hand Sanitizing Spray is effective against viruses and bacteria.
*Tested on enveloped viruses. Not effective against all bacteria and viruses.
Contents

350ml bottle; 340ml refill pack
---