Vision 2030 Long-Term Strategic Framework
Reflecting major changes in the business environment and the growth of its role and responsibility in society, Lion Corporation has formulated a new long-term strategic framework, Vision 2030, aiming to accelerate its evolution into a company that will continue to contribute to solving social issues through its businesses into the future.
The Formulation of Vision 2030
Since its founding, the Lion Group has striven to realize health, comfort and cleanliness in everyday living and to contribute to the realization of a sustainable society through its business activities in line with its corporate motto, "Fulfilling a Spirit of Love," and its purpose, "Make a difference in everyday lives by redesigning habits."
The global spread of the novel coronavirus (COVID-19) pandemic has made clearer than ever the importance of daily living habits, such as hand washing and gargling, in maintaining mental and physical health. Furthermore, as demographic graying advances both in and outside Japan, healthcare needs are forecast to see accelerating growth in such areas as improving quality of life (QOL) and extending healthy life expectancy. Accordingly, the Lion Group believes that its role as a familiar presence in people's everyday lives will continue to grow.
In this environment, the Lion Group believes that it must accelerate efforts to transform itself in order to consistently meet the needs of society and customers and fulfill its social role and responsibility while enhancing its corporate value through activities based on its purpose. To this end, the Group has formulated the Vision 2030 long-term strategic framework.
Vision 2030
The Vision 2030 long-term strategic framework is based on Lion's purpose and comprises Lion's management vision for 2030 and management strategies for achieving this vision.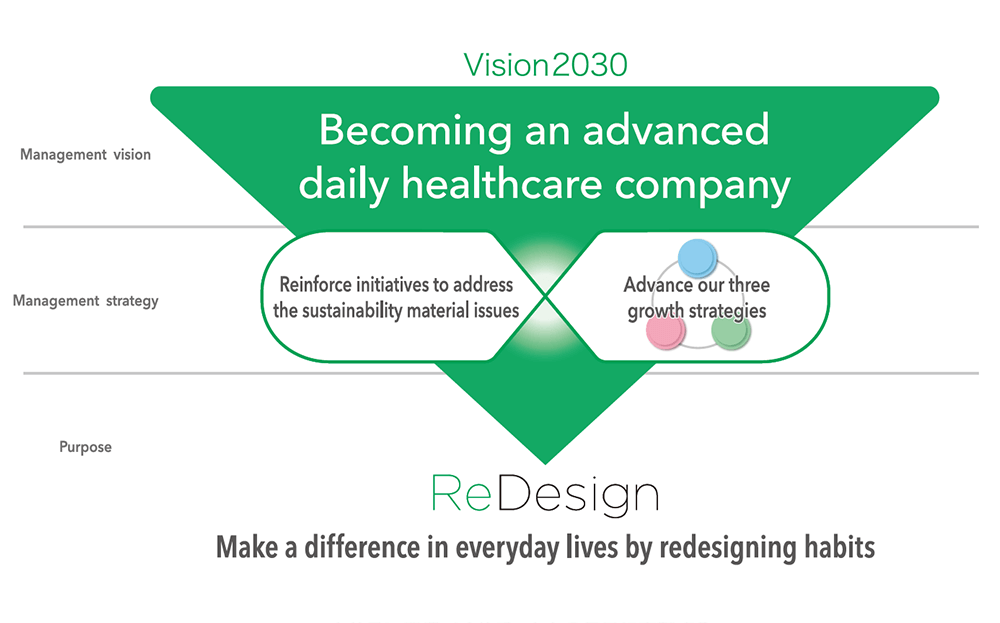 Management Vision Becoming an advanced daily healthcare company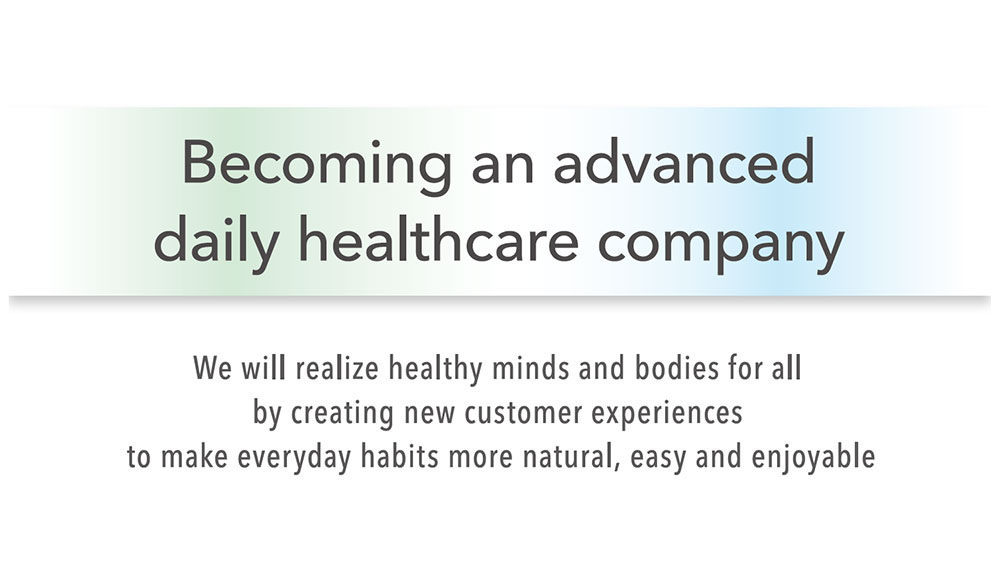 By further evolving and developing its efforts to redesign habits—a form of healthcare Lion is uniquely positioned to address—Lion aims to contribute to the realization of a sustainable society and enhance its corporate value.
Management Strategies for Realizing the Management Vision
(1) Advancing Our Three Growth Strategies
Lion will speed up business growth by advancing three growth strategies:
Accelerate growth in four fields of value creation
Transform our business foundations for growth
Generate dynamism to realize innovative change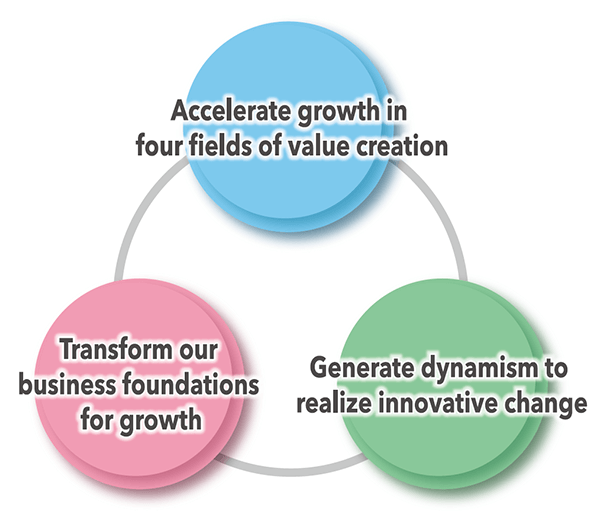 a. Accelerate Growth in Four Fields of Value Creation
The Lion Group will offer healthcare that it is uniquely positioned to provide to more consumers, mainly in Asia. By doing so, the Group aims to make a difference in diverse aspects of daily living and, as a result, accelerate its business growth and enhance its presence in Asia. To this end, we have designated four fields where we provide value as growth drivers for the Lion Group going forward.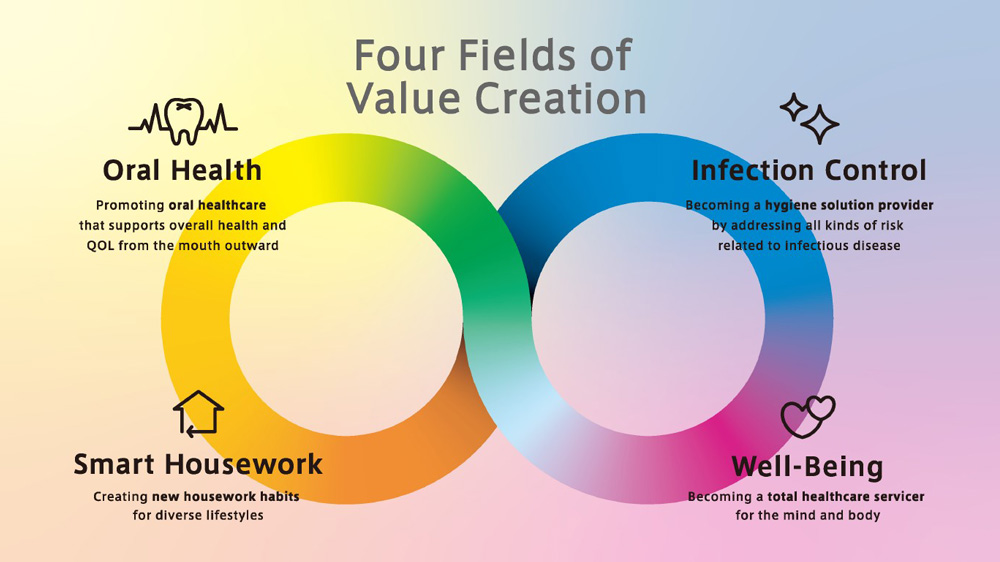 Oral Health
Evolving from oral care focused on the health of the mouth to oral healthcare that supports overall health and QOL from the mouth outward.
The links between oral hygiene and healthy life expectancy are becoming more apparent all the time.
Lion aims to leverage its strengths as Japan's leading oral care manufacturer to integrate innovative oral care products and services into the daily lives of individuals as a new form of healthcare. By doing so, we seek to realize business expansion beyond the bounds of our existing businesses.
By providing a more specialized and personalized advanced oral healthcare platform (POHR*), Lion aims to create new habits and thereby create new business opportunities, evolving from manufacturer to servicer through the proactive innovation of its business models.
*Personal Oral Health Record

Infection Control
Evolving from a hand soap manufacturer that supports good hand washing habits to a hygiene solution provider that addresses all kinds of risk related to infectious disease.
The COVID-19 pandemic has prompted a reexamination of hygiene-related practices, and new markets related to combating infectious disease are emerging. As a company with a long history of supporting cleanliness, Lion's mission is to transform its business and to become a leader in hygiene solutions in Japan and throughout Asia.
Aiming for greater peace of mind throughout society, we will expand our business from living spaces to encompass public and industrial spaces, defending against bacteria and viruses on all fronts—bodies, objects and spaces—by providing hygiene solutions.


Smart Housework
Evolving from offering one-size-fits-all ideas for improving housework to creating new housework habits for diverse lifestyles.
As lifestyles and living situations diversify, one-size-fits-all ideas for improving housework increasingly fall short of meeting consumer needs.
Lion has long focused closely on the daily lives of individuals and will use that expertise to create new housework habits for diverse lifestyles and generate new business opportunities.
Building on the basic concept of smart housework that is more fun and efficient, we will establish a unique edge by reframing housework generally to maximize authentic comfort at the individual level and by cooperating closely with external partners across a wide range of categories.

Well-Being
Evolving into a total healthcare servicer for the mind and body to enable consumers to maintain their health naturally and positively.
By enabling each individual to select prevention and treatment solutions for their specific needs, we aim to make it easier for everyone to maintain their health and find happiness every day with their families and communities.
We will transform into a total healthcare servicer that supports health and happiness at each life stage by building connections with consumers through habitual self-healthcare and by expanding the solutions we offer and integrating our services through collaboration with external partners.

b. Transform Our Business Foundations for Growth
We will promote business foundation transformation that will spur growth by continuing and reinforcing strategic investment.
c. Generate Dynamism to Realize Innovative Change
We aim to transform to realize sustainable growth.
(2) Reinforce Initiatives to Address the Sustainability Material Issues
With promoting environmental initiatives for a sustainable planet and creating healthy living habits as our top-priority material issues, we will reinforce sustainability initiatives that realize synergies with our growth strategies.
Please see the materials listed below for details.
Related Information