Approach
We are taking steps to enhance our occupational health and safety management system throughout the Lion Group.
Driven by the fundamental principle that safety is its absolute top priority, Lion has added disaster prevention items to the Occupational Safety and Health Management System (OSHMS)* based on the guidelines of Japan's Ministry of Health, Labour and Welfare to establish a unique Safety, Hygiene and Disaster Prevention Management System. Since 2009, we have operated this system at all domestic Group companies, and since 2012 we have included internal audits in our efforts to improve the system's effectiveness. Based on this safety management system, we work to reduce potential hazards and risks, continuously maintain work environments, create safer workplace environments and build related systems.
* Occupational Safety and Health Management System (OSHMS)
A system for the voluntary execution of continuous safety and health management through PDCA.
Implementation Framework
Twice a year, we hold the Safety, Health and Disaster Prevention Meeting. Chaired by a member of top management (Director Fumitomo Noritake), the meetings discuss Company-wide measures to ensure facility safety and occupational safety (including work environment improvement, health problem prevention and mental health maintenance) and coordinate ongoing initiatives aimed at thoroughly eradicating risk. In addition, we systematically implement top safety audits of plants (operating sites). The chair of the Safety, Health and Disaster Prevention Meeting is the officer responsible for these audits, which serve to evaluate mainly the appropriateness and effectiveness of safety and disaster prevention activities from an objective perspective.
Each plant (operating site) has established a Safety, Health and Disaster Prevention Committee based on the Industrial Safety and Health Act. Operating sites make effective use of these committees, letting them take the lead in working to solve problems, including issues unique to their respective sites, while incorporating the opinions of all employees working there.
Our domestic companies actively support overseas Group companies in preventing occupational accidents. In 2018, we established a Safety and Disaster Prevention Promotion Department directly below the management level, further strengthening the Lion Group's occupational health, safety and disaster prevention management system.
Top Safety Audits
Lion implements top safety audits of production division plants (including those of affiliates), with the chair of the Safety, Health and Disaster Prevention Meeting serving as the responsible officer. These audits mainly examine whether appropriate mechanisms for safety and disaster prevention are in place, whether Lion's Safety, Health and Disaster Management System is being operated properly, and whether the level of safety and disaster management is improving. By providing guidance and suggestions related to eliminating accidents and disasters through top safety audits, Lion works to further increase the safety of each plant and create environments in which employees can work with safety and peace of mind.

Emergency Response
Lion prepares for a range of natural disasters, such as an earthquake directly striking the Tokyo metropolitan area, and works to reinforce its disaster prevention systems.
The 2020 disaster prevention drills were based on a Nankai Trough earthquake scenario. We established an online Company-wide disaster response headquarters in line with the expansion of telecommuting, and we confirmed our system for gathering information and providing instructions in coordination with operating sites in affected areas. In addition, we continued to implement ongoing initiatives aimed at reinforcing disaster prevention systems, such as safety confirmation drills, drills on going home from workplaces by foot and standard first-aid training sessions.
Going forward, we will continue to carry out drills covering entire regions to reinforce disaster readiness.
Initiatives
Occupational Safety
In 2020, the number of labor-related accidents for the domestic Group was 20, excluding cases that occurred during commutes to work (of these, six accidents led to lost work time). Analysis of the causes of these accidents categorized them as follows: six falls, three instances of being caught or entangled in equipment, one chemical burn, four collisions, three cuts, one instance of heat stroke and two categorized as "other." The main cause of these accidents appeared to be a lack of caution (such as the deemphasis of safety or deviance from rules) attributable to employees' overfamiliarity with operations. When occupational accidents occur, the Safety and Disaster Prevention Department at our Headquarters conducts on-site investigations, thoroughly identifies the causes and takes thoroughgoing corrective response measures.
In order to prevent occupational accidents, it is crucial to enhance our safety management system and heighten our awareness of occupational safety. Lion implements risk simulation training (safety training) for junior and mid-level employees. Using external training centers and risk simulation devices built by individual operating sites, we use this training under the guidance of seasoned professionals to strengthen sensitivity to risk.
Employees who Participated in Risk Simulation Training (Safety Training) in 2020 (Internal education)

| Chiba Plant | Odawara Plant | Osaka Plant | Akashi Plant | Total |
| --- | --- | --- | --- | --- |
| 259 | 55 | 30 | 29 | 373 |
Workplace Safety Training for Key Persons
To prevent occupational accidents, thorough safety management as well as workplaces' self-directed safety activities organized by workplace leaders are essential. Lion holds Safety Dojo events taught by instructors from the Japan Industrial Safety and Health Association's Zero-accident Promotion Center and, from fiscal 2019, has employed a system for selecting workplace key persons from each operating site to participate in a year-long safety training development program. Although COVID-19 affected training, utilizing remote training, 14 workplace key persons completed the safety training program in fiscal 2020.
Going forward, managers, including plant and operating site general managers, will engage in leadership development, and employees will take part in experience-based learning about taking the initiative to promote safety. Each workplace will work as one to leverage the lessons of the Safety Dojo to promote safety activities.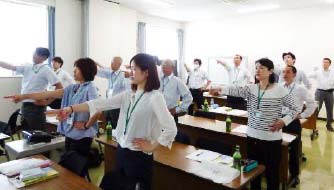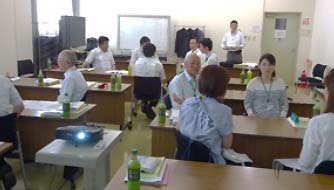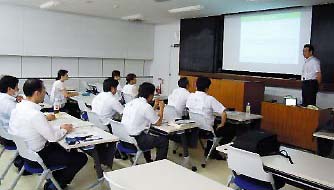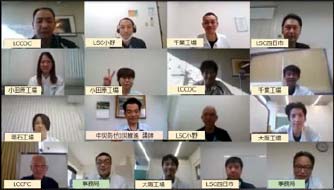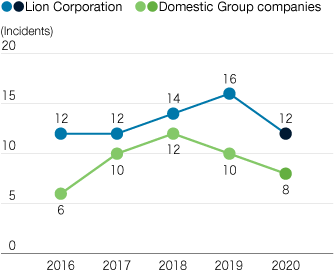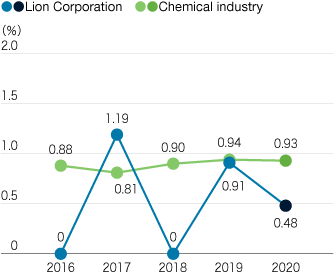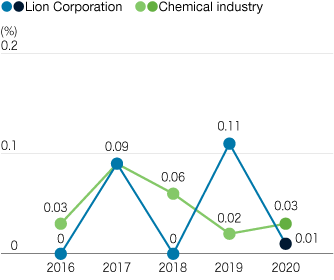 Cumulative Accident-Free Work Hours at the 2019 Year-End (Thousands of Hours)
Research and development divisions
Production divisions
Hirai
Odawara
Chiba
Odawara
Osaka
Akashi
4,022
4,125
94
869
409
1,842
Global Initiatives
Representatives from related departments in Japan visit overseas Group companies to confirm the status of safety management, including 1. legal compliance, 2. facility safety and improvement efforts and 3. follow-up to issues identified in relation to occupational accidents. By providing guidance and advice relevant to the circumstances in each country, we work to reinforce safety and disaster prevention systems throughout the Group.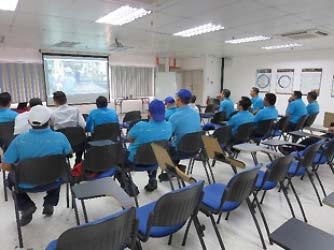 Each of our overseas Group companies is taking measures to prevent the spread of COVID-19, including allowing administrative staff to work from home, restricting facility visitors, and reinforcing hygiene practices such as hand washing and disinfection. Although personnel from relevant domestic departments cannot visit overseas sites at this time, we are utilizing remote conferencing to confirm the safety and safety management status of our operating sites.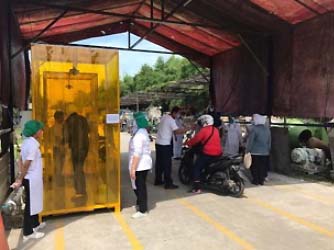 Facility Safety
Lion had no facility-related accidents in 2020. However, using data on accidents that occurred at the plants of other companies, we are working to prevent safety management from becoming a thoughtless formality and maintain employee skills, abilities and awareness. The two main types of accidents that occur with facilities that handle dangerous substances are fires/explosions and leaks. To prevent these, since 2016, we have implemented ongoing basic education on static electricity, which can ignite fires, as well as periodic education at plants about corrosion, the main cause of leaks, to enhance awareness and knowledge. In addition, to further enhance corrosion-related efforts and elucidate the causes of facility corrosion issues at plants, we have begun technological exchanges with specialized outside institutions.
Furthermore, we implement level-specific education for facility operators to foster awareness and knowledge regarding change management* as part of efforts to reinforce management of facility safety.
To address facility aging, we designate standards for routine inspections and maintenance by degree of importance and carry them out accordingly.
Going forward, we will continue working to reinforce technological capabilities related to facility safety, including systematic human resource development, from a medium- to long-term perspective.
* Management activities that prevent risks associated with changes in facilities or operating conditions.
Facility Abnormalities (incidents)

| 2016 | 2017 | 2018 | 2019 | 2020 |
| --- | --- | --- | --- | --- |
| 0 | 0 | 0 | 0 | 0 |
* Fires, explosions, leaks, etc.
Asbestos Countermeasures
Lion has surveyed the use of asbestos is its buildings and completed the containment or removal of asbestos products that readily scatter. When demolishing or removing structures at plants or other buildings, Lion conducts analyses and confirms the presence of non-scattering asbestos as required by law.
Overseas Production Technology Conference
The Overseas Production Technology Conference brings together technical staff from Japan and overseas Group companies to reinforce coordination between production divisions within the Group and maximize synergies.
The 9th Overseas Production Technology Conference was held in 2019 at the Akashi Plant. The conference was attended by approximately 50 people, including 18 from overseas. Participants shared information about production in their companies and engaged in lively discussions about building cooperative structures within the Group under such themes as automation and improving efficiency when changing operations. Going forward, we will continue steady efforts to improve production activities across the Group.
Participating Overseas Group Companies
Lion Corporation (Thailand) Ltd.
PT. Lion Wings
Lion Corporation (Korea)
Lion Daily Necessities Chemicals (Qingdao) Co., Ltd.