Promoting Amicable Labor-Management Relations
Approach
Lion executes labor agreements with the Lion Workers' Union to promote sound labor-management relations based on mutual understanding and trust. As it does so, the Company adheres to the Lion Group Charter for Corporate Behavior, which is based on an understanding of the social mission and responsibilities of the Company. Thus, in cooperation with its workers union, the Company works to grow its business and maintain and improve the working conditions of union members.
The agreements provide that: the Company shall recognize the freedom of union members to engage in lawful union activities; the Company shall not treat union members disadvantageously by reason thereof; and the Company and the union shall engage in labor-management meetings on a regular basis to consult with each other as equals.
Operating under a union shop agreement,* Lion endeavors to build amicable labor-management relations, in which employees and management proactively conduct such activities as reporting on business conditions and exchanging opinions about the working environment at labor-management meetings. At overseas Group companies, we actively maintain communication between employees and management in order to create a better work environment through the labor-management meetings and strive to establish and maintain sound labor-management relationships.
* A labor agreement in which workers are employed by a company on condition of becoming a member of a specific labor union.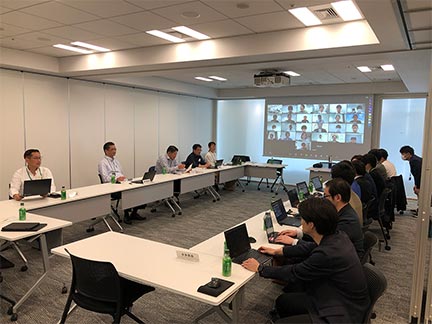 The Lion Workers' Union
Approach
The mission of the Lion Workers' Union is to pursue the happiness and well-being of its members. To that end, the union seeks to maintain and improve the quality of its members' work environments and standards of living and to contribute to the independent growth of each individual to ensure a secure future. Through its activities, the union aims to increase the professional satisfaction of its members, in turn contributing to the development and growth of the Company. To fulfill its mission and principles, the Lion Workers' Union has established a medium- to long-term vision that it has been implementing since August 2015.
Lion Corporation (Korea) Receives the Prime Minister's Award for Labor-Management Culture
The Labor-Management Culture award is given by the government of South Korea (the Ministry of Employment and Labor) to companies that have built and firmly established cooperative labor-management relations. It is one of the highest awards in the field of labor in South Korea.
Lion Corporation (Korea) ("LCK") received the Prime Minister's Award for Labor-Management Culture in 2017 in recognition of its initiatives aimed at building good labor-management relations.
The main initiatives of LCK recognized by the prize were as follows.
Held labor-management talks four times a year to discuss work environments and implemented approximately 60% of the improvements suggested at these talks
Treated non-regular employees (such as temporary and contract employees) on par with regular employees in terms of employee benefits and opportunities to participate in events
With "fulfilling a spirit of love" and "people-centered management" as the foundations of its personnel policy, gave non-regular employees demonstrating excellent work attitudes and abilities priority when filling regular employee positions
Designated a monthly volunteer day, with employees actively participating in social contribution activities
Activities at Lion Corporation (Korea)
Labor-Management Relations Data
Scope
2020
2021
2022
Ratio of companies with an independent trade union or collective bargaining agreements
Lion Group
86.4%
86.4%
86.4%
Ratio of employees represented by an independent trade unions or covered by collective bargaining agreements
Lion Corporation (including employees on loan)
66.2%
77.9%
65.9%
Lion Group
73.4%
75.1%
72.9%
Going forward, we will continue to advance initiatives aimed at building better labor-management relations.