Identifying Material Issues
In 2020, the Lion Group applied the steps below to revise its list of Sustainability Material Issues to address over the coming decade in order to achieve its goals for 2030, including the realization of the management vision and contributing to the realization of the SDGs. These Sustainability Material Issues are relevant to both the Lion Group and society at large and, with the goal of helping to realize a healthy future for people and the planet, their choice was informed by broad business, environmental and social sustainability perspectives. In identifying these issues, we comprehensively considered the entire value chain and interests of Lion's stakeholders in order to understand the risks and opportunities each represents.
In particular, we have positioned "Creating Healthy Living Habits" and "Promoting Environmental Initiatives for a Sustainable Planet" as top priority material issues that we must invest management resources toward to secure a competitive advantage.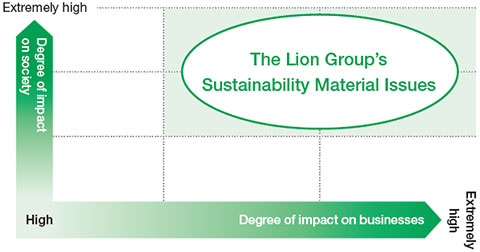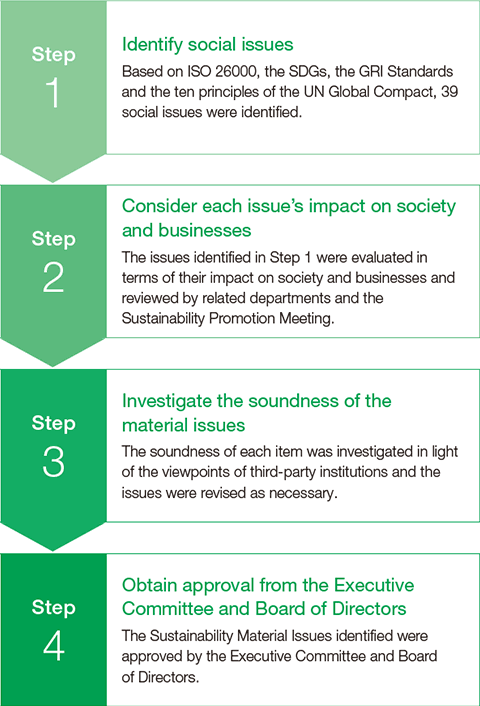 Risks and Opportunities Related to Sustainability Material Issues in the Value Chain
Lion has classified its Sustainability Material Issues as presenting either risks or opportunities based on considerations of the entire value chain and its stakeholders.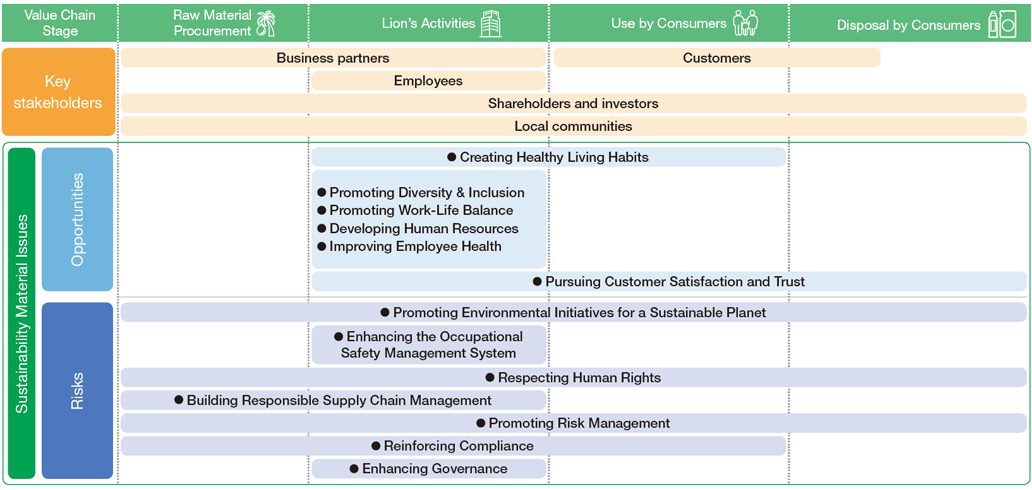 The Lion Group Sustainability Material Issues and Objectives for 2030
With an eye to achieving its management vision of "Becoming an advanced daily healthcare company" by 2030 and contributing to the Sustainable Development Goals (SDGs), a set of shared global goals for 2030, the Lion Group has established the Lion Group Sustainability Material Issues and objectives for 2030.
The Lion Group believes that it is crucial to take a longer-term perspective in order to ensure that it can continue to meet the needs of society and customers and grow its businesses. Furthermore, in light of the novel coronavirus (COVID-19) pandemic and changes in the social environment since 2020, we have revised our objectives. Aiming for a higher level of achievement, the 2030 objectives include quantitative indicators for evaluating our progress.
Taking an integrated approach that incorporates sustainability into management strategy, the Lion Group aims to contribute to the realization of a sustainable society and achieve further business growth.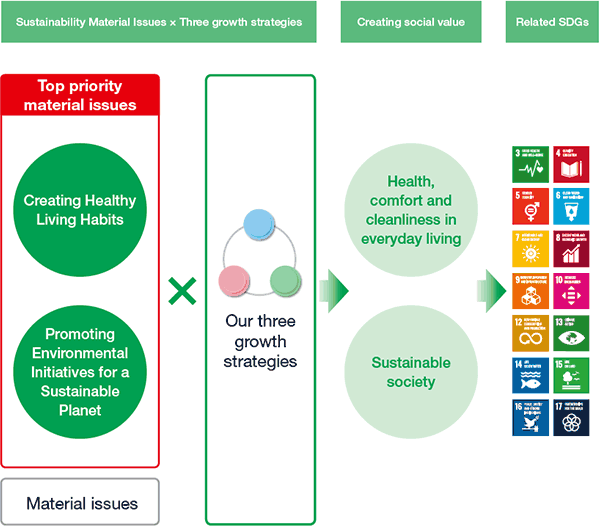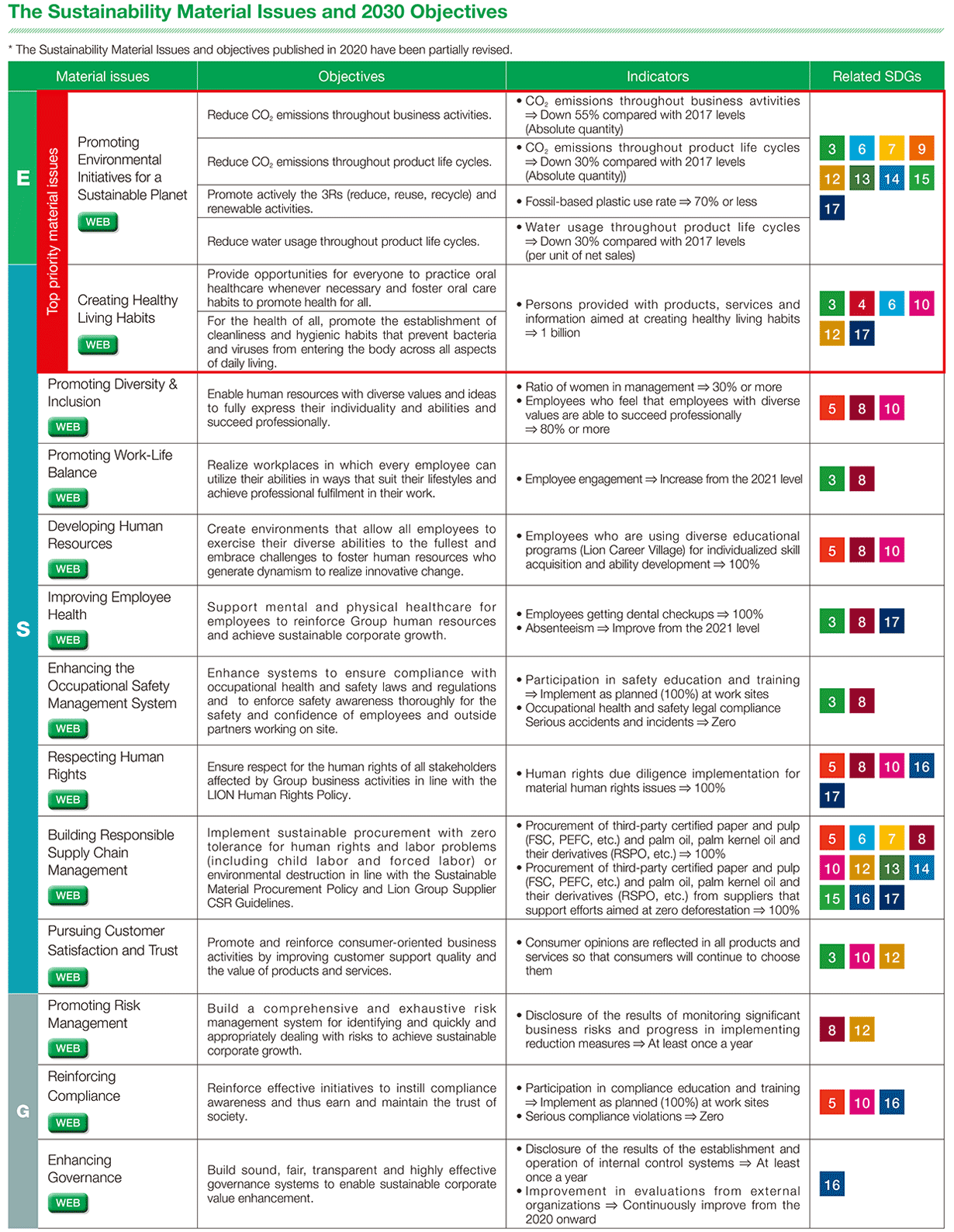 Top Priority Material Issue: Creating Healthy Living Habits
The Lion Group, in providing daily commodities and services, plays an important role in society, and we believe that helping establish basic living habits, like tooth brushing and hand washing, is at the core of our value creation. Driven by our purpose, "Make a difference in everyday lives by redesigning habits: ReDesign," we are pursuing initiatives to address issues ranging from the personal to the societal, aiming to create healthy living habits for 1 billion people around the world.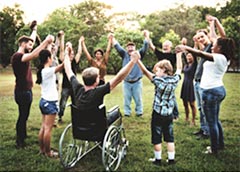 Creating Healthy Living Habits

Oral Care Habit Initiatives
Leveraging our strength as the oral care product manufacturer with the top market share in Japan,* going forward, we will aim for business expansion under the concept of "oral healthcare," transcending the bounds of our existing businesses to support overall health and quality of life (QOL) from the mouth outward. Looking for ways to make a difference utilizing Lion's unique strengths, we turned our attention to health disparities. To address this issue, which is expected to grow in significance worldwide going forward, we have launched new initiatives to promote Inclusive Oral Care over the coming decade ending in 2030.
*Based on INTAGE SRI+ cumulative sales data for April 2020 to March 2021 (total for the toothpaste, toothbrush, mouth refresher, mouthwash, denture cleaning agent, dental care product, electric toothbrush and denture adhesive markets)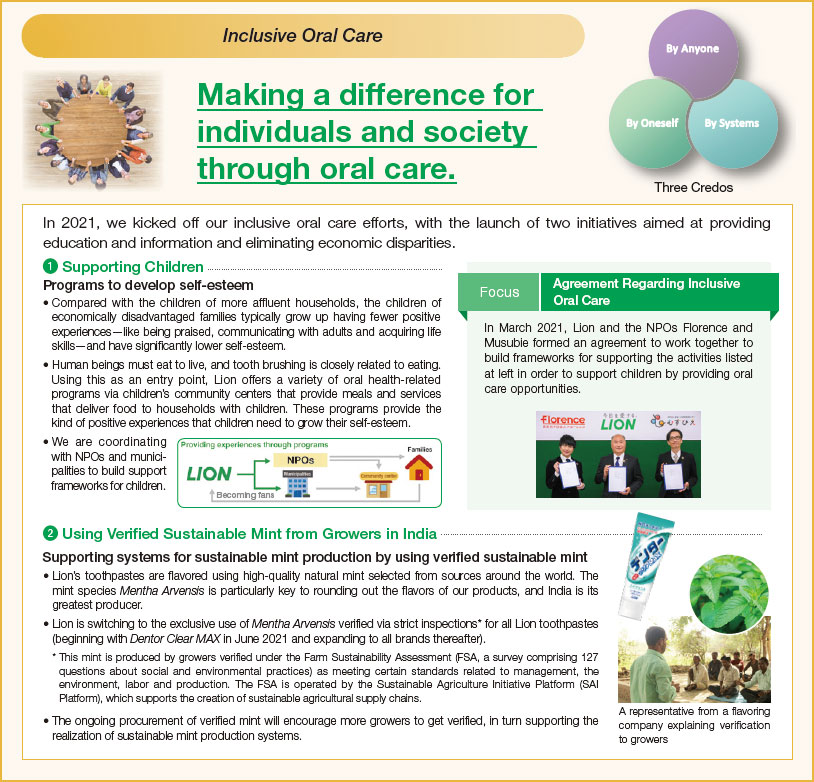 Top Priority Material Issue: Promoting Environmental Initiatives for a Sustainable Planet
In 2019, the Lion Group established the LION Eco Challenge 2050, a set of long-term environmental objectives, to contribute through its business activities to the accomplishment of worldwide goals related to addressing global-scale environmental problems, such as those identified by the Paris Agreement and the Sustainable Development Goals (SDGs). Aiming to realize a decarbonized, resource-circulating society, we are putting into practice initiatives aimed at solving issues related to decarbonization, plastics and water resources.
Together with the Environment