Reducing Raw Material Usage
The Lion Group understands that the use of raw materials is the use of resources. We therefore work to reduce our use of raw materials by making product contents more compact, expanding our lineup of refill products and making containers lighter.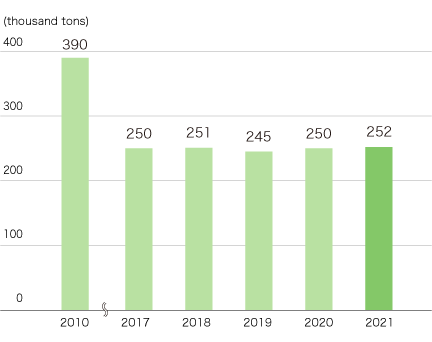 Measures Aimed at Realizing a Resource-Circulating Society—Reducing Container and Packaging Materials—the 3Rs and Renewable Materials
The Lion Group is promoting a wide range of initiatives aimed at realizing a resource-circulating society. We aim to minimize the volume of resources used in business operations, collect resources after their use, and effectively reuse or otherwise employ those resources that retain utility in business operations.

To reduce container and packaging materials, Lion complies with the Lion eco-standard, which is designed to evaluate products over their entire life cycles by examining each life cycle stage, from raw material procurement to distribution and disposal. We are increasing the concentration of such products such as laundry detergents, fabric softeners and dishwashing detergents to make their containers more compact while using sophisticated design technology to make containers more lightweight.
In 2021, Lion's total container and packaging material usage was around 57,100 tons, almost the same as the previous year.
Going forward, we will continue working to reduce container and packaging material usage through such means as making products more compact and developing innovative container structures.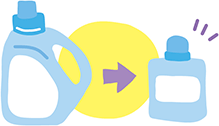 Plastic bottles can be refilled and reused. Film packaging for refill packs can be produced using less material than product bottles, and because they weigh less and take up less space after use, they also help reduce household waste.
Going forward, we will work to minimize the use of plastic materials by both reducing and reusing.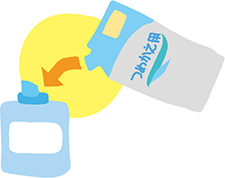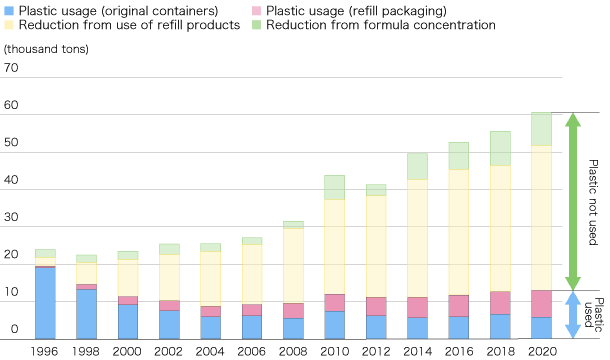 Using Recycled Plastics
Lion proactively uses recycled plastic in products and containers. Our dishwashing detergent bottles, liquid laundry detergent bottles and toothbrush blister packs are made with plastic recycled from disposable drink bottles and other sources.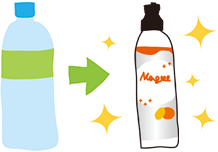 Main Uses of Recycled Plastics
Type of plastic
Type of product
Product name
Parts using recycled plastic
Polyethylene terephthalate (PET)
Dishwashing detergent
CHARMY Magica, etc.
Bottle
Liquid laundry detergent
TOP SUPER NANOX
Bottle (including large sizes)
Liquid laundry detergent
TOP SUPER NANOX
Pop-up sticker
Hand soap
KireiKirei hand soaps
Body soap
Hadakara liquid body soaps
As of June 30, 2022
Aiming to achieve a continuous cycle of plastic use in society, Lion is conducting pilot testing for the recycling of used products and containers and packaging in cooperation with household product manufacturers, recyclers, retailers and municipalities.
Main Activities
Recyclable items
Activitie name
Area
Main partners
Toothbrushes
Toothbrush recycling
Over 1,000 locations nationwide
TerraCycle
Sumida toothbrush recycling
Sumida-ku
Sumida-ku
Refill packs
RecyCreation
Ito-Yokado's Hikifune Store
Welcia Pharmacy stores (parts of Tokyo and Saitama)
Kao
Ito-Yokado
Welcia Pharmacy Store
Hamakyorex
Kobe Plastic Next: Joining Forces to Recycle Refill Packs
75 locations in Kobe City
Kobe City
Household product manufacturers
Retailers
19 recycling companies
Bottles and refill packs
Collaborative Plastic Recycling Program
Higashiyamato City, Komae City, Joso City
4 household product manufacturers
"Getting healthy with the planet" JACDS Circular Economy Project (June–December 2022)
31 locations in Yokohama City
Japan Association of Chain Drug Stores
3 Retailers
4 household product manufacturer
TerraCycle
As of June 30, 2022
Promoting Circulation of Plastic Containers and Packaging Resources through Partnerships
Kao and Lion are reaching out beyond their corporate groups in an effort to recycle plastic refill containers and packaging (film packaging), aiming to realize a resource-circulating society.

To accelerate the adoption of recycling, building basic systems for resource collection and developing recycling technologies are indispensable. At the same time, it is necessary to change mindsets across society in cooperation with stakeholders, including consumers, with regard to, for example, sorting plastic packaging after product use.

To this end, we are conducting the following four activities.
Studying ways to sort and collect plastic film packaging in cooperation with consumers, government agencies and retailers.
Creating recycled materials and packaging quality design with consideration for usability in a wide range of products, ease of sorting and collection by consumers, and potential for use across companies or industries.
Studying ways to jointly use materials that are collected and recycled.
Engaging in promotional and educational activities that will foster greater understanding and cooperation regarding recycling among consumers.
Through the above activities, we are working to improve the economic efficiency of collection and recycling as a whole. First, we are launching collaborative RecyCreation* activities to sort and collect film packaging and raise awareness in cooperation with local residents. By doing so, we are sharing information about the technological hurdles to plastic film packaging recycling.

Going forward, we will advance RecyCreation activities. Furthermore, we are investigating ways to make containers more recyclable and developing technologies for the horizontal recycling of film packaging into new packaging with the aim of achieving a continuous cycle of plastic use.

These RecyCreation activities received the Selection Committee Chairman's Commendation in the fiscal 2021 Good Practices of Consumer-Oriented Management Awards.
News Release: Kao and Lion Awarded the New Selection Committee Chairman's Commendation in the Good Practices of Consumer-Oriented Management Awards [Japanse]

*"RecyCreation" denotes upcycling through which more enjoyable and improved products are developed and resulting in new value creation, rather than recycling materials for the purpose of reproducing the same types of materials. The concept of this initiative is "Throwing it away after use. We want to change this common practice."
We have released a concept film presenting these initiatives
Youtube (Japanese)
In-store Collection of Used Refill Packs—Recycling Field Testing
RecyCreation activities launched at Ito-Yokado's Hikifune Store (Sumida-ku, Tokyo) have now been expanded to 30 Welcia Pharmacy stores with the aim of field testing the sorted collection of film packaging from used refill packs. Under this initiative, a special collection box has been installed at the store to collect customers' used refill packaging for such products as laundry detergents and shampoos. Going forward, we will continue to expand the scope of the project by collaborating with more municipalities, businesses and stores.

Overview of the Field Test
Purpose
To examine processes for the sorted collection of used refill packs in collaboration with consumers and retailers.
Content
To enhance consumers' enthusiasm for recycling through RecyCreation. Through the test, we are collecting used refill packs for such products as detergents and shampoos at Ito-Yokado's Hikifune Store and Welcia Pharmacy stores, studying effective collection systems and developing new recycling technology.
Implementation period
Starting from October 30, 2020
Location of collection box for used refill packs
Ito-Yokado's Hikifune Store (Sumida-ku, Tokyo) and Welcia Pharmacy stores (eastern Tokyo and parts of Saitama) We will gradually expand this initiative to more locations.
How to prepare and return a pack for collection

Cut along the top of the pack to open it
Rinse out the inside of the pack twice with water
Shake off excess water and let dry
Put in the collection box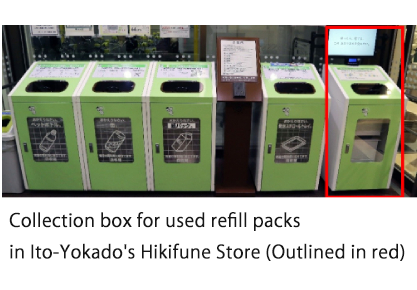 We have released a concept film of how to wash a used refill packs
Youtube (Japanese)
Toothbrush Recycling Program
Since 2015, Lion has been implementing an initiative to collect and recycle used toothbrushes in cooperation with TerraCycle Japan. Many municipal governments and schools across Japan have taken part in this initiative. We will continue developing toothbrush recycling technologies and applications to expand the possibilities of recycled plastic.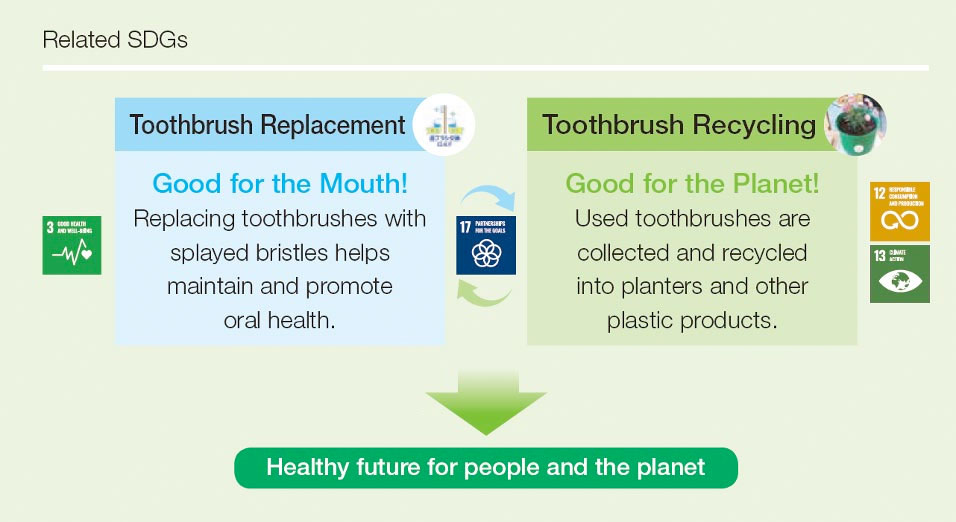 About the Toothbrush Recycling Program
Program participation is very easy and free.
Register an account as an individual, school or other organization in advance
Set out collection boxes and collect used toothbrushes
A designated carrier will pick up the box by the second business day after a collection request is made
The toothbrushes will be reborn as new plastic products, such as planters, instead of being sent to a landfill or incinerator

Participants receive points according to the weight of the toothbrushes that they send. The points can be exchanged for plastic products produced through TerraCycle's recycling program or donated to a charity of the participant's choice.
Toothbrush Recycling Program

Using Recycled Paper
The containers and packaging for our powder laundry detergents and other products are made with recycled paper containing recycled pulp.

Using Plant-Based Plastics in Containers and Packaging
The containers and packaging of some Lion products are made with biomass plastic, made from such plant-based raw materials as corn and blackstrap molasses, a byproduct produced in the process of refining sugar from sugarcane.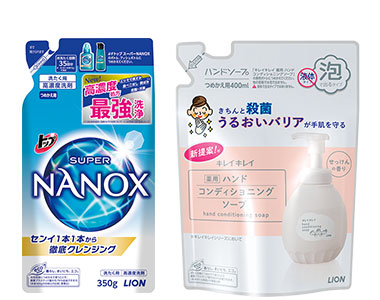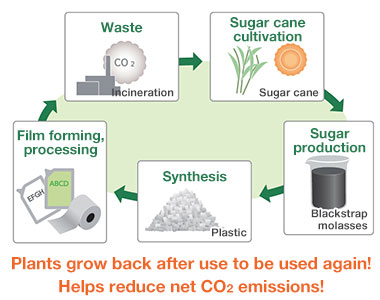 Main Uses of Plant-Based Plastics
Type of plastic
Type of product
Product name
Parts using plant-based plastic
Polyethelene terephthalate
Body soap
Hadakara liquid body soaps
Bottle
Toothpaste
CLINICA Advantage NONIO, etc.
Tube
Polyethylene
Liquid laundry detergent
TOP SUPER NANOX
Refill pack
Laundry bleach
Bright STRONG Gel
Hand soap
KireiKirei Medicated Hand Conditioning Soap
As of June 30, 2022
Reducing Waste
Zero Emissions from Operating Sites (Domestic)
Lion's four domestic plants all achieved zero waste emissions in 2002. All of Lion's operating sites,* including research institutes and offices, achieved zero waste emissions in 2017.
Despite efforts to ensure thorough waste sorting and the conversion of waste into resources, total waste generated by the domestic Group in 2021 was down year on year, and down 49% compared with 1990. The domestic Group's total waste consigned to final disposal in landfills in 2021 was down 99.9% from 1990.
* Chiba Plant, Odawara Plant, Osaka Plant, Akashi Plant, Hirai Office Site, Sapporo Office, Sendai Office, Headquarters/Tokyo Office, Nagoya Office, Osaka Office, Fukuoka Office, Lion Chemical Co., Ltd. Fine Chemical Production Site, Lion Chemical Co., Ltd. Oleochemical Production Site, Lion Specialty Chemicals Co., Ltd. Yokkaichi Plant, Lion Specialty Chemicals Co., Ltd. Ono Plant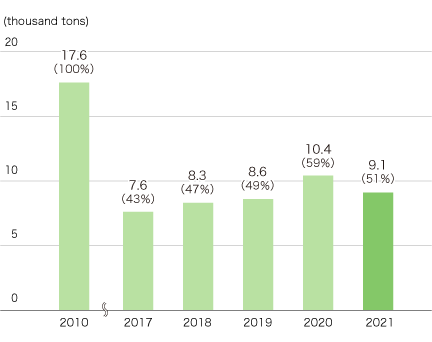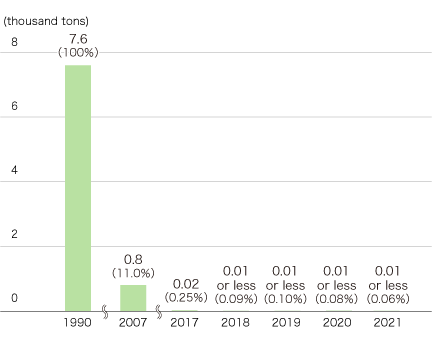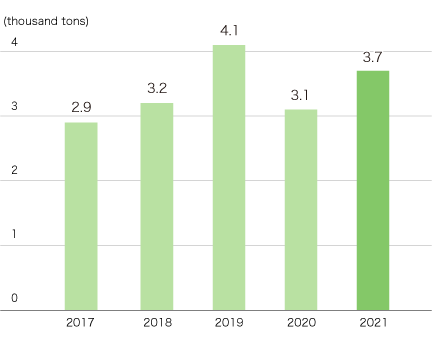 Waste Generation (Overseas)
Total waste generation overseas in 2021 was down year on year as a result of initiatives to promote recycling. We will continue to advance initiatives to reduce waste going forward.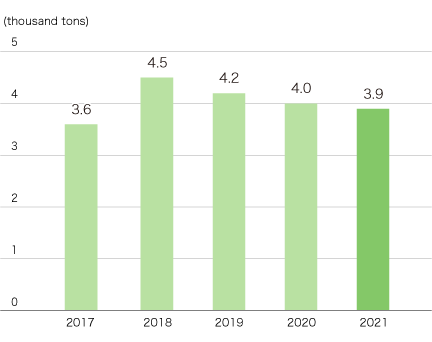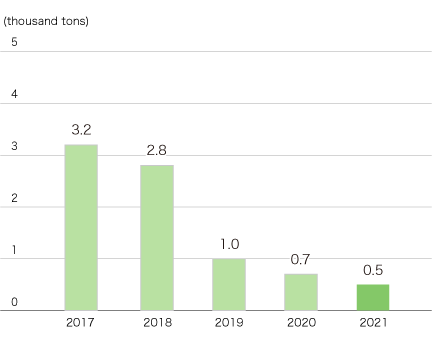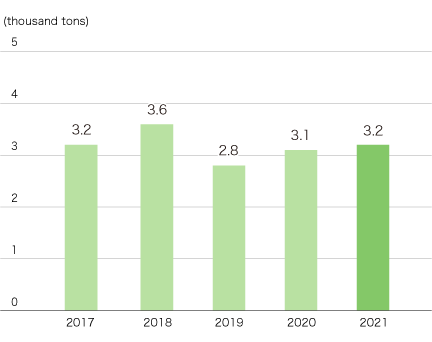 Scope of Overseas Data
All overseas consolidated subsidiaries