Lion's purpose: Make a difference in everyday lives by redesigning habits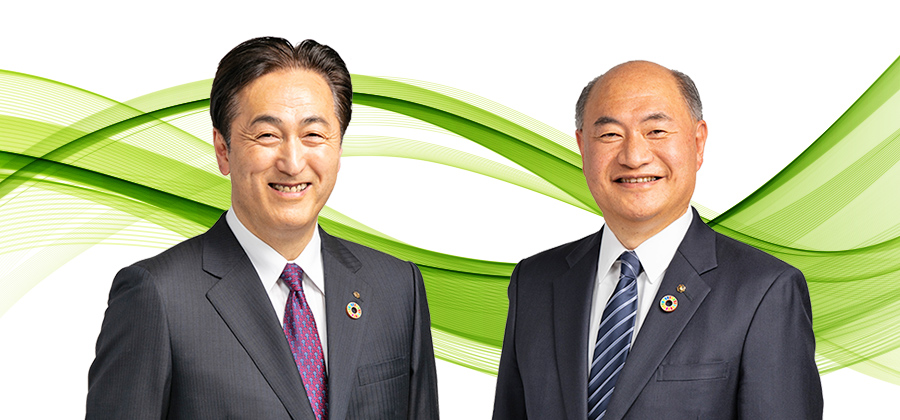 Lion's Roots
Since Lion's founding in 1891 as T. Kobayashi & Co., it has striven to help consumers realize health, comfort and cleanliness in everyday living by redesigning habits, in line with its unchanging mission of "benefitting society through business activities."
Lion's Oral Care Products business began with the launch of Lion Toothpowder in 1896. Lion went on to contribute significantly to the development of oral care in Japan, establishing Japan's first dental clinic for children, helping to train dental hygienists and launching the Oral Health Event of Tooth Brushing for Children. In addition, we have worked in the field of laundry to protect the environment by developing highly biodegradable detergent ingredients, making products more compact in order to use less plastic and shifting toward the marketing of refill packs. We have also helped promote the formation of hygienic habits not only in Japan, but across Asia by promoting hand washing habits suited to local lifestyles through the KireiKirei brand.
New Issues in Recent Years
We are now faced with the global threats of a pandemic and environmental problems, and the conditions surrounding Lion are changing rapidly. In Japan, demographic graying has caused medical expenses to balloon into a serious social problem, making prevention and the establishment of healthy living habits more important than ever.
At the same time, in Asia, economic development has led to growing awareness of health and needs related to creating comfortable and hygienic living environments.
However, wide-ranging challenges remain in many countries and regions, and addressing them requires us to further evolve our business activities. Taking a longer-term perspective encompassing environmental, social and governance (ESG) considerations and the achievement of the Sustainable Development Goals (SDGs) will also be crucial.
The Sustainability Material Issues under Vision 2030
In light of these circumstances and based on our purpose, "Make a difference in everyday lives by redesigning habits," we formulated a long-term strategic framework, Vision 2030, aimed at achieving our management vision, "Becoming an advanced daily healthcare company."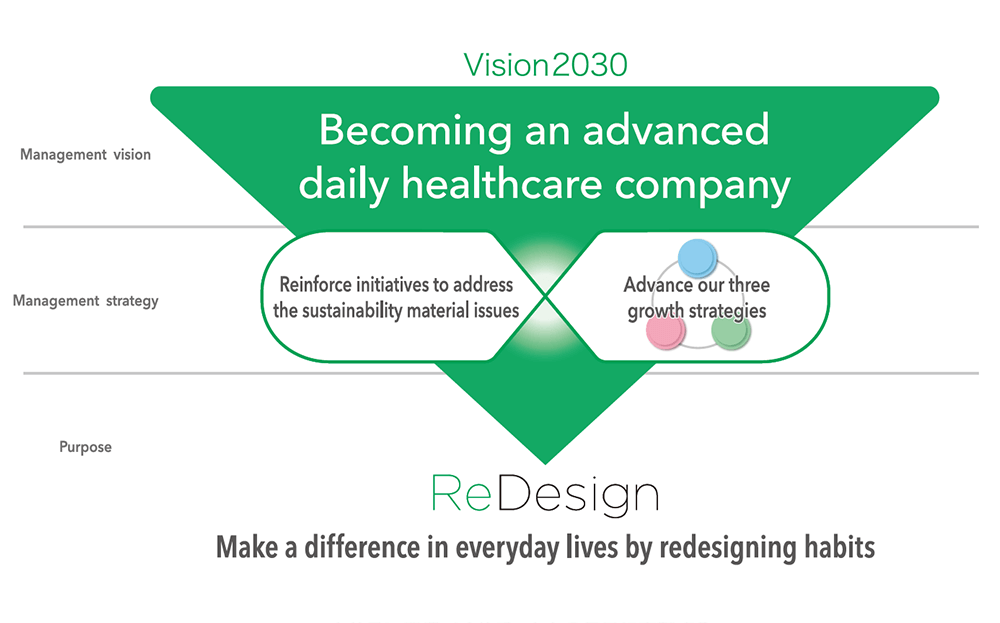 In particular, Lion has designated the Sustainability Material Issues and related objectives for 2030 in order to create social and economic value from an ESG perspective. Of these, we have positioned "Creating Healthy Living Habits," which contributes to the realization of everyday happiness, and "Promoting Environmental Initiatives for a Sustainable Planet" as our top priority sustainability material issues—areas in which we must invest management resources to secure a competitive advantage. Furthermore, in June 2019, we established the LION Eco Challenge 2050 environmental objectives. These objectives put into words our dedication to working in partnership with all stakeholders to realize a decarbonized, resource-circulating society.
Sustainable Management
At the start of 2021, we established the Sustainability Promotion Council, comprising all of the Company's executive corporate officers, including the president, as a mechanism for reinforcing sustainable management. This new body enables top management to work in an even more unified manner to tackle Lion's top priority sustainability material issues, "Creating Healthy Living Habits" and "Promoting Environmental Initiatives for a Sustainable Planet." The decisions of the Sustainability Promotion Council are reported to and discussed by the Executive Committee and Board of Directors and then reflected in the business activities of business execution departments. This new structure will also reinforce Lion's corporate governance.
Going forward, we will continue to accelerate our growth strategies by leveraging our strengths of wide-ranging insight gleaned through the redesign of living habits as well as marketing and R&D capabilities based on consumer perspectives. By doing so, we will contribute to health, comfort and cleanliness in everyday living and the realization of a sustainable society.
October 2021 marks the 130th anniversary of Lion's founding. Reflecting on this milestone, on behalf of the entire Lion Group, we would like to express our heartfelt gratitude for our stakeholders' support and patronage and ask for your continued confidence as we move forward.
Itsuo Hama
Representative Director,
Chairman of the Board of Directors,
Chief Executive Officer
Masazumi Kikukawa
Representative Director,
President and Executive Officer,
Chief Operating Officer