Some activities have been cancelled or postponed to prevent the spread of the novel coronavirus.
We plan to restart these activities when conditions improve and safety can be assured.
Oral Health Care
1 Promoting the Lion Dental Health Program at Kindergartens and Primary Schools throughout Malaysia
The Lion Dental Health Program is a social contribution program established in 1998 by SL to promote good oral health habits in kindergartens and elementary schools throughout Malaysia. It is conducted throughout the year. The main objective of the program is to create awareness of the importance of maintaining good oral hygiene for better overall health. The program is targeted at children between the ages of 4 and 12 as SL believes that good oral hygiene must be cultivated from a young age.
The program was developed by the Lion Foundation for Dental Health (LDH), a public interest incorporated foundation established by Lion Corporation in Japan. SL has localized the program in terms of content and techniques to the local audience. Over the years, they have worked with government-run dental clinics and the Malaysian Dental Therapists' Association (MDTA) throughout Malaysia, and SL believes this program is an effective way to teach the Malaysian public proper brushing techniques.
The program is conducted in a fun and interactive way to make it more interesting to children. It includes a storytelling session, slides, tooth brushing demonstrations, tips on good dental habits, a simple quiz and a special appearance by our mascot Mr. Kodomo Lion.
As a part of SL's commitment to creating awareness of good oral hygiene, every child involved in the program receives a goody bag containing a toothbrush, toothpaste and an educational leaflet with dental tips.
In 2020, the program was held only in January, before the arrival of the new coronavirus pandemic (hereinafter referred to as COVID-19), with 18,953 children participating. Total participants across Malaysia since the program started in 1998 number more than 1.12 million.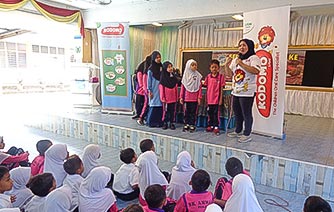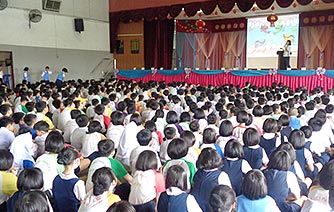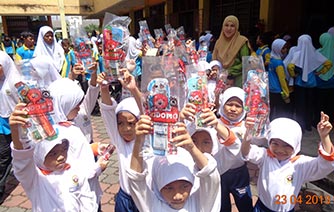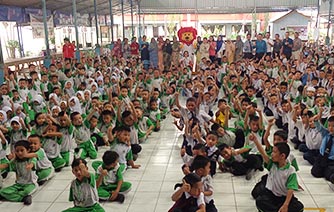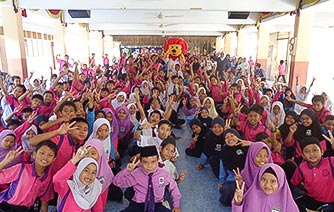 In addition, since 2020, SL has implemented a plan to welcome new students of Sek Keb Kangka Tebrau elementary school where SL chose for their "Adopt a School Program". This is one of the activities that SL did with them, "Back to School with KODOMO Lion". This program offers both the LDH Program & Handwashing activity. When the students left school, the Mr. Lion mascot saw off them. In 2020, SL could not carry out the planned activities due to COVID-19, but SL is planning to extend the Program further to 2022 or 2023 depending on the pandemic situation.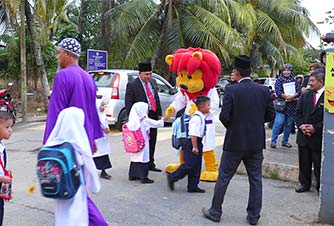 2 Save Your Gums, Save Your Teeth Campaign*1
In coordination with the launch of Systema Advance Anti-Plaque Toothpaste in September 2018, SL launched the Systema Save Your Gums, Save Your Teeth campaign* to further its mission of raising awareness and educating the community on gum disease and good oral hygiene.
The campaign, organized with the Ministry of Health (MOH), the Malaysia Dental Therapists' Association and dentistry specialists, entails the provision of information via the media and in-store promotions aimed at raising awareness of oral care and facilitating caGum disease prevention. In addition, mobile dental clinics provided by the MOH and Universiti Teknologi MARA (UiTM) tour Malaysia to provide free gum checks for locals.
Systema has pledged 30,000 tubes of Systema Advance Anti Plaque Toothpaste to the community for distribution via the Malaysian Society of Periodontology. In 2019, SL conducted this campaign as "Systema Gumbatta*2 Campaign."
In 2020, this activity was postponed due to COVID-19, but in 2021, SL will carry out it throughout Malaysia in collaboration with dental clinics.
*1The Save Your Gums, Save Your Teeth campaign carried out dental check-ups using a "dental bus" equipped with dental chairs that visited large retailers throughout the country in collaboration with the Ministry of Health Oral Health Program and UiTM.
*2"Gumbatta" is the original word which means we make an effort to keep gum healthy with Systema products.


3 Participation in the 27th MDA Scientific Convention & Trade Exhibition
On February 14-16, 2020, SL was scheduled to participate as a trade exhibitor in the 27th MDA Scientific Convention & Trade Exhibition organized by the Malaysian Dental Association (MDA), held at the Kuala Lumpur Convention Centre. However, the event was canceled due to COVID-19.
Collaborating closely and working together with the Malaysian government, including the Ministry of Health (MOH), as well as dental associations and dental professionals, is an integral part of SL's continuous efforts to raise interest in and awareness of oral care among the Malaysian public and to firmly establish the concept of preventive dentistry *.
During the exhibition, SL introduced and explained the unique functions of the gum care brand Systema and promoted awareness of prevention of early-stage gum disease. In total, around 1,000 participants and dental professionals visited the exhibition and visitors received samples to try out.
Participating in these exhibitions is a great opportunity for SL. SL will continue to strengthen collaboration with dental specialists and promote activities related to preventive dentistry.
*Lion Group companies overseas are collaborating with dental professionals and retailers on initiatives based on the concept of preventive dentistry. Working together with dental professionals, Lion strives to increase awareness and understanding of oral care by sharing information on good oral care and practical tooth brushing methods. In addition, Lion promotes good oral care habits by providing products that suit individuals' specific oral care needs through retailers and other markets.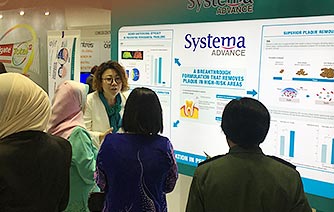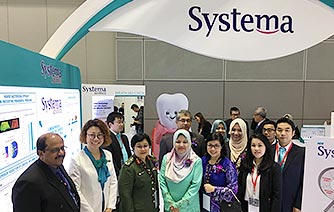 4 Participating in the Malaysia - International Dental Exhibition and Conference (MIDEC)
SL was scheduled to participate as a sponsor and exhibitor in the annual Malaysia - International Dental Exhibition and Conference held at the Kuala Lumpur Convention Centre on August 28-30, 2020. MIDEC 2020 was the largest dental exhibition ever held in Malaysia. However, the event was canceled due to COVID-19.
At the event, we further increased our participation in preventive dentistry activities by introducing the Systema oral care brand to dental specialists. Additionally, SL presented a new technology from Japan, a machine for detecting plaque on teeth. This device helped visitors to identify the areas where plaque had accumulated on their teeth and thus assess their oral health. A total of 1,500 dental professionals attended the event.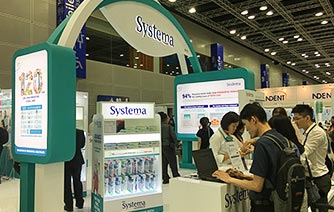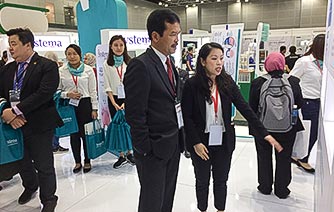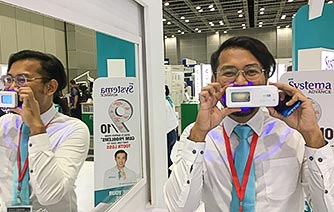 5 "Oral Health Day"
As part of the company's efforts to promote preventive dentistry, SL has been conducting "Oral Health Day" once a year since 2018 to create awareness among internal staff of the importance of good oral hygiene and gum disease prevention.
In December 2019, the activity was held at SL's headquarters in Johor Bahru in collaboration with the Oral Health Division of Ministry of Health (MOH) under KP Abdul Samad. Free dental check-ups were provided by MOH via a mobile clinic, and a dental exhibition was conducted at the cafeteria. Around 130 employees participated in the dental check-ups (up 30% compared to the previous year). In the afternoon, a dental health talk was held by a dentist for all employees, focusing on the signs, causes, treatment and prevention of gingivitis.
SL will continue this annual activity in an effort to increase awareness of good oral hygiene practices among all its staff.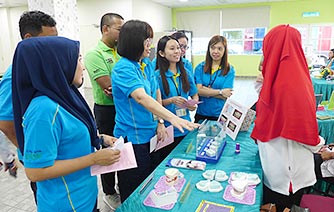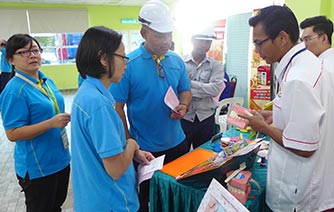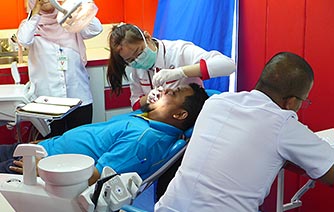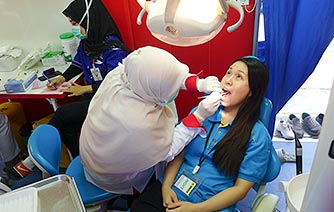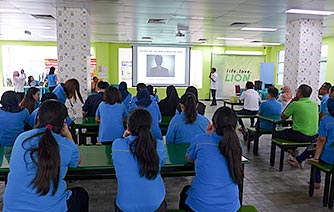 6 Exhibition at the 10th Asian Conference of Oral Health Promotion for School Children (ACOHPSC) *
On September 20-21, 2019, the 10th Asian Conference of Oral Health Promotion for School Children (ACOHPSC) was held at The Wembley - a St Giles Hotel on Penang Island. The conference was organized by the Malaysian Association of Dental Public Health Specialists (MADPHS). This meeting is held every two years in an Asian country with the purpose of bringing together school dental health officials from across Asia in order to advance and improve the oral health of young children and students and to exchange information.
The conference took place over a two-day period, with the theme "Future Smile Begins Today" focusing on caries in children. SL participated as one of the conference exhibitors to increase awareness of its oral care brand of products for children, KODOMO Lion. About 1,000 dental professionals attended the conference.
* First held in Japan in 2001, the conference was hosted by Malaysia for the first time in 2019.
At this conference, leaders in dentistry from not only Asia but all over the world, including academics, researchers, representatives of the dental industry and dental professionals, come together, exchange opinions and ideas, and share their experiences regarding such topics as new strategies for the prevention of oral disease and for enhancing oral health service delivery, especially for schoolchildren. At the 2019 conference, there were lectures from world-renowned specialists as well as panels that included well-known individuals, and many scholars presented original research.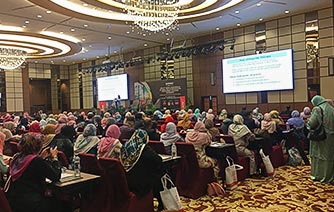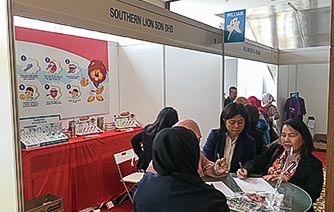 7 Participation in the 4th Malaysian Dental Therapists' Scientific Conference (MDTSC) 2019
The 4th Malaysian Dental Therapists' Scientific Conference (MDTSC) 2019 was held April 5-7, 2019 at Berjaya Times Square in Kuala Lumpur. This event is held every two years and SL participates as one of its major sponsors with the aim of strengthening its relationship with the Malaysian Dental Therapists Association (MDTA) and to introduce the Systema brand. The conference is a good opportunity to increase awareness of the Lion Dental Health Program and increase collaboration with the MDTA, as it welcomes dental professionals from all over Malaysia. A total of 800 dental therapists from across Malaysia attended this conference.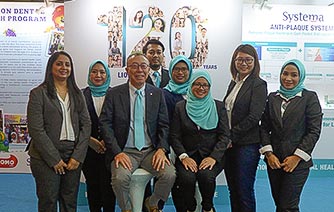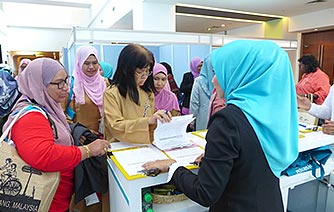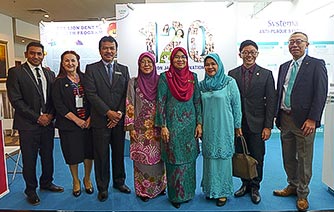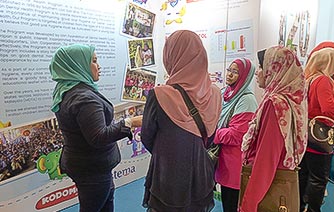 Cleanliness
1 Activities to Support the Health and Hygiene of Refugee Children
SL has been involved with health and hygiene awareness programs for refugee children since 2013. The activities have been conducted in cooperation with NGOs and the United Nations High Commissioner for Refugees (UNHCR) staff in Kuala Lumpur and Johor Bahru.
On October 23, 2019, SL conducted a program with a school in Kota Tinggi District, Johor, to raise awareness of cleanliness and hygiene among Rohingya refugee students protected under the UNHCR.
In addition to the programs, employees from SL celebrated children's birthdays with them and shared happy moments. All the children were given goody bags with SL products for general personal hygiene. 90 students aged 7 to 16 were taught basic hygiene and personal care, including good oral health habits and proper handwashing. About 660 children have participated since the program began.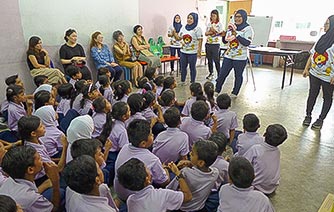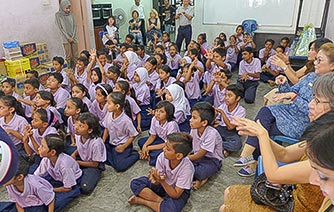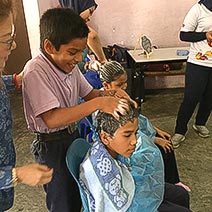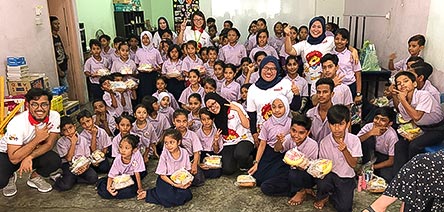 2 Promoting Hygienic Habits at Kindergartens in Johor Bahru
With the aim of increasing awareness of the importance of hand washing among young children, SL has been visiting kindergartens in Johor Bahru and conducting hand washing programs since 2014. The programs include story-telling sessions and, education on the steps of hand washing and the importance of using hand soap.
About 950 children have participated in this program since it began.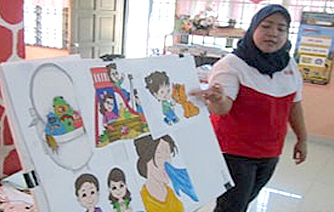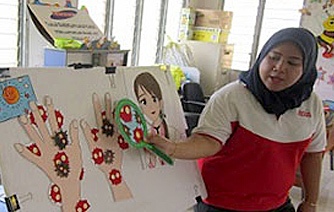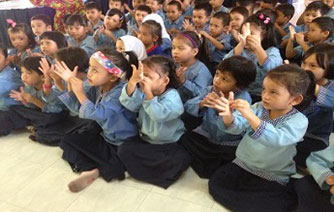 Environmental Conservation Activities
1 SL Environment Day Activities
To raise awareness among SL staff of the importance of conserving the environment, SL has designated November 27 as its annual Environment Day. In 2020, SL conducted three initiatives aimed at increasing interest in and awareness of environmental issues. These included promoting the 3Rs (reduce, reuse, recycle) and providing the important experience of growing and eating healthy foods for oneself.
1. Collecting recyclable materials
Employees collected recyclable materials, such as books, paper, plastic and aluminum, from their homes.
2. Making soap from used cooking oil
Employees brought in their used cooking oil from home and got to reuse it to make soap.
3. Adopt-a-plant garden
Employees grew salad vegetables and herbs on plots of land.
400 SL employees participated in these activities.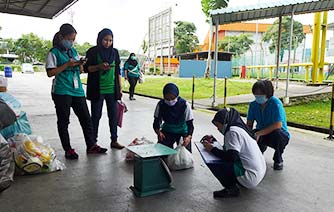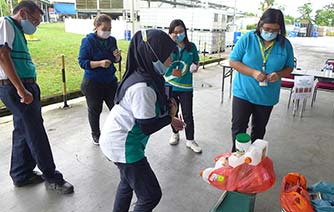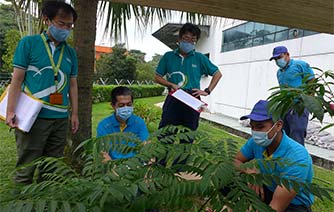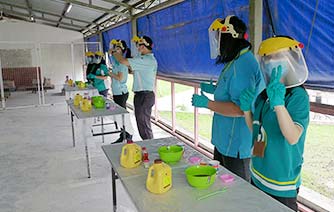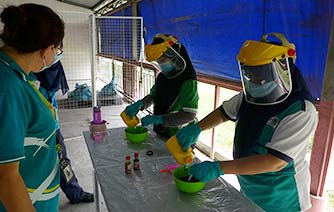 2 Johor Zoo Painting and Planting Activities
On January 11-12, 2020, SL conducted painting and planting activities at Johor Zoo in Johor, with the aim of beautifying part of the zoo, in cooperation with the Johor Zoo management. The space surrounding the lion enclosure has benches where people can sit and rest, but, unfortunately, they were moldy and no one was using them. As "lion" is part of our company name, SL cleaned and repainted the benches so that visitors would be able to use them and planted some flowers to beautify the area. Additionally, we painted the company's lion character on a wall and beautified the area leading up to the lion enclosure. A total of 46 employees participated in these activities.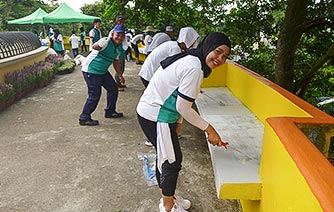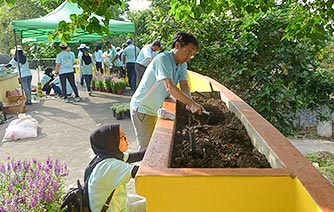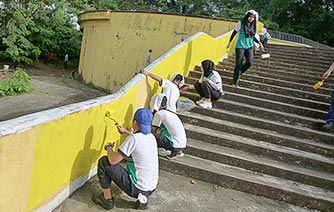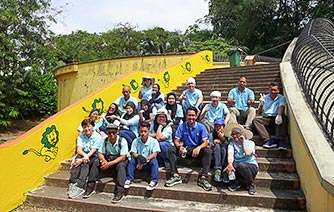 3 Johor Zoo Cleaning Program
On August 28, 2019, SL participated in the cleaning program at the Johor Zoo in Johor with the aim of raising employee awareness of the importance of community service activities that contribute to wildlife protection and environmental conservation. In cooperation with the Johor Zoo management, 25 employees participated, primarily cleaning up animal cages. Through the program, they learned more about the animals and their habitats.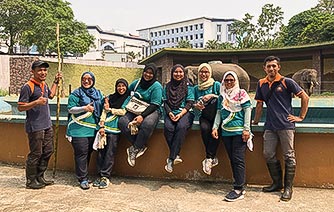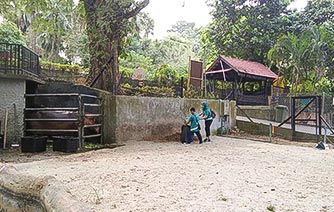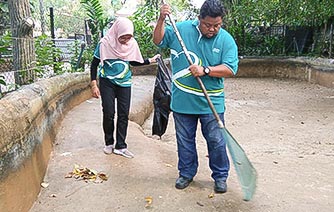 4 Aid for Kim Kim River Toxic Pollution Disasters
On March 7, 2019, toxic gas, including methane gas, generated from industrial waste illegally disposed of into the Kim Kim River in Johor was released to the environment, causing a major health crisis for nearby residents. The incident affected residents of Pasir Gudang district, an industrial zone, and almost 2,700 people were admitted to the hospital for treatment. Medical staff and volunteers worked day and night to offer aid and give support.
SL donated lunchboxes and food, such as cereal, 3-in-1 drinks and biscuits to the medical staff and first responders who worked non-stop. In addition, hygiene products, such as liquid hand soaps, were donated to medical staff and volunteers of the hospital and crisis management center through the Johor Bahru Tracer Community and the Malaysian Red Crescent Society.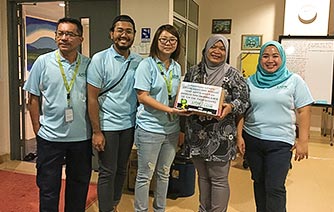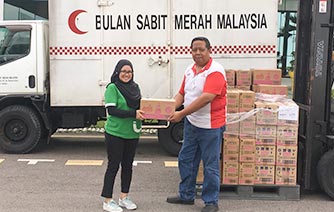 5 Supporting Wildlife Protection in Cooperation with the Department of Wildlife and National Parks (PERHILITAN) Peninsular Malaysia
SL conducted a wildlife habitat conservation project in collaboration with PERHILITAN in September 2018. An artificial salt lick was prepared at the foot of Mount Muntahak. By licking the deposit of salt, wildlife gain essential mineral nutrients that are important for bone, muscle and general growth.
Twenty employees from SL helped to prepare the artificial salt lick area and install sensor cameras to record wildlife that visit the salt lick area. These cameras help provide information about the animals that visit the salt lick.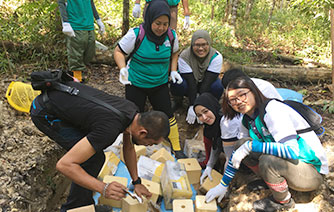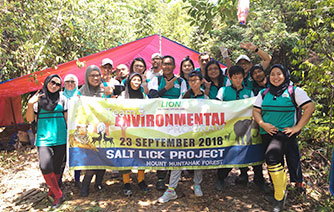 6 Launch of a Conservation Program at Johor Elephant Sanctuary in Collaboration with Malaysia's Wildlife Department
In August 2017, SL launched a collaborative program with the Department of Wildlife and National Parks (PERHILITAN) related to conservation efforts at the Johor Elephant Sanctuary. The sanctuary was completed at the end of 2018 and is actively involved in conservation efforts as well as creating awareness among the general public. SL has committed to supporting the activities conducted by the sanctuary and helping to raise awareness regarding the importance of wildlife conservation.
This program will be one of SL's long-term (five-year) environmental conservation efforts.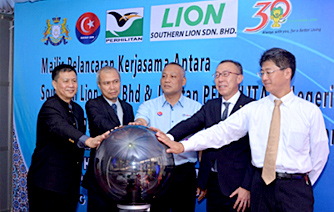 Donation Activities
As the entire country confronted the COVID-19 pandemic, SL, as a corporate citizen and hygiene product manufacturer, actively engaged in corporate social responsibility activities, such as in-kind donations of hygiene-related products sold by the company.
Donation activities related to the COVID-19 pandemic
Activity 1 Donations of care kits to support medical professionals and patients
Period
April 2020
Outside collaborators
Ministry of Health
Donations
2,000 care kit sets containing hand soap, toothpaste, toothbrushes, shampoo and liquid laundry detergent
Details

Donated care kits to medical professionals and COVID-19 patients at three hospitals in Johor. The kits were assembled as sets in bags for ease of distribution.
This social contribution activity was featured in the newspaper, Harian Metro (Malay).
Activity 2 Support for families impacted by COVID-19 directly or by the indirect effects of the pandemic
| | |
| --- | --- |
| Period | May 2020 |
| Outside collaborators | Malaysian Red Crescent Society |
| Donations | Southern Lion products |
| Details | Donated relief supplies to 200 impacted households through the NGO the Malaysian Red Crescent Society. |