Flavor

Natural Medicine Aroma
Contents

36 tablets; 102 tablets
Recommended retail price

36 tablets: ¥950; 102 tablets: ¥1,980
Indications
Stomach pain, bloating, nausea (queasiness, nausea due to hangover or alcohol consumption, upset stomach, retching, feeling of sickness), heartburn, gastric hyperacidity, belching, feeling of heaviness in the stomach, feeling of excessive fullness in the stomach, stomach discomfort, esophageal discomfort, discomfort caused by overeating, indigestion, feeling of excessive fullness due to indigestion, promoting digestion, poor appetite (decreased appetite), stomach trouble caused by excessive alcohol consumption, vomiting
Directions and Dosage
Take the following amount between meals* and before bed or after meals with warm or cold water.
*2 to 3 hours after eating, when most food has left the stomach.
Age
Amount per 1 dose
Doses per day
Adults (15 years and up)
3 tablets
3
Children under 15 years
× Do not use
Usage and Dosage Warnings
Use only as directed.
Ingredients per 1 day's dose (9 tablets)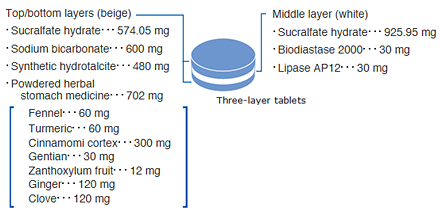 *Inactive ingredients: D-mannitol, l-menthol, macrogol, sodium carboxymethyl starch, cellulose, hydrogenated oils, silicon dioxide, calcium stearate, gum Arabic, dextrin, flavoring

Note about ingredients
Because this product contains powdered herbal medicine (plant roots, bark, etc., with medicinal properties), the product may vary somewhat in color. This powder comprises seven cryogenically milled herbal medicines and may contain visible fibers of the crude medicines. Neither of these variations affect the product's quality or efficacy.