Lion Corporation exhibited at the GOOD LIFE Fair 2022, held at Tokyo Big Sight from Friday, September 23 to Sunday, September 25, 2022.

In June 2019, we positioned the promotion of initiatives for a sustainable global environment as a material issue and formulated LION Eco Challenge 2050, which sets out long-term goals for environmental management, aiming to achieve both a sustainable society and business development.
We exhibited in the "SDGs Market" area of the GOOD LIFE Fair 2022, taking the opportunity to directly inform consumers about our efforts to create eco-friendly habits alongside them.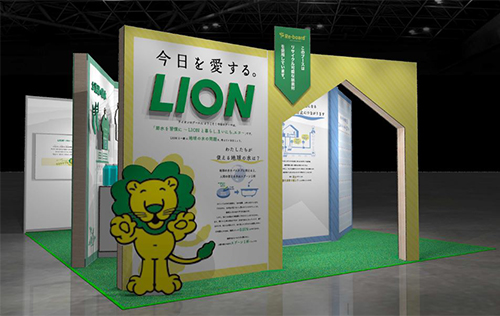 Booth (Exhibition location: East Hall 3, H-03)
■The exhibit concept was "Make Water-Saving a Habit with LION: Every Day. For the Earth."
The booth showcased water-saving innovations and their effectiveness in preventing global warming. It also provided visitors with an opportunity to think about their own daily living conditions and to see if there is anything that they can do to save more water in daily life, and to make water saving a habit.

■Exhibit Details
1. The exhibit showed how much water is available for human consumption on the entire planet as well as how, because the use of tap water involves the use of energy, saving water helps prevent CO2 emissions, which cause global warming. It also provided a visual representation of the average daily water consumption of people in Japan.

2. Through scenes of washing clothes, brushing teeth, and running a bath, the exhibit illustrated how to save water using Lion products as well as the reasons for and effects of such efforts. Also included were "self-reflection cards" that visitors were invited to use to examine their own habits and see how much water they could save by implementing the water-saving methods introduced in the exhibit.

3. We asked that those who were not able to check off actions on the above self-reflection card to take the card along with the information gained from this exhibit home with them so that they can try it for themselves in the future.

We will continue to actively promote activities that contribute to the SDGs together with consumers and local communities, while communicating with them in order to achieve both a sustainable society and business development.
GOOD LIFE Fair 2022 Overview
Date: Friday, September 23 to Sunday, September 25, 2022
10:00–18:00 (17:00 on Sunday)
Venue: Toyko Big Sight, East 3 Hall
Organizer: The Asahi Shimbun Company
Planning: Woman's (Double Collective Co., Ltd.)
Number of exhibiting companies and organizations: approx. 200
Admission fee (pre-registration):
Advance tickets 1,000 yen (tax included)
Same-day ticket 1,300 yen (tax included)
Free for high school students and younger children
(Elementary school students and younger children must be accompanied by a parent or other responsible adult. Junior high and high school students will be asked to show their student IDs at the reception desk.)