The Heart of All We Do
Lion has been a regular part of everyday life for more than 120 years. In that time, we have seen how ordinary days, one at a time, add up to a lifetime. Moreover, we have come to believe that each new day is the first step into a bright future, and that living every day positively and to the fullest is the essence of happiness. That is why we have made it our mission at Lion to contribute to ordinary life, every day, and reflected this commitment in our corporate slogan.
Corporate Slogan:"life. love."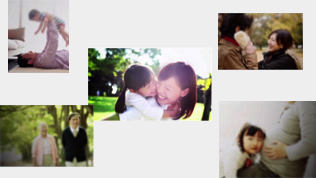 Our corporate slogan:"life. love." encapsulates the meaning of our corporate message.
We chose the word "life" for all its meanings: the natural force of life, the day-to-day experience of living and the journey that is a lifetime. Similarly, "love" evokes a range of meanings, such as compassion, caring and tenderness.
The slogan "life. love." thus expresses our commitment to helping people around the world make each day healthful, positive, and rich with contentment and beauty. After all, these individual days comprise a lifetime.
We chose this slogan to be a reflection of the feelings of actual consumers.
It is an expression of our commitment at Lion to supporting and loving the same precious life that people around the world love.