New Management Vision: Becoming an advanced daily healthcare company
Reflecting medium- to long-term changes in the external environment, Lion has formulated a new management vision for 2030 aimed at accelerating future-oriented transformations and a new medium-term management plan aimed at realizing this new vision.
Background of the Formulation of the New Management Vision
Since its founding, the Lion Group has striven to help consumers realize everyday health and comfortable living through the creation of better lifestyle habits in line with its motto, "Fulfilling a Spirit of Love."

Due to the advance of digital transformation and other factors, the business environment of the Lion Group is now expected to change at a hitherto unimaginable pace.

Furthermore, both in and outside Japan, in such areas as improving quality of life (QOL) and extending healthy life expectancy, health care needs are forecast to see accelerating growth, which will make the role of Lion, as a company involved closely in consumers' daily lives, even larger.

The Group has worked to improve business performance under Vision2020. But, in light of the drastically changing environment going forward, Lion believes that it must clarify the orientation of its businesses and accelerate efforts aimed at innovation in order to meet the needs of society and customers and sustainably increase its corporate value. Lion has set its new vision for 2030 as "Becoming an advanced daily healthcare company."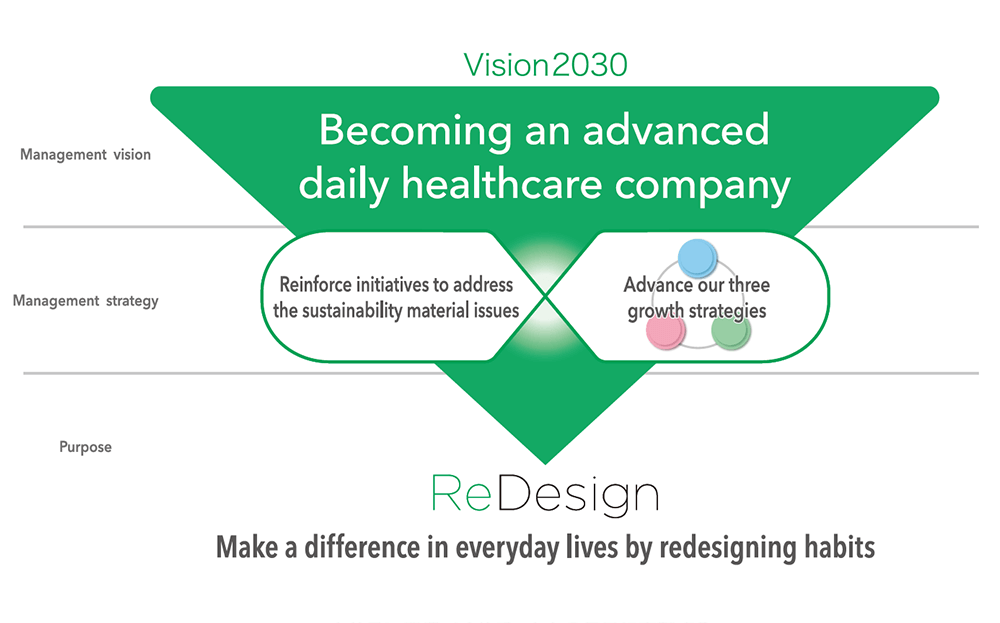 Medium-Term Management Plan: The LIVE Plan
Aiming to achieve the management vision, we will implement a medium-term management plan, the LION Value Evolution Plan (LIVE Plan), over the three-year period of 2018 to 2020.
Targets of the LIVE Plan
Under the theme of evolving into a leading advanced daily healthcare company, we will advance long-term, future-oriented growth initiatives and framework-building efforts in and outside Japan while further accelerating improvements to management efficiency to reinforce the earnings structure.
Strategic Framework for Realizing the Vision
Expand and Evolve our Business Domains through New Value Creation
Creating new combinations of various technologies and services, we will create new business value that realizes "healthy minds and bodies for all".
Accelerate Growth in Overseas Businesses through Glocalization
Focusing on growing markets in Asia, we will integrate globalization and localization approaches to create unique competitive advantages and thereby expand the scale of our businesses and the areas in which we operate.
Reinforce Our Management Base through Business Structure Reform
By improving management infrastructure and revising the business portfolio to stay ahead of changes in the environment, we will reinforce our management base to enable sustainable business growth.
Create Dynamism to Foster Innovative Change
We aim to foster corporate strength that will win out over global competition by promoting diversity and openness in our human resources, organizations and corporate culture.
By providing advanced daily healthcare and thereby being a leader in fostering people's contentment from a new perspective, the Lion Group aims to increase corporate value and help build a sustainable society.
Please see the materials listed below for details.
Lion Announces Its New Management Vision and Medium-Term Management Plan (PDF:374KB)

If you can't view the PDF,
please download Adobe Acrobat Reader.