Biodiversity Conservation Efforts Started at All Operating Sites
Lion Corporation (President: Masazumi Kikukawa) is working hard to realize a decarbonized, resource-circulating society and to harmonize with nature with the overarching goal of ensuring sustainability. One of our initiatives for harmonizing with nature is promoting biodiversity conservation efforts, and, in 2020, we set the goal of undertaking such efforts at all Group operating sites in Japan. In June of this year, with the Fukuoka Office's launch of support for environmental conservation efforts at Hakata Bay, we have succeeded in doing so at all 15 operating sites.
■Our Policy on Biodiversity Conservation
Given the strong link between Lion's business activities, the natural environment, and wildlife, and to ensure the Company continues to benefit from the wonders of nature, Lion has put its strength behind initiatives that help bring its impact on biodiversity down to zero, for example, by reducing its environmental burden. In addition, because each natural habitat is unique, we believe it is important to engage in biodiversity conservation efforts aligned with a particular area's characteristics and to ensure its resources are used sustainably. To this end, in recent years, we have partnered with regional organizations and NPOs to strongly back forest trimming and biodiversity conservation efforts to proactively protect the biodiversity of the regions where our factories and offices are located.
■Biodiversity Conservation Efforts at Each Operating Site
Because we engage in biodiversity conservation activities through our business operations, it is important that every employee is aware of the issues. To that end, we aim for every employee to participate in conservation activities, and, at each operating site, we set a theme suited to each region's specific problems, and promote sustainable activities in cooperation with the local community.
As for our biodiversity conservation activities, in 2003 we raised fireflies and farmed killifish in the Sakawa River watershed at the Odawara Plant. In June 2020, with the start of support for conservation efforts of Hakata Bay's natural environment through coastal cleanups (Love Earth Activities) by the Company's Fukuoka Office, we have launched full-scale efforts at all our operating sites.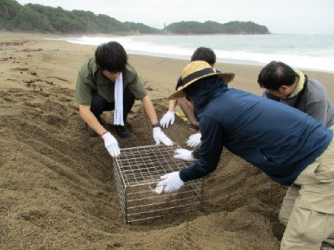 A conservation effort underway: These employees are burying a protective cage in the sand around a clutch of sea turtle eggs as part of the Osaka Plant's efforts to conserve the loggerhead sea turtle.
■Initiatives at Each Operating Site
Started in:
Operating Site Name:
Activity Details
2003
Odawara Plant
(Kanagawa Prefecture)
Raising fireflies and farming killifish
in the Sakawa River watershed
2010
Osaka Plant
(Osaka Prefecture)
Conserving loggerhead sea turtles
2011
Chiba Plant
(Chiba Prefecture)
Improving the Satoyama biotope
2012

Lion Chemical Co., Ltd.

Oleo Chemical Office
(Kagawa Prefecture)
Improving dragonfly ponds
(farming the vulnerable species Sympetrum kunckeli)
2013
Akashi Plant
(Hyogo Prefecture)
Chinese hackberry biotope efforts
(nurturing great purple emperor butterflies)
2015

Lion Specialty Chemicals Co., Ltd.

Yokkaichi Office (Mie Prefecture)
Conserving the Yoshizaki coast
(coastal cleanups, exterminating invasive plants)
2015
Nagoya Office
(Aichi Prefecture)
Supporting efforts to conserve
the Luciola parvula firefly population
at the outer moat of Nagoya castle
2016

Lion Chemical Co., Ltd.

Fine Chemical Office (Ibaraki Prefecture)
The Beautiful Coast Project
2017
Osaka Office
(Osaka Prefecture)
Supporting wisteria conservation efforts
2018
Sapporo Office
(Hokkaido Prefecture)
Support the Sapporo Wild Salmon Project (SWSP)
2018
Sendai Office
(Miyagi Prefecture)
Fostering Ido  killifish
2018
Headquarters and Tokyo Office
(Tokyo Prefecture)
Conserving grass species native to Tokyo
(the Field Grass Project)
2019

Lion Specialty Chemicals Co., Ltd.

Ono Office (Hyogo Prefecture)
Conserving aquatic plants in reservoirs
2019
Hirai Office
(Tokyo Prefecture)
Improving the environment of
the downstream Edo River and Tokyo Bay
2020
Fukuoka Office
(Fukuoka Prefecture)

Supporting efforts to conserve
Hakata Bay's natural environment
through coastal cleanups
(Love Earth Activities)
Going forward, Lion will continue working to support environmental conservation and related activities, thereby helping to realize a sustainable society.