Lion Corporation received the Gold Award, the top prize, in the Sustainability Site Awards 2022, which is granted by the Association for Sustainability Communication of Japan to websites based on the quality of their sustainability information provision.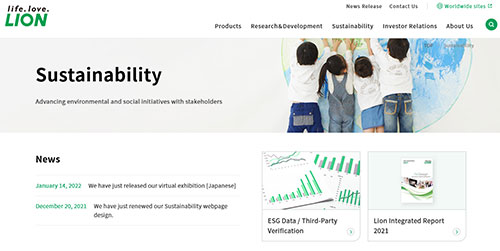 ■Lion's Sustainability Website and Initiatives
Since its founding, the Lion Group has striven to realize health, comfort and cleanliness in everyday living through its business activities, and we aim to realize healthy minds and bodies for all and contribute to a sustainable society, based on our corporate motto of "Fulfilling a Spirit of Love," and our purpose, "Make a difference in everyday lives by redesigning habits: Redesign."
In 2021, we formulated our new long-term strategic framework, Vision2030. In this vision, to realize our management goal of "Becoming an advanced daily healthcare company," one of our management strategies is to strengthen our efforts to address Sustainability Material Issues.
To support such hygiene habits as tooth brushing and hand washing, we not only provide products like toothpaste, toothbrushes and hand soap, but also conduct educational programs on how to brush teeth and wash hands. With regard to environmental issues, we are striving to reduce the amount of plastic used in order to reduce CO2 emissions and realize a resource-circulating society.
Our sustainability website shares information about the Group's sustainability activities with the aim of providing opportunities for people to think about sustainability together and to provide information on specific topics, for example, creating healthy living habits and addressing environmental issues.

This award was granted in recognition of these activities, as well as our proactive information dissemination and disclosure. We will continue to improve communication about as well as the depth of our sustainability activities toward the realization of a sustainable society with the goal of reaching as many people as possible.
■About the Sustainability Site Awards 2022
This award is sponsored by the Association for Sustainability Communication, which, since 2017, has published ratings based on surveys of the sustainability websites of all listed companies in Japan conducted to determine the actual status of their information disclosure. In the latest survey, the websites of a total of 4,049 listed and unlisted major companies in Japan were surveyed on the quality of their information based on more than 280 evaluation factors from eight important disclosure perspectives,*1 and the top 1% sites with the best overall performance were classed as Gold,*2 Silver or Bronze. In 2022, there were 6 Gold, 11 Silver, and 25 Bronze companies.
*1 Opening message, strategy, risks and opportunities, stakeholder engagement, targets and achievements, corporate information and governance, web accessibility and site characteristics.
*2 Gold recipients' websites had an extremely high level of completion with specific and comprehensive disclosure of each type of information; sufficient disclosure to meet the information needs of stakeholders; exemplary quality compared other companies' websites (excerpt from the website of the Association for Sustainability Communication).
<Sustainability Initiatives>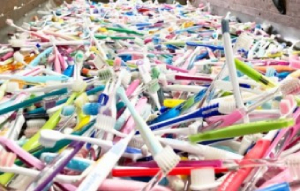 Toothbrush Recycling Program
This is a program to collect and recycle used toothbrushes, which would otherwise be discarded, and turn them into new plastic products such as planters. This program is open to schools, groups, and individuals.
https://www.lion.co.jp/ja/sustainability/toothbrush-recycling/ (Japanese)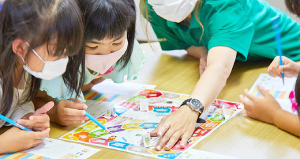 Inclusive Oral Care
Through oral care, this initiative addresses issues people and society are facing. Through various programs that provide and deliver meals to disadvantaged children, we promote hands-on programs on the theme of dental and oral health.
https://www.lion.co.jp/ja/sustainability/inclusiveoralcare/ (Japanese)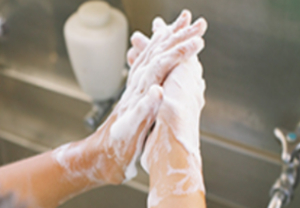 Establishing Cleanliness and Hygiene Habits
This initiative provides fun ways to learn proper hand washing habits to protect yourself and your loved ones from the threats posed by various germs and viruses.
https://www.lion.co.jp/en/sustainability/community/cleanliness/