Lion Corporation has been selected as a White 500 company under the Ministry of Economy, Trade and Industry's Certified Health & Productivity Management Outstanding Organizations Recognition Program for a sixth consecutive year. Under this program, launched in 2017, the Ministry of Economy, Trade and Industry and the Nippon Kenko Kaigi recognize enterprises engaging in outstanding efforts to promote health and productivity management based on initiatives to overcome health-related challenges in communities or the promotion of health-conscious activities led by the Nippon Kenko Kaigi.
* Note: The term "health and productivity management" is a registered trademark of the nonprofit organization Kenkokeiei.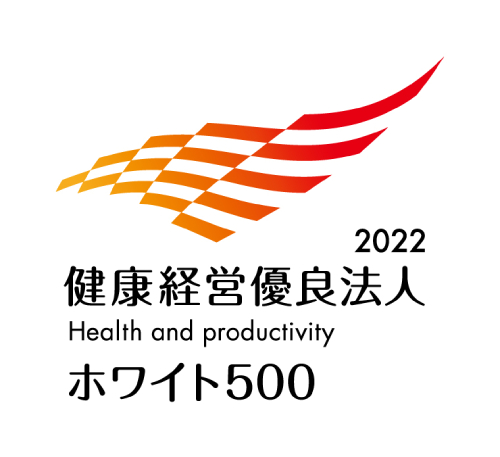 Lion Corporation's Initiatives
Lion designated "Becoming an advanced daily healthcare company" as its management vision in 2018 and is advancing activities aimed at realizing healthy minds and bodies for all its customers. To generate the innovative dynamism needed to realize this vision, we are implementing professional fulfillment reforms by improving personnel systems to better enable diverse human resources to utilize their varied talents, expanding employee discretion over work location and time, and creating work environments that facilitate interpersonal collaboration. In addition, we are carrying out Lion-Style Health Support "GENKI" Action initiatives for employees to raise health awareness and promote self-directed healthy behavior.

Specifically, the "GENKI" Action initiatives have included the following: 1. utilizing the GENKI Navi Health Information System, which combines data on individuals' health checkup results, health risks and living habits (such as diet and exercise), allowing employees to better understand their future health risks in a way that is applicable to daily living; 2. fostering preventive dentistry habits by subsidizing periodic dental checkups and encouraging employees to find a primary care dentist while providing dental care guidance for employees with oral health issues (in coordination with the Lion Health Insurance Society and Lion Foundation For Dental Health); and 3. supporting employees acting proactively to receive screenings aimed at the early detection of three common types of cancer (lung, stomach and colon cancers).

Going forward, Lion will continue working to help employees maintain and enhance their health while adapting to new ways of living, linking these efforts to new value creation and aiming to contribute to realization of a sustainable society.