Lion Corporation announces that it has opened an official account on note, a Japanese-language online media platform. Providing a vehicle for communicating its purpose through interviews and articles, the new site, LION Scope, and the official account were launched on Friday, July 1, 2022.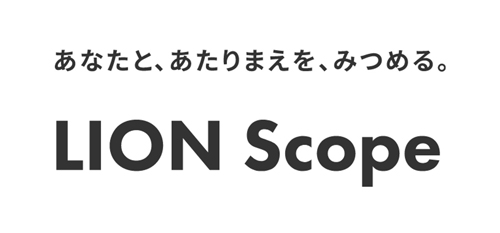 LION Scope corporate site: https://www.lion.co.jp/ja/stories/ (Japanese)
Lion official "note" page: https://note.lion.co.jp/ (Japanese)

LION Scope
■ Establishment of LION Scope
Lion's purpose, "Make a difference in everyday lives by redesigning habits: Redesign," is based on the belief that daily habits play an important part in achieving a sustainable society in addition to promoting a healthy body and mind.
As a media site that communicates Lion's purpose through interviews and articles, LION Scope is able to explore the possibilities of habit design. This official account on the note media platform joins our corporate website, where we disseminate information on the Lion Group and its products.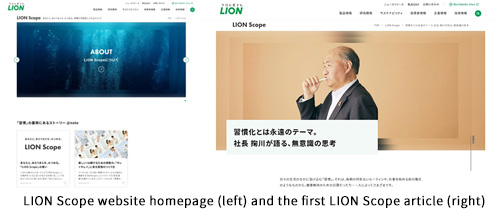 For the first LION Scope feature, we conducted an interview with Lion's president, Masazumi Kikukawa. In this interview, he speaks about how having a habit, or repeatedly doing something over an extended period, can enrich our lives and how shifts in the habits of individuals can bring changes to society.

■ Created an official account on note, launching LION Scope
note is a media platform that allows users to post text, image, audio and video content and browsers to enjoy and support that content. 

■ Refreshed the Lion corporate website
The Lion corporate website provides corporate, R&D, sustainability and investor information. The UI/UX design of the corporate website has been improved to enhance information discoverability and usability. In addition, we have added content based on the concept of "story doing," an approach that enables the reader to experience Lion's philosophy through participation.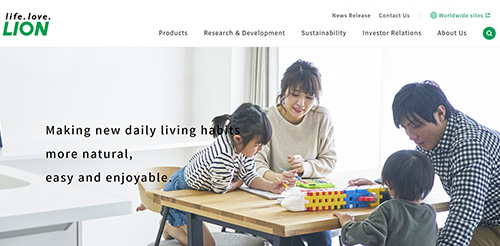 Lion corporate site:
https://www.lion.co.jp/en/

We will continue to deepen our understanding with society through the dissemination of substantial information, and we will strive to provide new value that will lead to the creation of better habits in everyday lives.