Lion Corporation has published Lion's Sustainability 2022: SDG-Related Initiatives, which highlights the Company's SDG-related initiatives, on its website.

Driven by its purpose, "Make a difference in everyday lives by redesigning habits: ReDesign," the Lion Group strives to realize health, comfort and cleanliness in everyday living and to contribute to the realization of a sustainable society through its business activities. Accordingly, the Company has now published the Lion's Sustainability 2022: SDG-Related Initiatives booklet on its website (in Japanese).

The Lion Group seeks to work alongside consumers toward the achievement of the Sustainable Development Goals (SDGs). With easy-to-follow illustrations, this year's booklet lays out better living habits that are simple for consumers to put into action. In the area of environmentally friendly habits, the booklet also delves into the relationship between household water use and CO2 emissions. The booklet explains how habits like saving water and electricity are not only environmentally friendly, contributing to CO2 emissions reduction, but also budget-friendly, helping consumers save money. Furthermore, the booklet uses clear and specific figures to illustrate the amount of water that can be saved in order to effectively convey how using water-saving products can reduce water use in laundry and dishwashing.

Through the creation of environmentally and socially conscious habits with consumers and employees, Lion will continue working to contribute to the achievement of the SDGs and their ultimate goal—a sustainable world.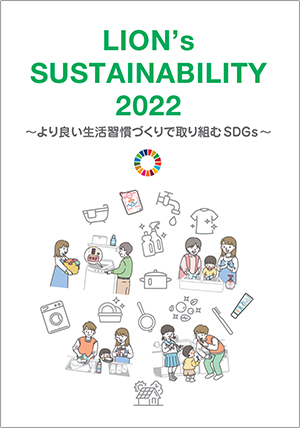 ■ Lion's Sustainability 2022: SDG-Related Initiatives (in Japanese)
Published October 2022
https://www.lion.co.jp/en/sustainability/sdgs/#lions-sdgs