Achievements of Lion's Toothbrush Recycling Activities
Lion Corporation (President: Masazumi Kikukawa) has been carrying out a program to collect and recycle used toothbrushes since 2015. In the period from October 2019 through September 2020, Lion collected and recycled 167,714 toothbrushes. A report on the achievements of the program is provided below.
■Lion's Toothbrush Recycling Activities
With use over time, toothbrush bristles lose their firmness and splay out, becoming around 20% to 40% less effective at removing grime. Because of this, Lion recommends that toothbrushes be replaced once a month. We are working to create mechanisms to recycle toothbrushes that have been replaced in the interest of oral hygiene, treating them as a valuable resource and thereby realizing both "Good for the mouth!" and "Good for the Planet!" In 2015, we partnered with TerraCycle Japan* to launch the first program in Asia to collect used toothbrushes, melt them down and use the recycled plastic to make planters and other products. 

Under the program, anyone interested in participating can register in advance to participate as an individual, school or other organization via the Toothbrush Collection Program website. Participants set up collection boxes in which they collect used toothbrushes. When 200 or more toothbrushes (approximately 2 kg) have been collected, they are picked up by the program, and the participants are awarded TerraCycle points based on the weight of the toothbrushes collected. These points can be exchanged for products made from recycled plastic, such as planters, or used to make a donation to an NPO or educational institution of the participant's choice.

As of September 30, 2020, the project counted 715 registered participant organizations, such as schools and medical institutions, and had collected a total of 730,387 toothbrushes since its launch in 2015.

* TerraCycle Japan 
TerraCycle was founded in 2001 in the United States. Based on a mission to "eliminate the idea of waste," TerraCycle now operates recycling programs in 21 countries. These programs collect used products at no expense to participants, operating systems in which participants receive points based on the amount of materials collected that they can exchange for recycled products or use to make a donation to an organization.
Steps of the Toothbrush Recycling Program

Toothbrush collection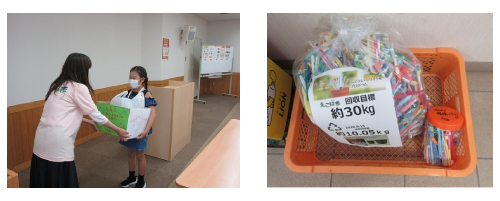 Children brought used toothbrushes for collection to a tour of the Ecohama environmental educational facilities at the Hamamatsu City Seibu Garbage Disposal Plant

In April 2020, Lion formed a toothbrush recycling agreement with Sumida-ku, Tokyo (Mayor: Toru Yamamoto). Based on this agreement, we have begun activities in coordination with municipal garbage and recyclables collection operations. 
Toothbrush collection via Sumida-ku's garbage collection operations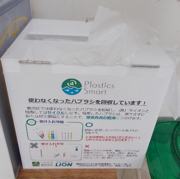 Collection box

Staff check for foreign objects among the collected toothbrushes,
disinfect collection boxes with a sterilizing spray and set up bags
* In light of the COVID-19 pandemic, we are practicing particularly stringent sanitation management
In June 2019, Lion established the LION Eco Challenge 2050, a set of environmental objectives. In pursuing these objectives, Lion is working to address the issue of "resource circulation (plastics, water resources)." Going forward, we will continue working with consumers to contribute to a healthy future for people and the planet.