On March 8, 2021, the NPOs Florence and Musubie and Lion Corporation formed an agreement to work together on inclusive oral care initiatives targeting economically disadvantaged families with the aim of correcting disparities in oral care opportunities.
1. Inclusive Oral Care
Tooth brushing is an extremely important habit—it is closely tied to the health of the entire body and can nurture and enhance one's natural ability to lead a healthy life. However, a wide range of factors, such as living environment, physical limitations, economic circumstances, or lack of education or information, can lead to disparities in the practice of oral care. As a result, many people are unable to practice adequate oral care. Lion is taking action to address health disparities related to oral care, which it considers a sustainability material issue.
Compared with the children of more affluent households, the children of economically disadvantaged families typically grow up having fewer positive experiences—like being praised, communicating with adults other than their parents and acquiring life skills like tooth brushing—and have significantly lower self-esteem.
To address these disparities, we will work through children's community centers that provide meals and services that deliver food to households with children, providing experiential programs about tooth brushing and dental and oral health, which are closely associated with eating. Through these actions, we will carry out inclusive oral care that helps to boost children's self-esteem.
The NPOs Florence and Musubie and Lion Corporation have formed a partnership to build mechanisms to support these activities. We will advance support for children thorough sustainable mechanisms by providing oral care opportunities.

2. Overview of the Agreement
Purpose: Eliminate disparities in oral care opportunities caused by children's economic circumstances
Activities:
1. Experiential programs about tooth brushing and dental and oral health
2. Provision of oral care products
3. Basic oral care lessons for guardians
Start of activities: April 1, 2021
Activity venues: Children's community centers and homes nationwide, including via online tools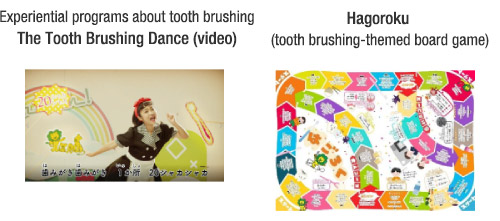 3. Comments from Organization Representatives
◆Hiroki Komazaki, Founder/CEO, Florence
Poverty and dental cavities in children are closely related. We deliver food to households with children via programs that also provide support for getting dental checkups. Through these programs, we have learned that some children and their guardians do not know proper brushing techniques or are unable to regularly replace their toothbrushes. Single-parent households, in particular, often face the practical difficulty of being unable to take a day off to take their children to a dental checkup on a weekday. I think that what parents need is access to clear and accurate information, someone other than a dentist who they can easily turn to with questions, and practical support.
Our food delivery program for children and families (Kodomo-Takushoku) is a way of connecting with and supporting families dealing with poverty. Through this new collaborative project, I hope that we can support children's health more broadly as it relates to eating.

◆Makoto Yuasa, Chairman, Musubie
Recently, a single mother related an incident to me. She was very surprised when her son came home and told her, "Dad helped with my schoolwork today." It turned out that "Dad" was what the woman running the community center the child was attending called her husband when talking to the children. In her letter this mother wrote, "I'm sure that my son's childhood is happier than mine was, because he has a place where he belongs."
Community centers for children and families (Kodomo-Shokudo) provide settings in which children can find people that they can think of as like a dad, mom, grandparent or sibling. In such venues, children who do not have healthy tooth brushing habits are surrounded by people who look out for and encourage them, helping them change and grow. I am sure that this new collaborative project will help enhance the impact for children of having a place where they belong.

◆Masazumi Kikukawa, President and Executive Officer, Lion Corporation
Lion has long been focused on oral hygiene in Japan, spreading the concept of preventive dentistry and thereby leading growth in the oral care market. I am confident that a corresponding increase in overall health mirrors this growth.
In addition to our existing activities, going forward we will focus on disparities in health and oral care through inclusive oral care initiatives. By doing so, we will help create the conditions for every individual to be able to practice proper oral care and drive further market expansion.
Lion, Florence and Musubie will work together to create systems of mutual support to overcome issues that individuals cannot solve alone and thereby contribute to activities that help realize lasting health for all.
[Overview of Participants]
◆Florence
Representative: Hiroki Komazaki, Founder/CEO
Address: KDX Jimbocho Building 4F, 1-14-1 Kanda Jimbocho, Chiyoda-ku, Tokyo, Japan
Established: Certified as a specified non-profit corporation April 1, 2004
Registration completed and corporation established: April 12, 2004
Revenue: ¥3,054,429,042 (fiscal 2019)
Employees: 674 (as of March 1, 2021)
Operations: In-home childcare for sick children, authorized childcare, childcare and support for children with disabilities, plenary adoption services, home food delivery for households with children, policy proposal

◆Musubie
Representative: Makoto Yuasa, Chairman
Address: Nishi-Shinjuku Takaki Building 7F, Nishi-Shinjuku 1-20-3, Shinjuku-ku, Tokyo, Japan
Established: December 2018
Revenue: ¥39,253,931 (fiscal 2019)
Employees (consolidated): 63 (as of February 28, 2021, including part-time employees)
Operations: Support for local network organizations, coordinating with companies and other organizations, surveys and research

◆Lion Corporation
Representative: Masazumi Kikukawa, Representative Director, President and Executive Officer
Address: 1-3-7 Honjo, Sumida-ku, Tokyo, Japan
Established: September 1918 (founded October 30, 1891)
Net sales (consolidated): ¥355.35 billion (fiscal 2020)
Employees (consolidated): 7,452 (as of December 31, 2020)
Operations: The manufacture and sale of toothpastes, toothbrushes, soaps, detergents, hair- and skin-care products, cooking-related products and pharmaceuticals. Exports to overseas affiliates.
[Initiatives of Participants]
◆Florence
Florence is a certified NPO with the mission of solving social problems that impede the happiness of families with children so that communities can come together to care for and raise children while building a society brimming with possibility and the smiles of diverse families. Florence engages in a range of initiatives, including Japan's first in-home childcare service for sick children, childcare and support for children with disabilities and Kodomo-Takushoku, a food delivery program for children and families, as well as activities to propose policy. Through these efforts, Florence works to solve social problems that impede the happiness of families with children.

* Florence
https://florence.or.jp/

◆Musubie
Musubie's vision is to build a society in which no one is overlooked or left behind through children's community centers nationwide. To this end, Musubie works to create the conditions to ensure that such spaces across Japan are accessible and welcoming to all while empowering people to participate in forward-looking social initiatives. Concretely, Musubie undertakes surveys and research to understand the current state of such spaces and promote awareness and understanding of them, supports local networks associated with such spaces, and coordinates with companies and other organizations to support them.
In light of the COVID-19 pandemic, on March 5, 2020, we set up an emergency COVID-19 countermeasures project, requesting food and other donations, and later established a fund to provide monetary support to children's community center that provide meals. From April to December 2020, this fund provided monetary support totaling ¥120 million to 674 organizations. In addition, with help from a pediatrician well versed in infectious diseases, we published a basic handbook on setting up children's community centers to provide meals and food pantries as well a video about things that people can do to help nurture the children in their communities, with a focus on children's community centers during the COVID-19 pandemic. We also held individual consultations while supporting the activities of such spaces.

* Musubie
https://musubie.org/

◆Lion Corporation
The Lion Group is carrying out activities in line with its management vision, "Becoming an advanced daily healthcare company," and its purpose, "Make a difference in everyday lives by redesigning habits." To realize Vision2030,*1 the Lion Group has designated creating healthy living habits and promoting environmental initiatives for a sustainable planet as its top priority materials issues. Furthermore, Lion is creating customer experiences through efforts in four fields of value creation that are the focus of its business growth strategy, namely, Oral Health, Infection Control, Smart Housework and Well-Being, while reinforcing initiatives that realize synergies with its environmental and social sustainability material issues.
*1 Lion's long-term strategic framework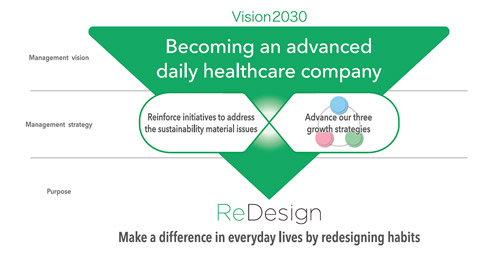 * Lion's Sustainability
https://www.lion.co.jp/en/csr/

* Lion's Vision2030 Long-Term Strategic Framework
https://www.lion.co.jp/en/company/vision.php