Lion Corporation (President: Masazumi Kikukawa) exhibited at EcoPro 2021: Towards a Sustainable Society held at Tokyo Big Sight from December 8 to 10, 2021.

Lion has designated "Promoting Environmental Initiatives for a Sustainable Planet" as one of its material issues and established the LION Eco Challenge 2050, a set of long-term environmental management objectives, in June 2019, aiming to achieve the sustainable development of both society and business.
Lion exhibited at EcoPro 2021: Towards a Sustainable Society in order to directly communicate to consumers its initiatives aimed at sustainable plastic resource recycling and protecting the environment through its products.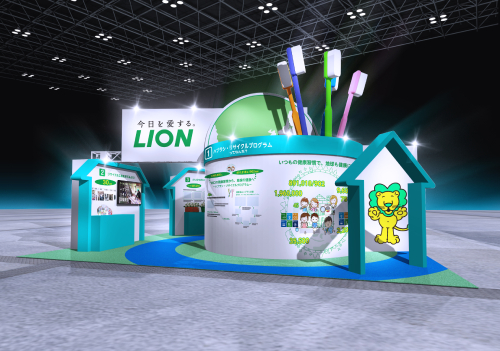 Illustration of Lion's booth (booth location: East Hall 3 No. 3-040)
■Exhibit Concept: Lion, Resonating with People and the Planet—Protecting the Health of the Earth through Healthy Living Habits
Lion's exhibition focused mainly on its Toothbrush Recycling Program,*1 which is based on an approach of simultaneously "Creating Healthy Living Habits" and "Promoting Environmental Initiatives for a Sustainable Planet," as well as the process of recycling used toothbrushes. The goal of the exhibit was to encourage consumers to both participate in and deepen their understanding of recycling.
*1. A program to collect used toothbrushes, which are commonly just thrown away as non-recyclable garbage, and recycle them into planters and other new plastic products.

■Exhibition Content
1. Initiatives for Creating Healthy Living Habits
This exhibit presented the oral care habit education that Lion has been providing for many years, and the Toothbrush Recycling Program,*1  which realized both "Good for the mouth" and "Good for the planet."

2. Process of Transforming Used Toothbrushes into New Plastic Products
We showcased the process by which used toothbrushes collected through the Toothbrush Recycling Program*1 are transformed into new plastic products through exhibits featuring actual items and videos. We also collected used toothbrushes at the booth.

3. Recycling Initiatives for a Sustainable Society
We displayed our efforts to achieve the horizontal recycling*2 of toothpaste tubes and refill packs in cooperation with various companies, organizations and local governments with the aim of reducing the consumption of new resources and improving recycling quality.
*2. The process of using used products as raw materials and transforming them into fresh products with the same purpose.

We will continue to proactively promote environmental protection activities in cooperation with consumers and local communities with the aim of achieving both a sustainable society and business growth.
Overview of EcoPro 2021: Towards a Sustainable Society
This was the 23rd environmental exhibition held since its inception in 1999. The 2021 event was held at Tokyo Big Sight (free admission) from December 8 to 10, with 353 participating companies and organizations.
Organized by: Sustainable Management Promotion Organization, Nikkei Inc.