In March 2020, Lion Corporation signed an agreement with Sumida-ku, Tokyo (Mayor: Toru Yamamoto), for toothbrush recycling with the aim of recycling plastic resources, and is collecting used toothbrushes in coordination with municipal garbage and recyclables collection operations.
We are pleased to report that we have established a series of systems for resource circulation (collection of used toothbrushes, recycling, processing of recycled products and return to raw materials).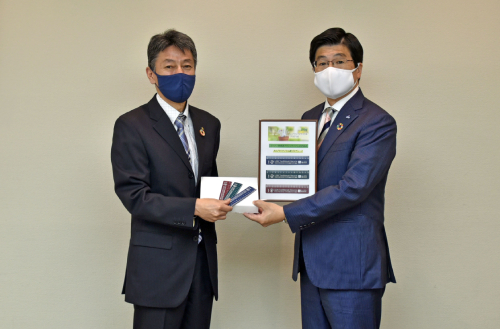 Ruler presentation ceremony at the office of the Mayor of Sumida-ku
Right: Mayor Toru Yamamoto of Sumida-ku
Left: Takaki Ikenishi, Associate Senior Manager, Sustainability Promotion Department of Lion Corporation
■Toothbrush Recycling Project in Sumida-ku
Based on an agreement signed with Sumida-ku, Lion has been working to create resource circulation systems for toothbrush recycling. Starting in April 2020, collection boxes were set up at schools, educational institutions and public facilities in Sumida-ku, and the used toothbrushes have been collected regularly collected by Sumida Sanitation Center staff. The 5,571 used toothbrushes collected in the year ended March 2021 were recycled by our designated recycling affiliate and then molded into 15-centimeter rulers, a plastic product used by the children and residents of Sumida-ku. The completed rulers were presented to Sumida-ku and the Sumida-ku Sotode Elementary School in November 2021.
In the future, we plan to distribute the rulers at schools and other educational institutions that are collaborating in the collection effort and at events within Sumida-ku.
Lion Corporation and Sumida-ku plan to implement further initiatives in the future.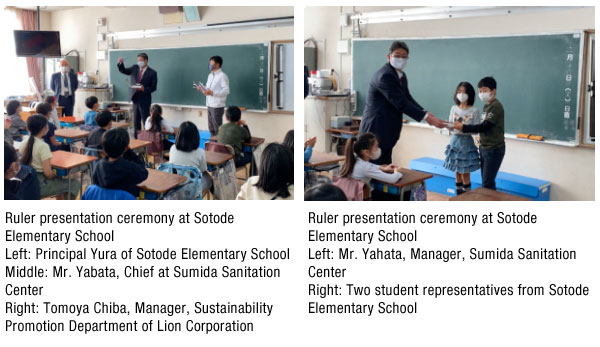 We are striving to realize a resource-circulating society, to this end setting the objectives of LION Eco Challenge 2050. We will continue working to contribute to a sustainable society together with local governments, businesses and consumers.