Lion Corporation formed an agreement with Koshi City, Kumamoto, to form a comprehensive partnership aimed at contributing to community development and oral health on January 24, 2022. Through this partnership, Lion will support oral health in Koshi City by providing an app that helps foster an increased awareness of oral care and recommending specific oral care techniques.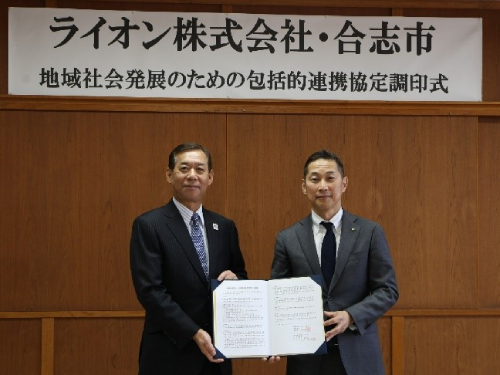 Left: Yoshiyuki Araki, Mayor, Koshi City
Right: Yugo Kume, Director and Senior Executive Officer, Lion Corporation
■Background of the Comprehensive Partnership Agreement
In recent years, as the links between dental and oral health and healthy life expectancy have become more apparent, preventive dentistry based on the combination of professional care from dentists and dental hygienists and self-care has attracted growing interest. Lion has long promoted the formation of good oral care habits by providing a wide range of products and information for users from infants to seniors. In addition, Lion is now implementing new initiatives to support the formation of more expertly personalized oral health habits using individual oral health data.
Koshi City is implementing advanced initiatives aimed at community development and improving residents' oral health using healthcare data. Recognizing the shared aims of these efforts and Lion's personalized oral health habit initiatives, Koshi City has agreed to enter a comprehensive partnership agreement with Lion. Going forward, Lion and Koshi City will offer city residents an app that prompts users to think about their own oral health and provide information to encourage them to take an interest in oral care. Through these efforts, we aim to find new ways of fostering preventive dentistry habits and invigorating the local community.
■Overview of the Agreement
Purpose
Based on the comprehensive partnership , Koshi City and Lion will each be able to leverage the other's mutual human and intellectual resources to offer new oral care habit suggestions by increasing awareness of oral care among city residents. Through such activities, they will contribute to community development and oral health improvement.

Partnership and Collaboration Areas
Activities related to increasing oral health awareness among city residents and supporting the establishment of good oral health habits using digital technologies.

Details of Initiatives Planned for Koshi City
The initiatives under the partnership will combine Koshi City's expertise in providing support for the improvement of residents' health with Lion's preventive dentistry education knowledge and digital technology for evaluating oral health using images and simple questionnaires.*1, 2 In this way, we aim to promote the formation of oral health habits that utilize residents' oral health data and raise the rate of individuals who regularly undergo dental checkups via interventions in daily life. By providing various information tailored to specific aspects of daily living and enabling residents to get advice about their daily oral care based on their oral health data from the comfort of their own homes, we will encourage residents to reconsider their self-care, undergo regular checkups and otherwise think about their own oral health, as well as that of their families. In this way, we aim to contribute to the establishment of autonomous oral health habits in the community.
■Lion's Management Vision and Purpose
Lion is advancing management driven by its purpose, "Make a difference in everyday lives by redesigning habits: ReDesign," working toward the realization of its management vision for 2030, "Becoming an advanced daily healthcare company." In 2021, Lion established its Vision2030 long-term strategic framework, laying out three growth strategies, including "accelerate growth in four fields of value creation." In oral health, one of these four fields, Lion is working to integrate innovative oral care products and services into the daily lives of individuals as a new form of healthcare and thereby contribute to the formation of preventive dentistry habits. To this end, we are building a foundation for a POHR (Personal Oral Health Record) business, which will use oral health data, to roll out services in coordination with stakeholders across all oral health-related points of contact with consumers, including households, companies, dental clinics, local governments and educational institutions, and communities. By doing so, we aim to promote the uptake of preventive dentistry practices in social trends and systems.
The initiatives under the partnership are one project in the field of oral health. Lion aims for these efforts to help everyone, from infants to seniors, regularly practice the oral health habits they need to, leading to mental and physical healthcare for all.
Reference:
*1. HAGUKI CHECKER, a tool that checks the state of users' gums (Japanese)
https://haguki-check.lion-apps.jp/pc.html

*2. A technology powered by AI machine learning fed by Lion employees' health checkup data that assesses users' current oral health based on a simple questionnaire that can be completed at home or on the go.
Lion announced the internal use of the technology on November 8, 2021 (Japanese).
https://www.lion.co.jp/ja/company/press/2021/3687