Integrated Report & Sustainability
Integrated Report 2021 (January 1–December 31, 2020)
Lion published the Lion Integrated Report 2021 in June 2021.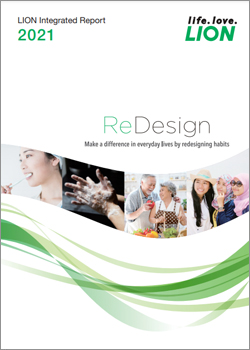 Integrated Report 2020 Sustainability
[Scope of Coverage]
Lion Corporation and all of its consolidated subsidiaries are covered, in principle.
* Where the scope of coverage of reported activities or data differs from the above, a description is provided.
[Period Coverd]
From January 1, 2019 to December 31, 2019
(Some parts also include information about 2020)

If you can't view the PDF,
please download Adobe Acrobat Reader.