1. Items to Have Ready at Home (Stock Rotation)
1. Items to Have Ready at Home (Stock Rotation)

Keep a stock of essential supplies in your home
to be ready for unexpected disasters.
Maintaining a stock of essential supplies is key to disaster readiness.
One approach to maintaining supplies at home is to maintain a rotating stock. You can employ this approach by simply buying a stock of the items you would need in an emergency and using them from oldest to newest while replacing what you have used. Stock rotation is a waste-free form of disaster readiness that can easily be incorporated into daily life.
By using and replacing products in the course of your normal routine, you can make sure you always have a fresh stock of emergency supplies.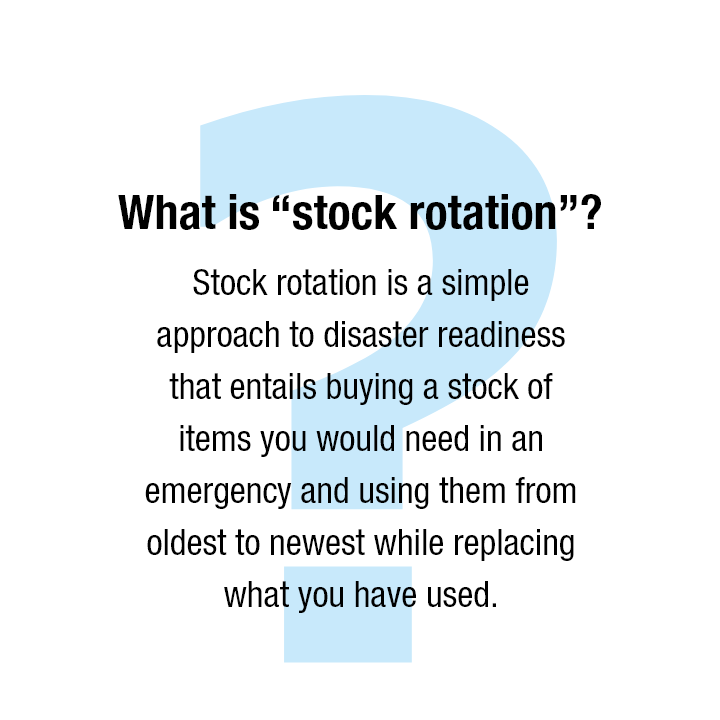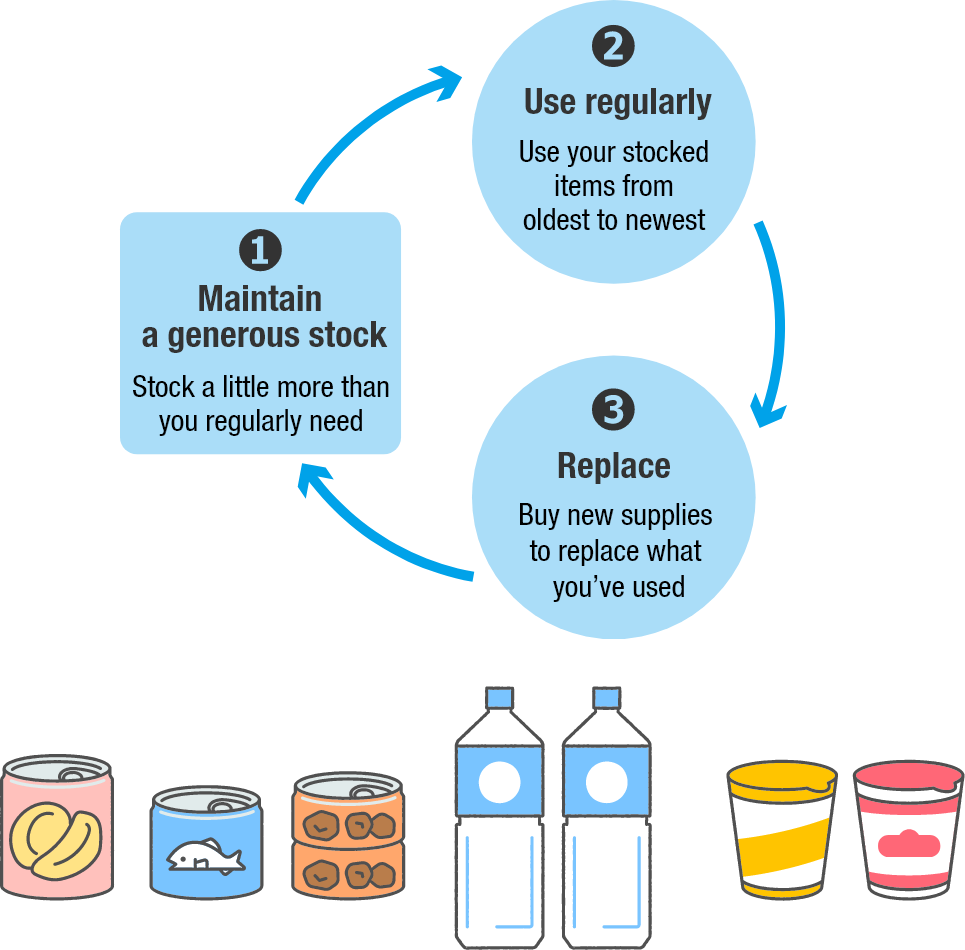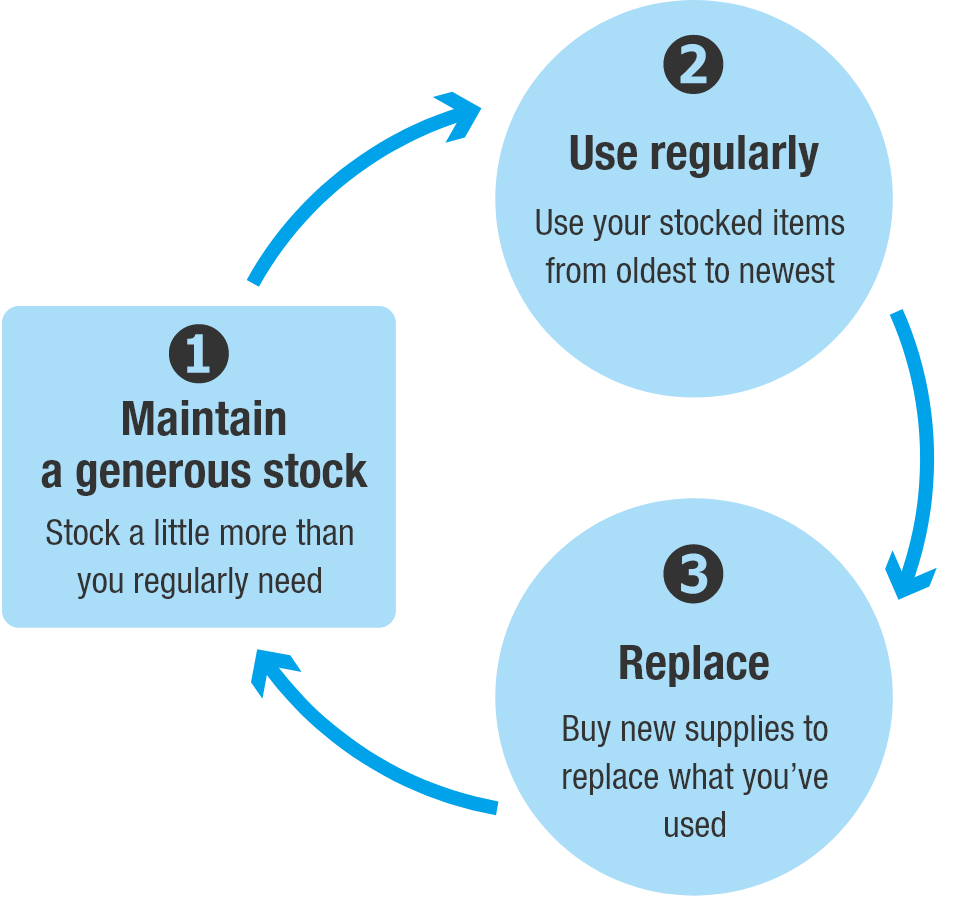 Keep an emergency bag ready.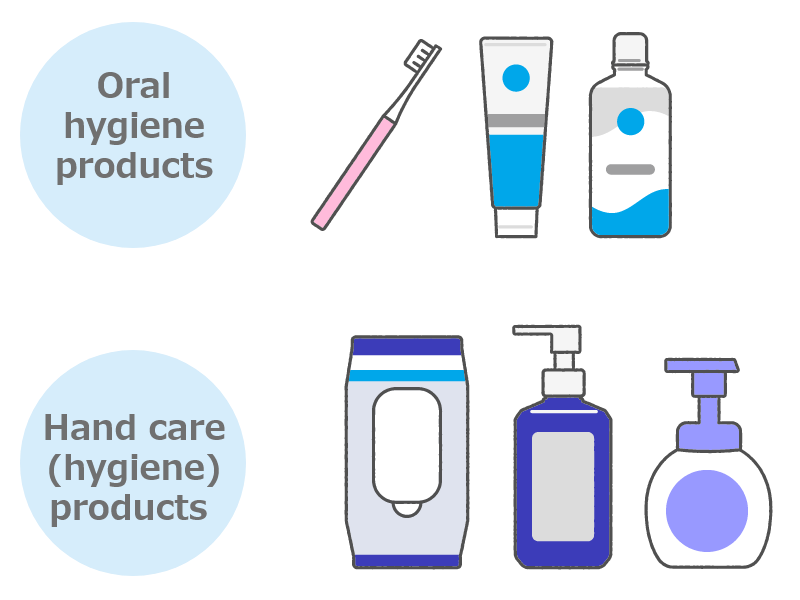 Keep a supply of the minimum supplies you would need in an emergency ready in a "go bag" that allows you keep both hands free, such as a backpack, so that you can quickly grab it (along with other essentials, such as your wallet, mobile phone, bank book and personal stamp) and go if you need to evacuate due to a disaster.
Regularly checking the contents of your emergency bag is important. Food and other items that expire should be kept as fresh as possible using stock rotation.
Keep a toothbrush in your emergency bag so that you can maintain your oral hygiene in times of disaster. Just having a toothbrush can make a big difference in enabling you to keep your mouth clean, even in emergency circumstances. You can also use mouthwash even if no water is available. Mouthwashes with disinfectant ingredients and mild, non-alcohol formulas are best. It is also a good idea to have wet wipes and hand sanitizer in your bag, in case access to water is limited.
Lion's toothpastes and mouthwashes are designed to last at least three years from the time they are made, but it is always best to use stock rotation to keep the products in your emergency bag fresh.