Emergency Supplies
Check List

Prepare a bag with the minimum supplies you will need to take with you in a disaster to use until relief supplies arrive.
Valuables
Cash (including coins)
Spare house and car keys
Personal seal
Copies of items such as bank account number, life insurance contract number, health insurance card, proof of ID, mother and child health notebook, disabled person's health notebook
Tools for gathering information
Mobile phone charger
Portable radio (with extra batteries)
Photos of family members (to help find them if separated)
Emergency contact information for family, relatives and acquaintances
Large map of evacuation areas (or pocket map)
Writing implements, scissors
Food and drink
Emergency food rations, candy
(ready-to-eat packaged foods)
Water bottle with cup
Drinks (bottled water, etc.)
Living supplies
Disposable heat packs (in winter)
Cooling sheets, handheld fan (in summer)
Spare glasses, contact lenses, etc.
Aluminum space blanket
Slippers, indoor shoes
Cotton or leather work gloves
Earplugs, eye mask, etc.
Plastic tarp
Portable toilet kits
Plastic bags
Disaster hoods or helmets
Flashlight (with extra batteries)
Whistle or buzzer (to let others know where you are)
Multi-tool utility knife
Hygiene and health supplies
Surgical masks
Thermometer
First-aid kit
Household medicines, medications anyone in the family needs, medication notebook
Towel
Toilet paper, tissues
Change of clothes (including underwear)
Wet wipes
Hand sanitizer
Body wipes
Toothbrushes, interdental brushes, dental floss, etc.
Mouthwash
Oral wet wipes, denture cleaning wipes, denture case, etc.
Other
Disposable diapers (for infants or seniors)
Menstrual sanitary products
Powdered milk/baby formula (or other items that infants may need)
Anything else you absolutely need in your daily life
Pack your emergency kit in a bag that leaves both hands free, such as a backpack.
Keep the kit light and compact enough that it will not impede getting to safety.
Select items to include based on the needs of you and your family.
Prioritize the preparation of the things that you need most.
Periodically check the kit's contents.

Keep an emergency bag ready.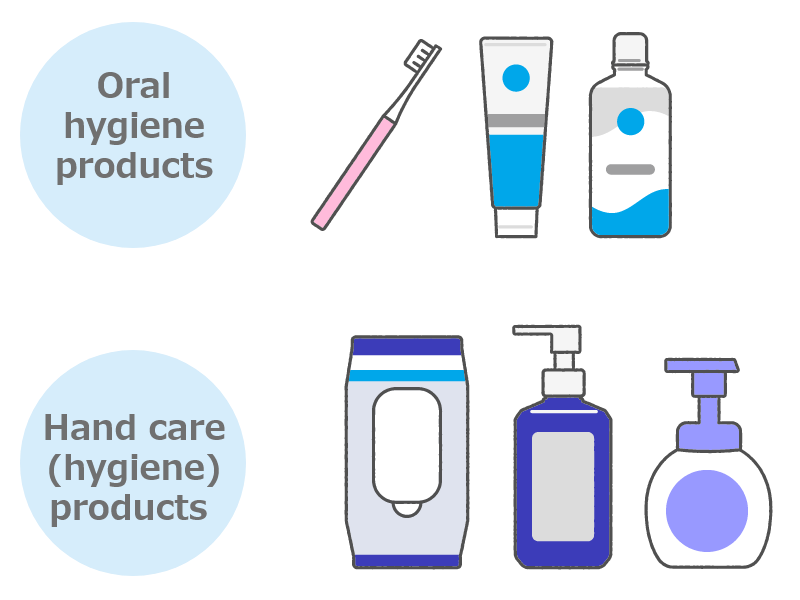 Keep a supply of the minimum supplies you would need in an emergency ready in a "go bag" that allows you keep both hands free, such as a backpack, so that you can quickly grab it (along with other essentials, such as your wallet, mobile phone, bank book and personal stamp) and go if you need to evacuate due to a disaster.
Regularly checking the contents of your emergency bag is important. Food and other items that expire should be kept as fresh as possible by stockpiling at home.
Keep a toothbrush in your emergency bag so that you can maintain your oral hygiene in times of disaster. Just having a toothbrush can make a big difference in enabling you to keep your mouth clean, even in emergency circumstances. You can also use mouthwash even if no water is available. Mouthwashes with disinfectant ingredients and mild, non-alcohol formulas are best. It is also a good idea to have wet wipes and hand sanitizer in your bag, in case access to water is limited.
Lion's toothpastes and mouthwashes are designed to last at least three years from the time they are made, but it is always best to have a stockpile at home to keep the products in your emergency bag fresh.