Working toward Resource Circulation for Plastic Packaging
Kao and Lion Begin Collaboration on RecyCreation Activities
―Aiming to Realize Social Implementation of Film Packaging Recycling―
Kao Corporation and Lion Corporation have decided to partner on recycling of film packaging toward the realization of plastic packaging resource circulation in society.

In the Japanese consumer products market, consumer products companies including Kao and Lion have been reducing the amount of plastic they use in packaging since the 1990s. They have significantly reduced their use of plastic by making products more highly concentrated to make the packages more compact, and by developing and promoting the use of refill and replacement products using less plastic. Refill and replacement products accounted for 80% of total product shipment volumes in 2018*1. Recycling of refill packaging, however, is difficult at present, because the film materials primarily used in the packaging are made of composite materials, which leads to uneven quality in the plastic created by recycling these materials due to the wide variety of different components.

*1 "Change in Plastic Use in Packaging in the Soap and Detergent Industry" (by weight), Japan Soap and Detergent Association 

Kao has been promoting new system and lifestyle solutions for the resource-circulating society through the RecyCreation*2 initiative. One of the specific measures that Kao has been implementing is recycling of used film packaging (from detergent and shampoo products, etc.) that has been collected by local residents to create "Okaeri-blocks" that can be used to improve the lives of people in the communities where the film packaging was collected.
Lion too has been implementing a Toothbrush Recycling Program with the aim of both contributing toward the resource-circulating society and making a positive contribution to consumers' dental and oral hygiene by encouraging them to replace their toothbrush periodically. This Program promotes the collection, by consumers, and recycling, of used toothbrushes, which are used to make plant-pots, etc.

*2 "RecyCreation" is a term coined by Kao to denote upcycling through which more enjoyable and improved products are developed and resulting in new value creation, rather than recycling materials for the purpose of reproducing the same types of materials. The concept of this initiative is "Throwing it away after use. We want to change this common practice."

In this way, both companies are collaborating with consumers on plastic recycling. Field-testing of the recovery and recycling of plastic that in the past would have had to be thrown away is being implemented in a way that incorporates increasing consumers' awareness of the issue of plastic waste. However, there are various problems that need to be overcome in order to continue to expand the scale of plastic packaging and toothbrush recycling. In particular, because film packaging for refill products is made from composite materials, it is difficult to extract individual component materials; also, the plastic material used in film packaging, and the packaging design, varies from manufacturer to manufacturer. There are thus significant constraints affecting the ability to utilize recycled material in the manufacturing of film packaging, etc.

Therefore, Kao and Lion are reaching out beyond their corporate groups in an effort to recycle film packaging, aiming to realize resource circulation in society. To accelerate recycling, building the basic system for collection, and developing the recycling technology, are indispensable. At the same time, it is also necessary to change society's awareness, such as about sorting plastic packaging after product use, together with stakeholders, including consumers.

The companies are conducting the following four activities for these purposes.
1) Studying ways to sort and collect film packaging in cooperation with consumers, government agencies and retailers.
2) Creating recycled materials and packaging quality design with consideration for use in wide-ranging products and ease of sorting and collection by consumers, and that are able to be used in common across companies or industries.
3) Studying ways to jointly use recycled materials that are collected and recycled.
4) Activities to promote widespread use and awareness to deepen the understanding and cooperation of consumers for recycling.

Through the above activities, the companies will work to improve the economic efficiency of collection and recycling as a whole. In the first stage, they are starting to collaborate with local residents on RecyCreation that involves the sorting and recovery of film packaging, as well as awareness-raising, and they are also sharing information about technical issues that affect film packaging recycling. In the future, while continuing to implement RecyCreation activities, the companies also aim to achieve material recycling by turning the collected film packaging back into resin material that can be used again in the production of film packaging, and to promote social implementation of film packaging recycling.

[Company Profiles]

■About Kao
Kao creates high-value-added products that enrich the lives of consumers around the world. Through its portfolio of over 20 leading brands such as Attack, Bioré, Goldwell, Jergens, John Frieda, Kanebo, Laurier, Merries and Molton Brown, Kao is part of the everyday lives of people in Asia, Oceania, North America and Europe. Combined with its chemical division, which contributes to a wide range of industries, Kao generates about 1,500 billion yen in annual sales. Kao employs about 33,000 people worldwide and has 130 years of history in innovation. Please visit the Kao Group website for updated information.
https://www.kao.com/global/en/

■Lion Corporation Overview
Representative: Masazumi Kikukawa, Representative Director, President and Executive Officer
Address: 1-3-7 Honjo, Sumida-ku, Tokyo, Japan
Established: September 1918 (founded October 30, 1891)
Net Sales (consolidated): 347.5 billion yen (term ended December 2019)
No. of employees (consolidated): 7,151 (as of December 31, 2019)
Business description: The manufacture and sale of toothpastes, toothbrushes, soaps, detergents, hair- and skin-care products, cooking-related products and pharmaceuticals. Exports to overseas affiliates.
[Environmental Initiatives]

■Initiatives for Kao's ESG Strategy, the Kirei Lifestyle Plan and plastic circularity in society

Recognizing its responsibility as an enterprise that provides products which people use on a regular basis in their daily lives, the Kao Group takes active steps to reduce the environmental footprint of its products throughout the entirety of the product lifecycle. In April 2019, Kao launched the Kirei Lifestyle Plan, its ESG (environmental, social and governance) strategy, which incorporates 19 key leadership actions. Kao is now beginning the full implementation of related activities by enhancing its core value of Yoki-Monozukuri that it has built up through its corporate activities to realize "Yoki-Monozukuri with ESG integration (ESG-driven Yoki-Monozukuri)." Kao defines Yoki-Monozukuri as a strong commitment by all members to provide products and brands of excellent value for consumer satisfaction. It plans to further strengthen its initiatives incorporating environmental and social considerations.

Regarding the issue of plastic waste, which is a significant problem for society, Kao has for some time now been contributing toward the resolution of this issue by making the material used for plastic containers thinner, promoting the use of refill packs, making products more highly concentrated, and shifting over to larger-sized containers, etc. In 2018, Kao released "Our Philosophy & Action on Plastic Packaging," which details its approach to plastic packaging. In addition, in September 2019, Kao announced that it would be focusing on Innovation in Reduction and Innovation in Recycling, so as to help realize a society characterized by effective plastic resource circulation. 

In the future, the Kao Group will continue to implement its unique ESG activities globally, so as to deliver satisfaction and enriched lives for people around the world, and contribute to the sustainability of society.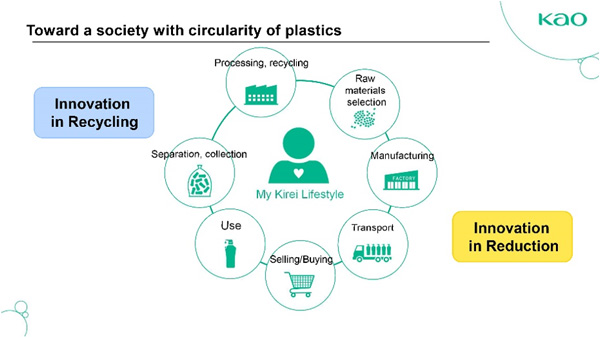 <Related Information>
■Kao launches new ESG Strategy "Kirei Lifestyle Plan" to support consumer lifestyle changes
https://www.kao.com/global/en/news/sustainability/2019/20190422-001/

■Kao's New Challenges for the Future: Accelerating Purposeful Business Commitment with ESG
https://www.kao.com/global/en/news/business-finance/2019/20190926-001/

■Our Philosophy & Action on Plastic Packaging
https://www.kao.com/global/en/sustainability/environment/statement-policy/eco-friendly-products/plastic-packaging/

■Kao's Sustainability
https://www.kao.com/global/en/sustainability/
■Lion's LION Eco Challenge 2050 and initiatives to realize resource circulation in society

In 2019, the Lion Group established the LION Eco Challenge 2050 long-term environmental objectives, to contribute through its business to the achievement of globally shared goals, including the Paris Agreement and the Sustainable Development Goals (SDGs), to combat environmental problems that are growing on a global scale. By conducting business activities while aiming to achieve these objectives, Lion will contribute to the realization of a post-carbon society and resource circulation in society.

Lion has to date conducted various measure to reduce its use of plastic, including making bottles smaller by concentrating detergents and other products, expanding the use of refill products, using recycled materials and using bioplastics in packaging. Since 2015, Lion has been collecting and recycling used toothbrushes.

The Lion Group aims to realize effortless ways for consumers to be more environmentally friendly just by living comfortably, by offering products and services that redesign everyday habits through innovation and cooperation with various stakeholders.

<Related Information>
■Released the LION Eco Challenge 2050 long-term environmental objectives for a healthy future for people and the Earth (Japanese)
https://www.lion.co.jp/ja/company/press/2019/2945

■Lion's approach to the environment (Japanese)
https://www.lion.co.jp/ja/csr/env/

■Lion and Sumida-ku, Tokyo Prefecture Conclude Agreement on Toothbrush Recycling (Japanese)
https://www.lion.co.jp/ja/company/press/2020/3170

■Lion's Sustainability
https://www.lion.co.jp/en/csr/