Supporting Science Education
Educational Support for STEM Students
To develop students' spirit of inquiry regarding science in their everyday lives, each year, Lion holds tours and lessons at its Research and Development Headquarters (in Edogawa-ku, Tokyo) for students of designated Super Science High Schools and other high school students interested in STEM careers.
In experiment-based lessons, participants get to make soap from palm oil and see first-hand how it foams and removes grime, putting the functions of surfactants into a familiar context and thus deepening their understanding.
The tours of the Research and Development Headquarters cover the history of Lion's technological progress and development and technologies that have been applied to products in order to develop participants' interest in science. Because students are able to hear from researchers directly, these events help students expand their interests and develop a sense of what it is like to work in research.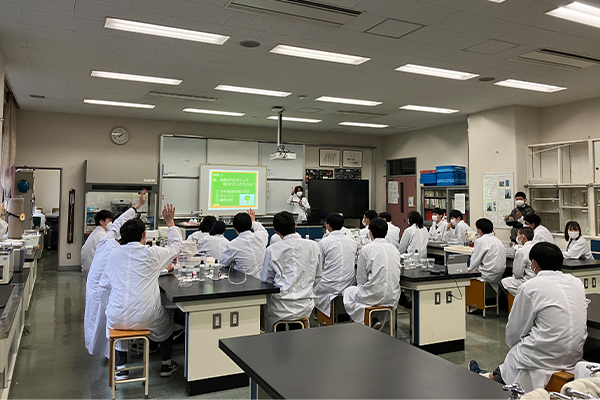 Tour/Lesson Participants

| | | |
| --- | --- | --- |
| 2019 | 6 schools | 168 participants |
| 2018 | 4 schools | 83 participants |
| 2017 | 5 schools | 134 participants |
Participation in "Rico-Challe," Organized by the Cabinet Office
Beginning in 2019, Lion supports "Rico-Challe," a campaign to support female junior high, high school and university students choosing STEM fields being implemented by the Gender Equality Bureau Cabinet Office, the Ministry of Education, Culture, Sports, Science and Technology Education Policy Bureau and the Japan Business Federation. As part of this support, we took part in Summer Rico-Challe to provide experience working in STEM fields.
The 2021 event was held online, with participants from across the country.
Participants learned about the technologies behind products used in everyday life through experiment-based lessons and toured the front lines of manufacturing at plants. In addition, at roundtable discussions with students, junior employees at the Research and Development Headquarters and one of our plants talked about their experiences from the time they were in school to the start of their careers, providing an opportunity for participants to think concretely about their own academic choices. We will continue these efforts going forward.
Community Contribution Activities
Experiment-Based Lessons for Elementary School Students
Edogawa-ku, where Lion's Research and Development Headquarters is located, has been implementing science education center activities for more than 50 years. The local government, schools and residents work together to teach children about the interesting scientific phenomena in their daily lives.
As part of these activities, for more than 15 years, Lion has held experiment-based lessons about the mechanisms of grime removal, which is directly applicable to participants' daily lives.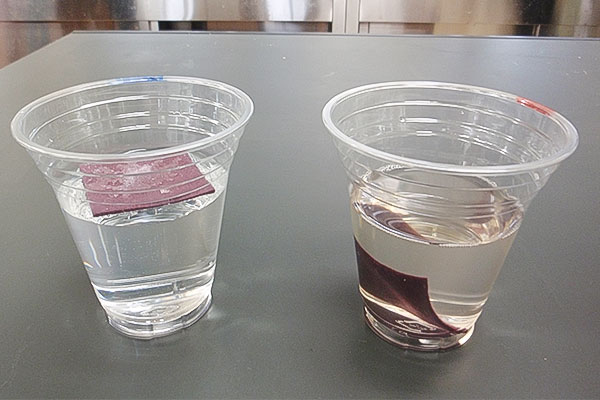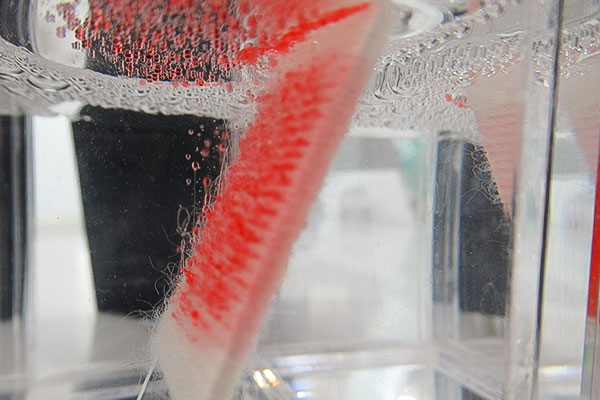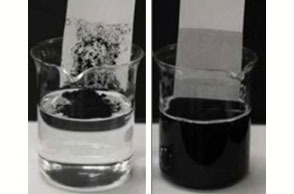 Events and Participants

| | | |
| --- | --- | --- |
| 2019 | 4 times | 35 volunteer researchers |
| 2018 | 4 times | 49 volunteer researchers |
| 2017 | 3 times | 41 volunteer researchers |
Participation in the Edogawa Environment Fair
Lion has participated in the Edogawa Environment Fair, organized by the Edogawa-ku municipal government, since 2015.
In 2019, Lion held a seminar titled "Plastic Waste and the Earth," in which Lion researchers and more than 60 participants, comprising elementary school students and their guardians, worked together to think about what they themselves could do to address issues related to plastic waste. A quiz game about Lion's environmentally friendly products during the seminar helped participants learn about a wide range of Lion products.
In addition, every year at the Edogawa Environment Fair, Lion holds a workshop in which participants can make one-of-a-kind custom labels for their KireiKirei Medicated Foaming Hand Soap bottles and tells participants about the toothbrush recycling activities (through TerraCycle Japan) it implements in corporation with Edogawa-ku. In 2019, 180 participants made custom labels at the workshop, including Edogawa-ku residents who reported having used the bottle they made the previous year all year long. Lion's ongoing participation in the Edogawa Environment Fair has also helped increase awareness of its toothbrush recycling activities.
The workshop was run by 11 Lion researchers who work in product development, providing a valuable opportunity to meet local residents face to face and hear their thoughts about Lion products.
Events and Participants
Events
Participants
Researchers
2019
Plastic Waste and the Earth seminar
Custom bottle workshop
60
180
11
2018
Global Warming seminar
Custom bottle workshop
60
180
11
2017
Custom bottle workshop
180
11
Corporate-Academic Collaboration
Lion researchers take part in the Chemical Society of Japan's Colloid and Interface Chemistry Division.* Since 2012, the Division has conducted experiment-based lessons for elementary school students in the areas in which it holds its conferences with the goals of enhancing science education and helping develop the next generation of scientists.
In 2019, the Division's conference was held in Okinawa and included an experiment-based lesson on the mechanisms of washing and soap bubbles for 33 fifth and sixth grade students from Nago City Inada Elementary School.
The students observed how detergent removes oily grime, bobbled soap bubbles, froze soap bubbles, and observed the thickness of the walls of the bubbles. The 90-minute lesson was a little long for the elementary schools students, but all 33 of them payed close attention until the very end.
Through these activities, we hope to increase the number of elementary school students interested in science and contribute to the promotion of science education.
*The Colloid and Interface Chemistry Division includes a corporate committee that comprises nine researchers from eight companies; the activities above are implemented cooperatively by these eight companies.
Events and Participants

| | | | |
| --- | --- | --- | --- |
| 2019 | Okinawa | 33 participants | 3 Lion employee volunteers |
| 2018 | Kobe | 176 participants | 6 Lion employee volunteers |
| 2017 | Asahikawa | 160 participants | 3 Lion employee volunteers |
Supporting an Event for Junior High and High School Students
Initiatives with Students Who Will Shape the Future
MONOCOTO Innovation is a program organized by Curio school, Co., Ltd., in which junior high and high school students collaborate with companies to utilize design thinking in manufacturing, competing to carry out real manufacturing that will spur new ideas and approaches in society. In 2019, Lion supported a group of three students (under the team name "Rikopin") working under the theme of creating a product that seamlessly incorporates preventive medicine into the daily lives of junior high and high school students.
The project was an unfamiliar kind of experience for the students, as, unlike their normal classes at school, where they seek to find and understand a defined, existing answer, they instead had to tackle questions with no clear answer. Because of this, the team at first struggled through repeated trial and error.
To help the students, participants from Lion taught them techniques for approaching questions and discussed their ideas with them to help them deepen their thinking.
During the course of the project, the students not only considered the hypothetical product they wanted to create, but actually went through the steps of product development at a real company, such as interviewing consumers and creating prototypes for consumers to evaluate.
Through these activities, the students gradually developed the skills needed to question the underlying causes of issues in society and daily living and to thoroughly think through those questions as well as the ability to go out and gather information themselves.
As a result, the group that Lion supported took first place in the MONOCOTO INNOVATION 2019 Finals Tournament.
Through MONOCOTO Innovation, the Lion participants were able to help the students learn skills crucial to their future endeavors, while the participants from Lion learned from the students about the ways they think about society.
The participants from Lion also expressed their hope to continue to proactively participate in such initiatives going forward.
Innovative R&D Initiatives