Lion conducts biodiversity conservation activities at all of its operating sites. Its plants, in particular, have expansive premises and handle a wide range of raw materials and thus have the potential to impact the nearby natural environment and communities. We therefore work to reduce the impact caused by plant operations and, in cooperation with local NPOs and other organizations, proactively implement biodiversity conservation activities in the watersheds where plants are located so that the benefits of biodiversity can be sustainably enjoyed throughout local communities.
Activities at Operating Sites
Basic Principles of Biodiversity Conservation Activities at Operating Sites
Based in part on the Ministry of Environment's Guidelines for Private Sector Engagement in Biodiversity (2nd Edition), we have defined the following four key principles for biodiversity conservation activities at operating sites.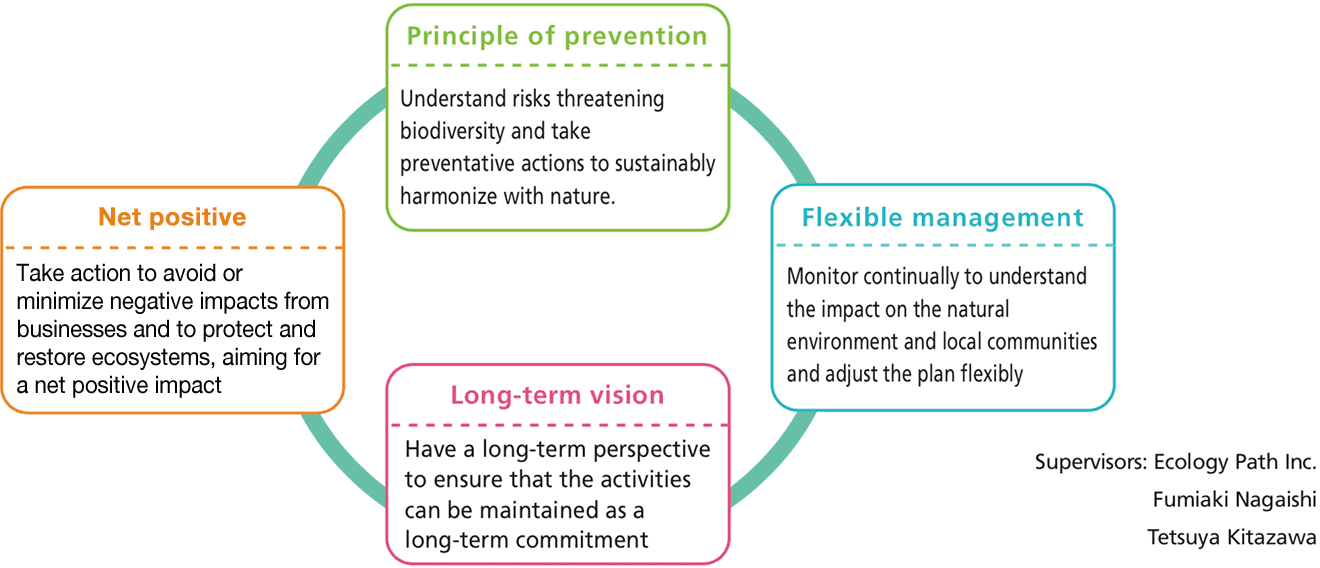 Below are some of the biodiversity conservation activities being implemented at Lion's operating sites. We select activities to pursue based on the following considerations:
Improving wildlife-friendly environments in the rivers and lakes of the watersheds that are connected to our plants via business activities or products as well as downstream coastal areas
Providing habitats for creatures that are disappearing and breeding and raising them with the aim of returning them to their natural habitats
Replicating natural habitats lost in the nearby area on operating site grounds and maintaining them as biotopes
Cleaning up and improving business sites, conducting regular assessments of wildlife living there and using business sites as a place for biodiversity education
Working in partnership with other stakeholders, such as local residents, external organizations and local authorities
Biodiversity Conservation Initiatives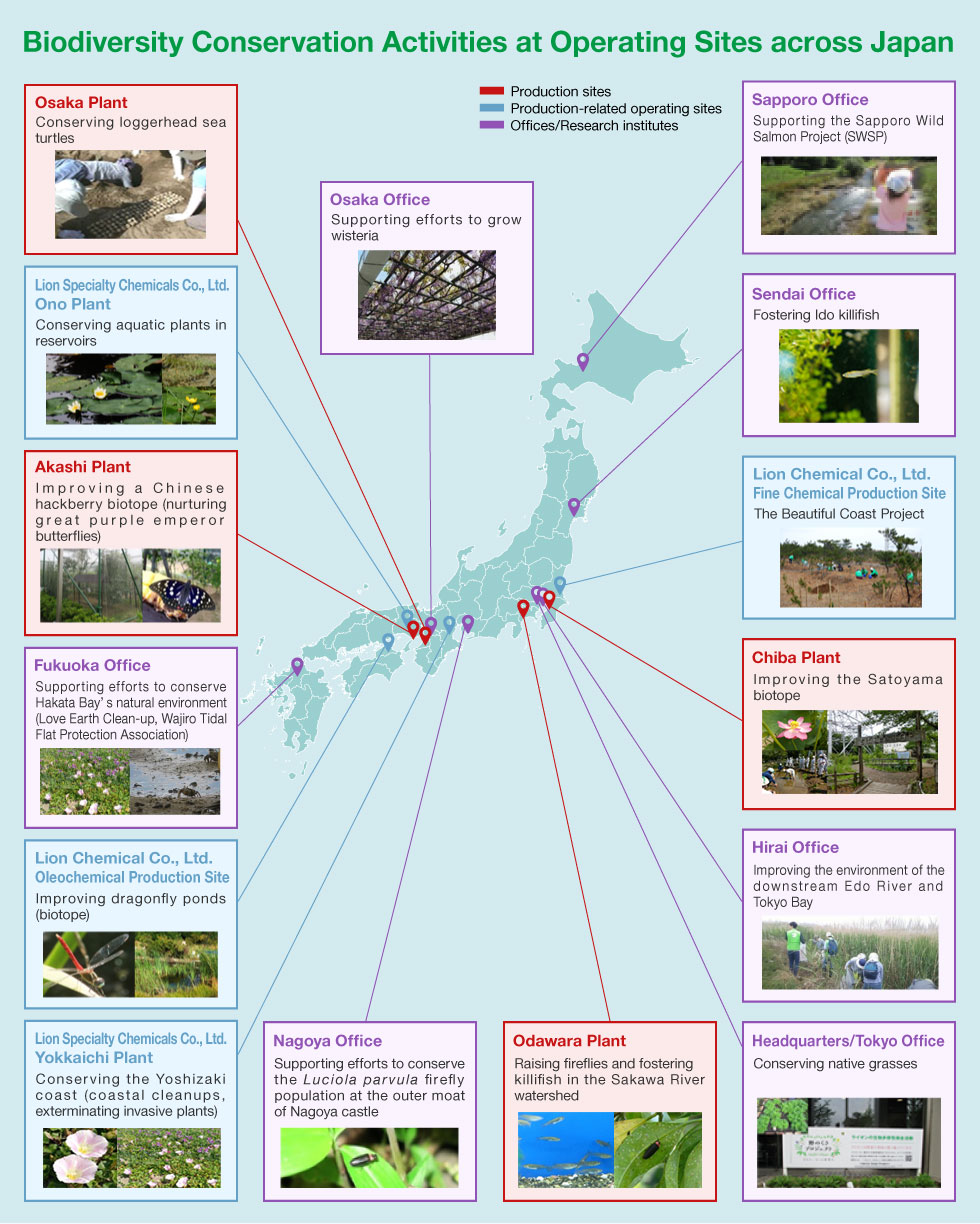 Biodiversity Conservation Activities at Operating Sites Across Japan [Japanese]
Lion and Biodiversity
Lion provides a wide variety of products that support daily living based in significant part on value derived from nature. In addition to striving to use resources in a sustainable manner, Lion is engaged in biodiversity conservation, aiming to proactively contribute to the realization of a society in harmony with nature.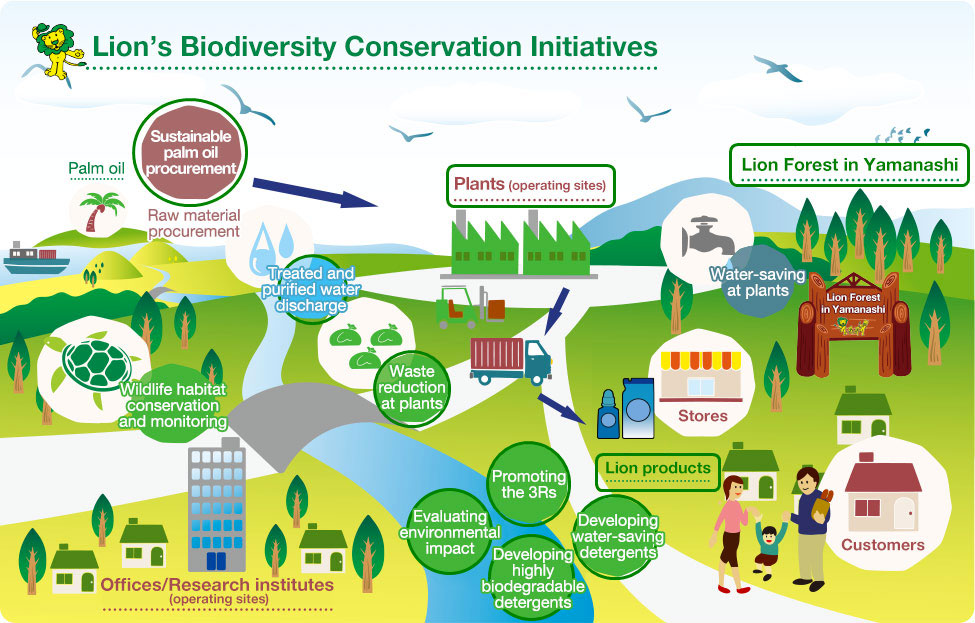 Environmental Impact Surveys of Surfactants MEE
Lion evaluates and confirms the environmental safety of its products during product development, because almost all Lion products are discharged into rivers and streams after their use. Furthermore, Lion takes part in the Japan Soap and Detergent Association's measurement of the concentrations of four types of surfactants in four river systems near Tokyo and Osaka and evaluation of related ecosystem risk, which it has conducted four times a year since 1998, to confirm that said surfactants are not negatively impacting the environment. The measurements to date have consistently found surfactant concentrations below the maximum level thought to have no impact on aquatic ecosystems, indicating that there is little environmental impact from detergents.
Furthermore, because Lion developed the plant-based surfactants MEE, it conducts its own measurement of the concentrations of this substance in the same watersheds. By doing so, we confirm that its impact on ecosystems is extremely small.
Evaluating and confirming safety is not a task for Lion alone. In addition to gathering and utilizing the latest technological data from in and outside Japan, Lion is working to provide data to other users in order to enhance safety evaluation technologies.
Supporting Young Researchers
As part of efforts to protect water resources, in 2009, Lion established the Lion Award, which is bestowed through the Japan Society on Water Environment (JSWE). By using the award to recognize outstanding research activities, we are supporting young researchers.
Support for Japan's largest academic society focused on protecting the aquatic environment